Akko Art Gallery – Kyoko Abe – In Love With Tomorrow
March 27, 2019 @ 8:00 am
May 31, 2019 @ 5:00 pm
BMT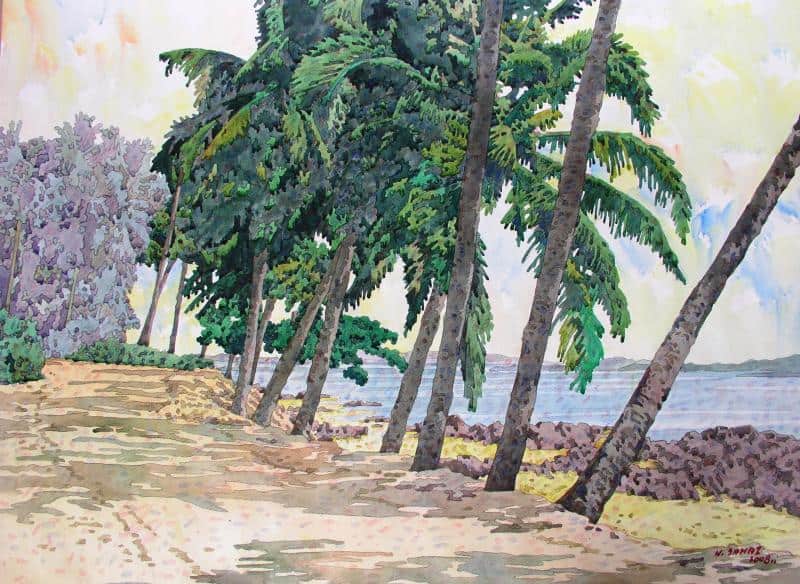 Living in Thailand
The Seventh Solo Exhibition organized by Japanese artist Kyoko Abe. In the 22 years since she has moved to live in Thailand, Kyoko Abe's popularity and reputation have steadily increased with collectors all over the world. Her 1 x 8-meter work "I Want to go Far Away" was purchased by a notable facility in Japan. And her large 8 x 43 meter mural in the Kamaishi Cosmos Park that was completed after the Great Eastern Japan Earthquake is still a notable landmark. Recently she has also illustrated a children's book "Loving Tomorrow" that can also be purchased in Thailand. This year she will also work to cover a whole BTS carriage in Bangkok as well! The paintings in this exhibition are the exhilaration this active artist feels just from the common items in her day-to-day life in Thailand. "Painting just keeps getting more and more fun!" she exclaims. And because of this perspective, the art takes on new meaning. Kyoko Abe's paintings always allow the viewer to feel happiness. This exhibition will be another opportunity for us to surely realize the exhilaration and joy bursting forth in our everyday pursuits. Why not take the time with us to stop for a moment to enjoy together the beauty that surrounds us day by day?
Thoughts by Kyoko Abe
It has been 22 years since I have been living in Thailand. My scope of activities has widened and now I can go anywhere in Thailand. And soon, this life is nearing half my life. So many things have happened but I feel like it has been only a moment. That is why the daily small thing is such a joy to me. The grass along the road, the unchangingly hot sky, the Thai spices – there continues to be new discoveries. This exciting life that I feel thankful for each day, if not for the support of the Thai people, I could not have had this lifestyle. My husband brought me to Thailand. My lovely children.The pets that have continuously increased until they are too many. Every day is too fulfilling that I wake up with thanksgiving on my lips and lie down with words of thanksgiving. So much more than I want to know. So much I want to paint that it is a mountain load! Please do come and see my 40 paintings of "Living in Thailand"
27 years at current location.
The oldest exhibition holding contemporary art gallery in Thailand.
Akko Art Gallery is open 10:00 to 18:00 every day except Sundays
Please come and enjoy an eclectic collection of beautiful original paintings on display at our first & second-floor galleries. The galleries contain contemporary abstract artworks as well as more traditional painting styles. There are oils, watercolors, acrylic, etchings, woodcut prints and mixed-media paintings by Thai, Japanese, Vietnamese, Chinese, Korean and other international artists.
Our artworks are also on display for sale at the Kinokuniya Bookstore galleries in Isetan department store and Paragon Mall Bangkok every day of the week, 10:00-21:00.
Come and purchase an original gift of art that will bring beauty into your home and business and that does not go out of style.
Fine art makes a great gift for both personal and corporate occasions such as for birthdays, anniversaries, graduation, house-warmings, new offices or company branches, new companies, welcomes, and farewells.