Affinity Art Gallery – Somyot Hananuntasuk – Intangible journeys
March 14, 2019 @ 8:00 am
May 18, 2019 @ 5:00 pm
HKT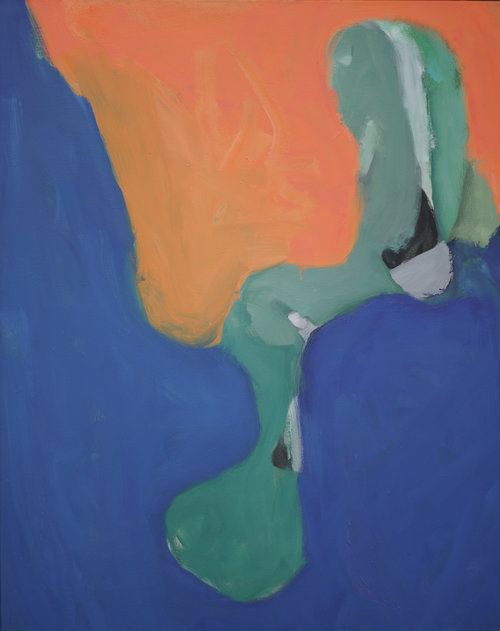 An artist's work is very often the product of inner contemplation and meditative ritual. This concept, specifically when applied to abstraction, is profound, relying on the focused attempt to move beyond conditioned thinking into deeper states of awareness. This 'movement' – or journey, rather – is key, as an artist's process is by and large a quest to manifest memory. But what does that path, which is above all a private one, look like? What happens when artists follow those trails of thought? Where do they bring us and what, if anything, should we expect to see at the end?
These questions are prompted by Somyot Hananuntasuk in his latest solo exhibition, Intangible Journeys, at Affinity Art Gallery. Having spent the last 40 years in Munich, Germany, the Thai artist has found himself at a moment of pause, lending his solo exhibition an air of intensely-personal introspection. Like a photograph captures a singular event, each of Hananuntasuk's canvases captures a moment of inner reflection. Here they are strung together so that we may read the artist's oeuvre as a thorough, albeit elusive, timeline of experience.
Central to Hananuntasuk's work is the instinct-driven process of creation itself: it is critical that one's senses take the reins while premeditated form, objective and calculated intent are absent from the scene. He strives to capture that which is 'unseen', stating, "every time I work it's like a new journey and the destination is unknown. My senses and my experiences serve me as my guide." Here the 'unseen' does not equal the 'abstract'; rather, the unseen – the undetected or the obscured – has "everything to do with openness" and one's commitment to capturing spontaneous sensation. Hananuntasuk has long suggested that artists dwell within their own worlds, acting as archaeologists who must excavate layers of lived sensation. Intangible Journeys offers a study of the artist's subterranean, or rather sub-cerebral, explorations, each canvas bearing the instinctive insignia of a lived moment or emotion
Ranging in size, the paintings in Intangible Journeys can be energetic, analytical, spiritual or full of tenderness, very often revealing organic shapes and round, sensual impressions, perhaps referencing his earlier, hyper-realist depictions of human forms. Canvases with sweeping swaths of pigment are juxtaposed against hurried dashes of color on a neighboring wall, one born of lengthier pensive episodes whilst another mirrors a mere snippet of experience. Yet there persists a rhythmic give and take between them that allows viewers to piece together Hananuntasuk's myriad musings, and further, to consider what form their own odysseys towards self-understanding might take.
While Hananuntasuk is not interested in spirituality as a social idea or abstraction as a historical category, he recognizes that these classifications share a real belief in the metaphysical and meditative properties of work, materials, process, and practice, a kind of secular faith in the possibilities of non-objective image-making and world-building. Maintaining a daily meditation ritual and regular attendance at silent retreats, the artist's passive, thoughtful nature is exemplified in each brushstroke. It becomes apparent that his desire is not for transcendence through abstraction, but for greater embeddedness in the world – a deeper understanding of his own memory and intuition through practice and process.
In this light, the work presented in Intangible Journeys abandons reason, giving way to something that has never before existed: the option to systematically pursue a track leading to abstraction, a track implicit, be it said, in its very indeterminism. Hananuntasuk reminds us, "if the journey is interrupted, I simply make a new path and a new plan. I adjust anything and everything until I reach the final destination. In the end, what people experience from my paintings is the journey itself".
Born in 1949, Somyot Hananuntasuk studied fine art at Bangkok's Silpakorn University before attending Munich's Kunstakademie on an exchange scholarship. He furthered his studies in the faculty of painting and sculpture at Koenigliche Kunstakademie in Copenhagen, prompting a series of international exhibitions early in his career. Hananuntasuk's works are included in notable public collections such as the Schmidt back in Nuremberg and Museum Würth in Künzelsau, Germany. He now lives and works between Munich and Bangkok.
藝術家的作品往往是沈思和冥想的產物。這個概念在抽象藝術中尤其重要,它推使藝術家去超越邏輯思維進入更深層次的意識狀態。這種「遞進」——亦可說是旅程——在藝術中帶有關鍵的角色,因為藝術創作的本質可說是藝術家對記憶的處理。但是旅程的道路,特別是如此私密的道路,到底是怎麼樣子的?當藝術家隨著這些思想的道路走時會發生什麼?他們會把我們帶到哪里、我們會看到什麼?
Hananuntasuk的作品核心是本能驅動的創造過程:當刻意的形式和意圖都不存在時,官感才是最重要的。他努力抓住那些「看不見」的東西,並道:「每次創作對我來說都像是一次新的旅程,而旅程的目的地是未知的。能引導我完成旅程的是我的感官和經歷。」在此,「看不見」並不等於「抽象」;更確切地說,「看不見」 ——未被發現的或模糊的——是「開放性的問題」以及一個人對捕捉感覺的承諾。 Hananuntasuk一直以來常建議藝術家們在他們自己的世界中充當考古學家的角色,挖掘出生活中層層的感受。《感知逆旅》的作品一一展現藝術家的深層探索,讓觀者窺探每個獨特的時刻和感情。
藝術家或許早期受到超現實主義的人類形象描繪影響,《感知逆旅》中的作品經常包含有機形狀和感性的印象,所以大大小小的作品既是充滿活力,亦能充滿柔情、既帶有邏輯,亦能帶有靈性。色彩堆疊的畫布與鄰牆上匆匆掃過的顏料並置,前者是沉思聚集而成,後者則反映出零碎的片段。然而,他們之間仍然保持著有節奏的交換,讓觀者能夠將Hananuntasuk無數的思維碎片拼湊在一起,並對自我認識賦予自身的了解。
雖然Hananuntasuk對靈學的社會性或抽象的歷史性不感興趣,但他認識到這些分類在工作,材料,過程和實踐的本質及精神層面上享有共同的重要性,並形成世俗對非物質建構世界的期盼。保持著每天冥想和定期參加靜修的習慣,藝術家溫厚謙恭的性格在每處筆觸中都有所體現。由此可見,他的願望不是通過抽象達到心靈的脫俗,而是通過深刻地理解他自己的記憶和直覺更深入地融入世界 。
從這個角度來看,《感知逆旅》中所展示的作品放棄了理性並造就了不曾出現的東西:有系統地追求一條通往抽象的道路,即使那條道路是隱蔽而且極其不確定的。Hananuntasuk提醒道:「如果旅程被打擾,只需製定新的道路和新的計劃。直至我到達最終目的地前,我會一直調整任何、及所有東西。而最後,人們從我的作品中所體驗到的便是旅程本身。」
Somyot Hananuntasuk出生於1949年,曾在曼谷Silpakorn大學學習美術,並獲得獎學金到慕尼黑藝術學院做交換生。之後他在哥本哈根Koenigliche Kunstakademie的繪畫和雕塑系進修,並在他的藝術生涯早期促成了一系列的國際展覽。 Hananuntasuk的作品被收錄在著名的公共收藏中,如紐倫堡的Schmidtbank和德國Künzelsau的Würth博物館。他現於慕尼黑和曼谷兩個城市之間居住和工作。