Adler Gallery # Art Exhibition # HERO
May 14, 2015 @ 6:00 pm
June 30, 2015 @ 10:00 pm
ICT
FREE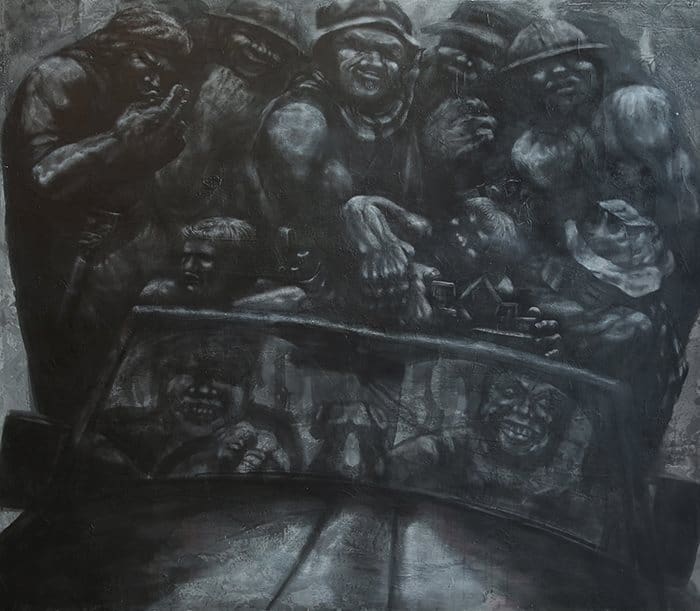 Subhashok The Arts Centre (S.A.C) proudly presents "HERO" by SurapongSutat Na Ayutthaya, an exhibition that gives an insight into the lives of Thailand's numerous blue collar workers. The exhibition will be on display on this labour dedicated month, from May 14th through to June 30th, 2015.
Walking past a construction site most people will gaze upon the workers and feel nothing but pity or apathy. However, Surapong's fresh new perspective presents the often-overlooked labours as his 'heroes'. Determined to shine spotlight on the real champions of our society, Surapong's series of paintings shows the beauty and significance of labourers. To him, a 'hero' is not determined by a uniform, social status or one's state of origin, but the capacity to overcome any obstacle that comes their way – that's a true hero.
Using contrasting light and shadow techniques through Chinese ink, Surapong's work illustrates the motion and hardship of Thailand's manual labourers. Each character appears with oversized hands and feet to portray the 'cogs' of society, creating an impression of an over-sized 'super hero' at the same time.
"The fight for survival is something that all people face, myself included. I often come across unusual challenges and obstacles that put me under pressure, sometimes causing me to lose hope. One day, I came in contact with a group of people we see every day – the people that work on construction sites. I observed them and looked deeply into their hearts and found something exquisite: their unextinguished strength. They overcome any obstacles that are put in their way, either physically or emotionally. Despite all the difficulties in their lives, they always have a smile on their faces. This is why I idolize them and why they are the true heroes, my heroes," said SurapongSutat Na Ayutthaya.
Witness the power of SurapongSutat Na Ayutthaya's unsung "HERO" and explore the true meaning of this powerful word at the grand opening on May 14th from 6PM at SubhashokThe Arts Centre (S.A.C), Sukhumvit 39.
For more information : 02-2585580 ext 401 / 086-8911893