Above Second – The Fact Maker
March 24, 2018 @ 3:00 pm
April 15, 2018 @ 10:00 pm
UTC+8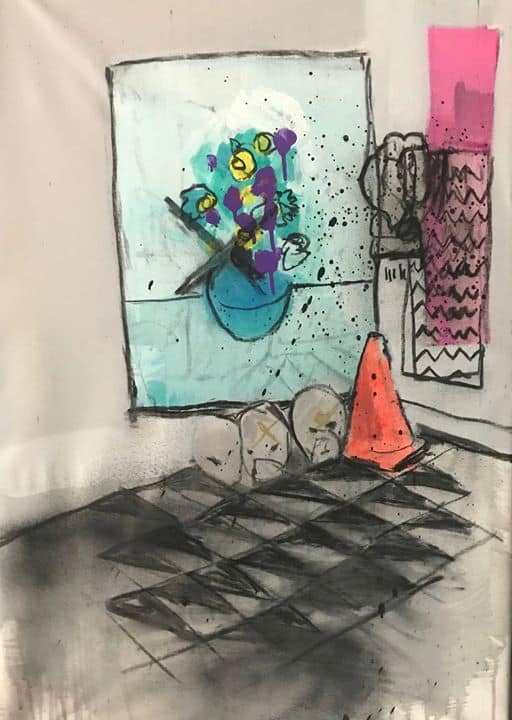 ABOVE SECOND / 9 First St, Sai Ying Pun, Hong Kong
Opening Reception: March 24th 7-10pm
Live Drawing: March 24th 5-7pm
Mural Painting: March 25th 3-7pm (Location TBD)
Exhibition Date: March 24th – April 15th, 2018
'I HAVE A PROBLEM WITH THE WORD "ART", ESPECIALLY THE WORD "ARTIST".'
I feel that these are buzz words where all sorts of slithering pseudo-creative types can hide in its ambiguous aura. My preference leans more towards the literal- therefore I refer to myself as a painter. For starters, the word 'art' is far too short and (as far as I can decipher) is an abbreviation for the word 'artifact', is this correct of me to assume? If this is so, then I find myself (in the context of contemporary language) making facts. This is where I begin to confuse myself and also where I feel a sense of overwhelming excitement and amusement, because if the fact that if I am (for lack of a better word) in fact, making art and the product of my function as a painter is factually unmistakably the literal manifestation of this thing we call 'art'- I come to the realization that I am in essence a fact maker, which is quite an exciting realization for someone who has been called a 'dreamer of fantasy and imagination'. I am unique and not quite domestic, and therefore necessary. Facts are wonderful in theory. The theory is disastrous without action. Actions speak louder than words, and they say a picture speaks a thousand words. This is a show about how I turned the word 'art' into 'fact'. This being the case I imagine being told by people 'hey- I like your fact', to which I will reply: 'thank you'.
LIVE DRAWING featuring HK Dancers at the gallery from 3-5pm (Mar 24th)
Follow us on Instagram and watch Lister paints live mural thoughout the week
Drawings available to purchase
Sponsored by VITRUVIAN MAN SKINCARE
BIOGRAPHY
Born in 1979 Anthony Lister is already described as a leading Australian contemporary artist. In 2001, Lister completed a Bachelor of Fine Arts degree at the Queensland College of Art. He helped pioneer the stencil and street art movement in Brisbane before moving to New York in 2003 to work with his mentor, Max Gimblett.
In addition to a strong background in street art he employs a sophisticated, fine art, painterly style. High and low culture clash in the content of his paintings, drawings and installations—boorish superheroes, flirtatious ballet dancers, bad-tempered old masters and imperious vamps raucously co-exist at the party rapidly deteriorating inside Anthony Lister's head.
Consistently exhibiting around the world, Anthony Lister's last shows in Milan and Los Angeles have turned his focus back to the human form and the female figure, his exhibitions largely consisting of ballet dancers. An interesting counterpoint to the recent Degas show in London, Lister presents a much more grimy, rough-hewn, but surprisingly delicate take on the bodies.
In 2010, Anthony Lister was named as one of Australia's 50 most collectable artists by Art Collector Magazine. Lister broke his auction record in June 2015 when his 2014 work Supernatural Disorder 4, 2014 sold for $19,636 at Menzies' sale of Important Australian and International Fine Art, Melbourne.
In November 2012, Lister exhibited in London and Newcastle at the Outsiders/Lazarides Galleries and was the first to simultaneously occupy both Outsiders galleries since David Choe made his UK debut in 2008. Since 2012 he has exhibited in solo shows in Miami, New York, Los Angeles, Sydney and London.