Chamnan Chongpaiboon, Thai artist who works in an adventurous graphic style, informed by modern media images and Japanese print-making.
Last modification :
June 1, 2017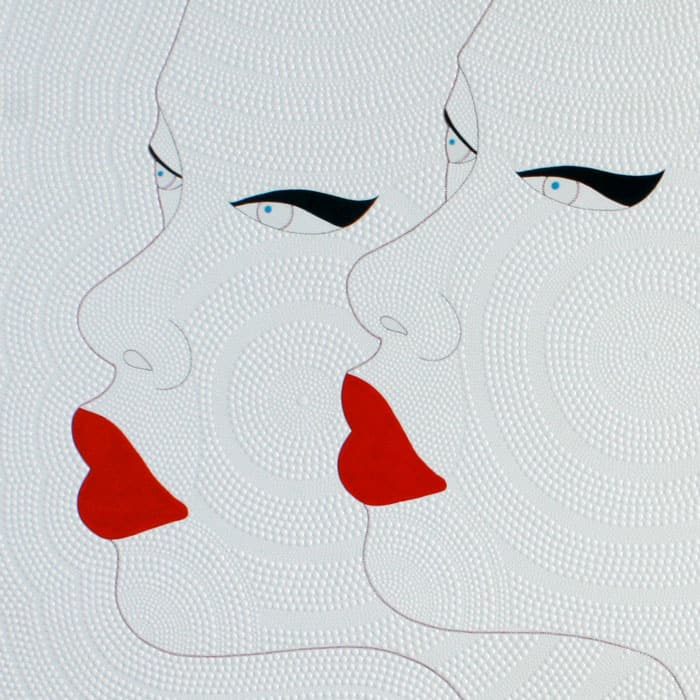 Few words about Chamnan Chongpaiboon, by Kate Bailey.
Chamnan Chongpaiboon is part of a new generation of young Thai artists, working in an adventurous graphic style, informed by modern media images and Japanese print-making.
Chamnan grew up in a warm extended family that includes three brothers and sisters as well as his grandfather, who became a great positive influence upon his development both as a person and as an artist. As the youngest, Chamnan was encouraged to explore his passion for art, and he eventually came to enjoy drawing at school so much that he identifies that class as his favorite.
"I wasn't quite as good as one of my classmates, but despite this and the fact that I only had one class a week, I was utterly focused on improving my technique and in time, I knew that I wanted to become a professional artist."
Chamnan went on to attend the College of Fine Art at Shupanburi and attained a Bachelor 's Degree in Fine Arts with a major in Print Making from King Mongkut Institute of Technology at Ladkrabang. Now that he is working full time as an artist, Chamnan never lacks for motivation, often working from early morning through to late at night, inspiration coming from his environment and the people in it. Although Chamnan is in some respects a perfectionist – especially when it comes to finessing the details of his own work – he believes that all artistic expression has merit and that every artist is worthy of respect.
"Artists are amazing people, regardless of their status or fame. Throughout history, they've displayed incredible levels of persistence and belief in themselves – achievements that are impressive regardless of the nature of their work."
Chamnan's favorite Thai artist is one of his teachers from university, Mr. Dacha Worachun, who fascinated Chamnan with his discovery of an innovative technique for creating texture on copper; as well as with his outgoing and open-minded attitude. Another favorite influence is Japanese artist Yayoi who journeyed to America when she was 20 to study sculpture and painting. Even though she often faced illhealth, her work and spirit remain a key inspiration for Chamnan today.
Chamnan enjoys many of the normal pursuits of the non-artist but most of his time is devoted to his passion – creating bold, feminine-inspired images, using graphic textured backgrounds and strong primary colors. Each piece of Chamnan's work normally takes approximately one or two weeks to complete, as he insists on crafting every aspect of his painting to the highest of standards.
After starting to exhibit locally in 2002, Chamnan has staged larger exhibits in recent years at River City as well as the Kromatik Art Gallery, and he is now eager to share his work with a wider audience. In 2015, we can find Chamnan artworks in most beautiful hotel lobby of Asia, and art collectors from New York and London compose with his amazing unique work.
Chamnan Chongpaiboon art for sale
U love Art. U can share it.
onarto.com is the leader and first art store dedicated to Thailand contemporary art, promoting more than 200 thai artists around the world. Answering to art collectors and artists, onarto now expand his activiy to promote Asian art and open its boundaries to creative designer, become a tool to connect creatives mind and art doers with art collectors and unique beauty lovers.