Yong Siew Toh Conservatory – Asia Arts Festival
September 29, 2019 @ 8:00 am
October 2, 2019 @ 5:00 pm
SMT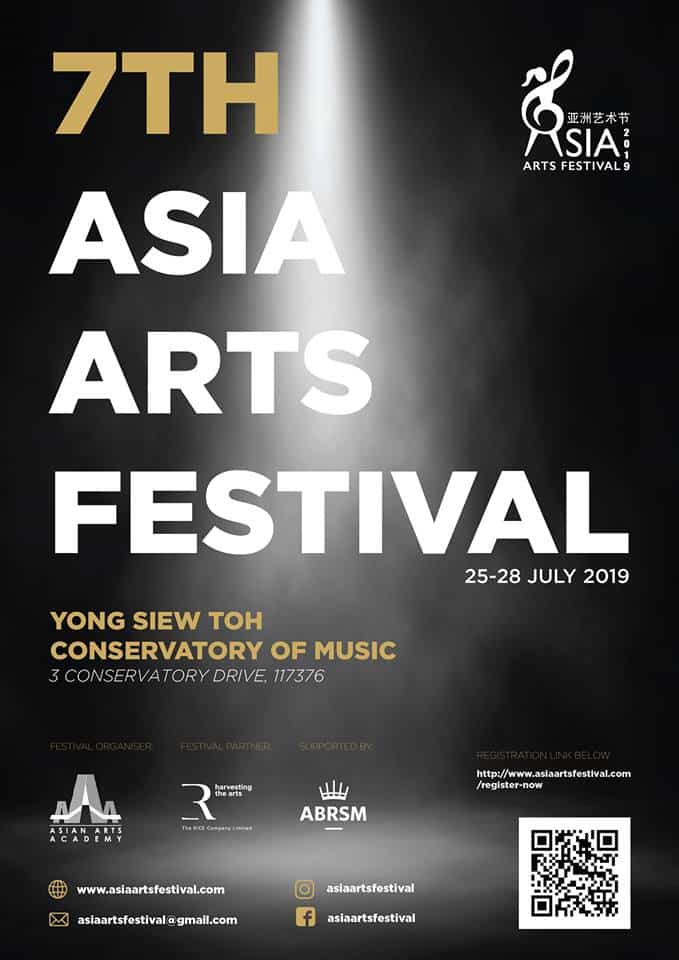 ASIA ARTS FESTIVAL
Since 2013, Asia Arts Festival (AAF) has provided a worthy platform for musicians and dancers from all genres to showcase their talents, skills and art forms before an illustrious panel of adjudicators.
AAF has since attracted more than 2,600 participants from over 20 countries including Asia and other parts of the world such as Russia, Germany, Scotland, New Zealand and etc. Besides forging lifelong friendships and enjoying the fun and encouraging atmosphere at the festival, every participant will be awarded a trophy and certificate.
AAF 2019 will be returning to the prestigious Yong Siew Toh Conservatory of Music on 25-28 July 2019.
FOUNDER & ARTISTIC DIRECTOR
Francis Liew is an accomplished choral director who is no stranger to the choral music scene in Singapore. He has been conducting school choirs since 1999 and has transformed many young choirs into respectable and award-winning choirs. Amongst his award-winning choirs, they share a total of 36 national and international Gold and Distinction awards, including a Grand Prix finalist and a Top 5 Best Primary School Choir award.
Prior to the founding of Asia Arts Festival, Francis was Artistic Director of several art festivals. He is also the founder of Concordis – a Choral Festival and The Singapore International Dance Challenge.
Asia Arts Festival is the culmination of his 34 years of musical pursuits and his desire to bring all performing arts together by providing a worthy platform for all to showcase and grow their talents.
FESTIVAL PARTNER
The RICE Company Limited (TRCL) is a not-for-profit organization that harvests the potential of the arts and culture for the development of human lives and connects communities in Singapore with the world. TRCL manages creative spaces, arts education programs, events and two social funds – The Business Times Budding Artists Fund and Sing50 Fund. For more information, please visit www.therice.sg
ABout YST conservatory
Originally designated the Singapore Conservatory of Music, the Conservatory was officially renamed the Yong Siew Toh Conservatory of Music at its opening, in recognition of a S$25 million gift by the Yong Loo Lin Trust to honour the late Yong Siew Toh who found her greatest joy teaching piano and helping others to appreciate the world through music. The Trust subsequently made another generous contribution of S$25 million in 2008, endowing YST Conservatory with a total gift of S$50 million, which was matched by funding from the Ministry of Education. The gift from Yong Loo Lin Trust, further enhanced with contribution from corporate sponsors, has enabled the YST Conservatory to offer full scholarships to a critical mass of musical talent in Singapore and the region.
Within the YST Conservatory's first decade, it quickly established a reputation for world-class musical excellence with students gaining international recognition from leading artists and institutions. As Asia's international conservatory, YST pioneers the possibility of a multi-national, globally relevant music education environment, situated in Singapore which is one of the world's best-connected Asian countries. Music in Singapore and the region has evolved enormously, and YST is proud of the role it has played – through its students, alumni, staff, faculty, events, facilities, programs, partnerships and advocacy – in inspiring this evolution.
The Timeline
1999 – Dr. Tony Tan, then Singapore's Deputy Prime Minister, envisioned a conservatory in Singapore thriving within a university, with a concurrent focus on both artistic and academic excellence.
2001 – Witnessed by Dr. Tony Tan, the National University of Singapore and the Peabody Institute of the Johns Hopkins University signed an agreement to develop Singapore's national conservatory.
2002 – Dr. Steven Baxter, former Dean at the Peabody Institute, was appointed Founding Director of the YST Conservatory. Under the Charter by the Ministry of Education (Singapore), the Conservatory's Governing Board was established, chaired by Mr. Goh Yew Lin.
2003 – The YST Conservatory welcomed its inaugural class of students comprising majors in orchestral instruments, piano, and composition, aspiring to be distinctively diverse with its faculty, student population, and artistic outlook.
2006 – The Conservatory building was officially opened.
2007 – The Conservatory saw its inaugural class of graduates.
2008 – Prof Bernard Lansky, former Associate Director of Music at the Guildhall School of Music & Drama, was appointed Director of Yong Siew Toh Conservatory of Music. All 220 student positions were filled. With the support of the National Arts Council (Singapore), YST established the Young Artist Programme.
2010 – The Recording Arts & Sciences Major was introduced.
2011 – The Joint Degree, the first program of its kind, was established with the Peabody Institute. The Voice Major was introduced.
2014 – The Master in a Music program, with a further major in Conducting, was offered.
2016 – In commemoration of the YST Conservatory building's tenth anniversary, the Conservatory's logo was developed.
2018 – Two new majors, Music & Society and Music, Collaboration & Production were introduced, opening up new pathways for students to define distinct and multi-faceted artistic identities.