Singapore Art Museum – Singapore Biennale 2019
November 22, 2019 @ 8:00 am
March 22, 2020 @ 7:00 pm
SMT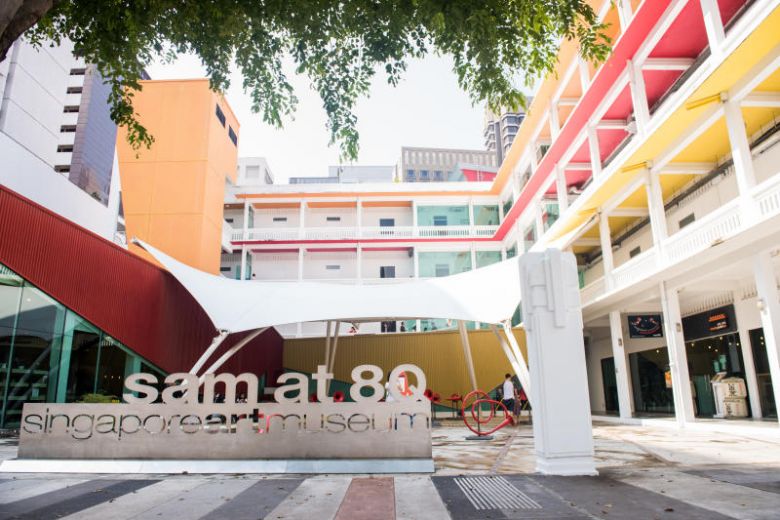 SINGAPORE BIENNALE 2019 WILL BE HELD FROM
22 NOVEMBER 2019 TO 22 MARCH 2020
Catch a Sneak Preview of SB2019 during Singapore Art Week 2019
Singapore Biennale 2019 Teaser
During the upcoming Singapore Art Week 2019, SAM will offer a sneak preview of the Singapore Biennale 2019 (SB2019) through a Teaser event featuring SB2019 artists. Taking place on Saturday, 26 January 2019, the Teaser event will feature SAM curators and four contemporary artists in artist-curator talks, screenings and experimental performances throughout the afternoon and evening.
Established in 2006, the Singapore Biennale is the country's pre-eminent platform for international dialogue in contemporary art — presenting and reflecting the vigor of artistic practices in Singapore and the region within a global context.
Artist-Curator Talks
SB2019 artists Dennis Tan (Singapore/Japan) and Vandy Rattana (Cambodia) will be in conversation with SAM curators. Tan will explore the possibility of rebuilding and racing a Kolek, a traditional Southeast Asian racing yacht, as well as the cultural, anthropological, and historical implications of reviving this traditional sport; while Vandy will delve into his philosophical approach to art-making and the technicalities of producing films in a rapidly- changing Khmer landscape.
Screenings
SAM will also screen Vandy's moving image works MONOLOGUE and Funeral, set in Cambodia and centered around Khmer people, that shows a deeply personal side to the themes of loss, trauma, death and the afterlife. MONOLOGUE focuses on a small plot of unmarked land where Vandy's sister and grandmother were discarded and buried, alongside five thousand others during the Khmer Rouge regime in 1978. Funeral follows up by considering the paradoxes of civilization through a fictional narrative that references metaphors of life, death, and rebirth.
Experimental Performances
The Teaser event will end with a night of experimental performances blending sound and moving images by SB2019 artists Arnont Nongyao (Thailand) and Zai Tang (Singapore/UK). From using field recordings of creatures from various habitats in Singapore threatened by human-centered development to reassembled archival footage and audio recordings of weekly markets in the northern part of Thailand, the performances provide a preview of the artists' proposed installations for the upcoming Biennale.
Patrick Flores, the Artistic Director of SB2019 says, "The practice of these artists conveys the energy of Singapore Biennale 2019. It responds to the need to reflect on the condition of our time and invites a broad public to do this in the always shifting, and thus always urgent, contexts of contemporary art. Sound, moving image, performance, research, technology, craft, and local knowledge come together in this festival-seminar event which I hope members of the public will be inspired to participate in."
More details about SB2019, including the title and direction, curatorial model, and venues, will be shared during Singapore Art Week 2019.
Artistic Director's Statement
It may be said that the world is troubled. To sense such a state of flux is to begin to face it. What are the possibility of art, the artist, and the audience in light of this trouble? What is the responsibility of the artwork, its making, and its experience in the prospects of future action? Every effort to change the world for the better matters. The Singapore Biennale 2019 puts its faith squarely in the potential of art (and its understanding) to rework the world, expressed in the Biennale title: Every Step in the Right Direction.
In this examination of act and action, the Biennale then considers the necessity of the step, that is prompted by the Biennale's geography, itself spanning nodes and locations across the city of Singapore, thus inviting audiences to be inspired in an exploration.
Furthermore, we observe this every day but a decisive act of walking in artistic practices, such as of Singapore artist, Amanda Heng. Utilising the act of walking in a number of performances (for example, Let's Walk, first performed in 1999), Heng presents her audience with moments for moving forward, looking back, turning inward, venturing outward with others, in so doing, engendering reflection, the speculation or adoption of other perspectives, and the consideration of pasts.
As artistic director of the Singapore Biennale 2019 and a scholar of Southeast Asian art, in my effort to deepen the conversation on the need for an ethical gesture in our time and in history, I recall the words of Salud Algabre, who, in the 1930s in the Philippines, played a central role in a peasant movement that did not appear to achieve its immediate intentions.
Responding to a scholar on the perception of its failure, Algabre reasoned that no movement fails, "each one is a step in the right direction." This apparently counterintuitive reply opens up for rethinking the condition of failure and the chance at transformation. In relation to art and its investigation of material and its ecologies, it might then be that this counterintuition restores hope as a medium of continuous conversions and as a method of getting things done the right way, but only in light of steps taken and decisions made about the right direction. Informed by such an impulse, SB2019 offers a sustainable, self-renewing project of change, and moves everyone to act — to make a step.
Patrick Flores, Artistic Director
Singapore Biennale 2019