Tonight @ Chomp : Art and Nerve and Sinew by Kat Jones
Tonight: Chomp's opening exhibition night party for Thai British Bangkok based artist, Kat Jones.
Last modification :
September 28, 2017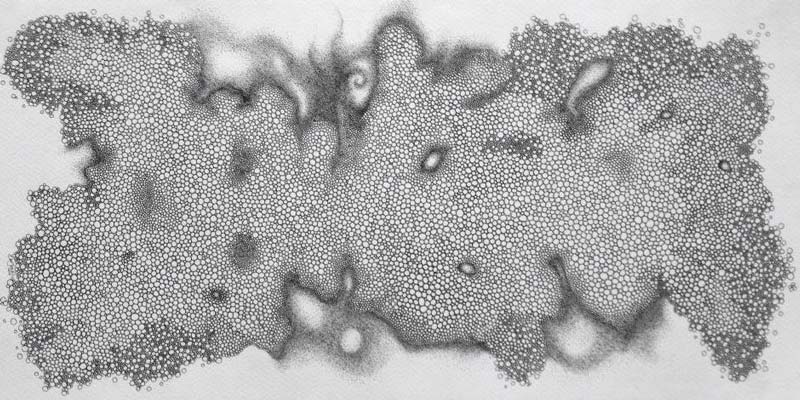 Exhibition Opening Party : July 2 : 
Kat Jones at CHOMP Gallery 
Cafe/gallery/experimental space CHOMP presents its latest exhibition by Bangkok-based, Thai British artist Kat Jones.
The opening exhibition party for Jones' show, titled "Heart and Nerve and Sinew" kicks off at 20:00 this Saturday, July 2nd. There'll be complimentary drinks thanks to sponsorship by Italasia, as well as delicious homecooked food by CHOMP chefs.
If you can't make it for the opening, not to worry, as you'll have plenty of time to check it out another day. Jones' exhibition is set to run through July 31st.
Check out her artist statement below to learn more about the latest collection:
"I have spent the last 15 years clambering around trying to figure out what kind of artist I want to be. Jumping from medium to medium, style to style. The one constant has always been my pen drawings, which started as mere doodling, but since grown into something far more meaningful to me.
I am fascinated by the complexity and detail that can be created from such simple building blocks as dots, lines and basic shapes. The possibilities are endless and every drawing is an adventure.
Each piece is entirely hand drawn. No pre-planning, or pencil sketch is done prior to inking. Instead, I allow the process itself to take the reigns, savouring every step until completion. I experience a great satisfaction from creating each piece.
The drawings themselves are a partnership between clarity and chaos and the creative process is much the same. I have to trust myself completely, and jump right in. The result is the most truthful work I have ever shown."
Sources: facebook
Venue:
CHOMP! The Comfort Cafe
Samsen 1 Alley, Wat Sam Phraya, Phra Nakhon, Bangkok, 101200
Phone: 02-629-2026
Open everyday, 9:00 – 23:00
U love Art. U can share it.
onarto.com is the leader and first art store dedicated to Thailand contemporary art, promoting more than 200 thai artists around the world. Answering to art collectors and artists, onarto now expand his activiy to promote Asian art and open its boundaries to creative designer, become a tool to connect creatives mind and art doers with art collectors and unique beauty lovers.