Thailand Art Events : May 30 – Ink & Lion, Chomp, Paint Bar
Hi Art Enthusiasts! Here's our weekly list of the best new art exhibitions and events going on around Bangkok, from May 30 through June 5.
Last modification :
September 28, 2017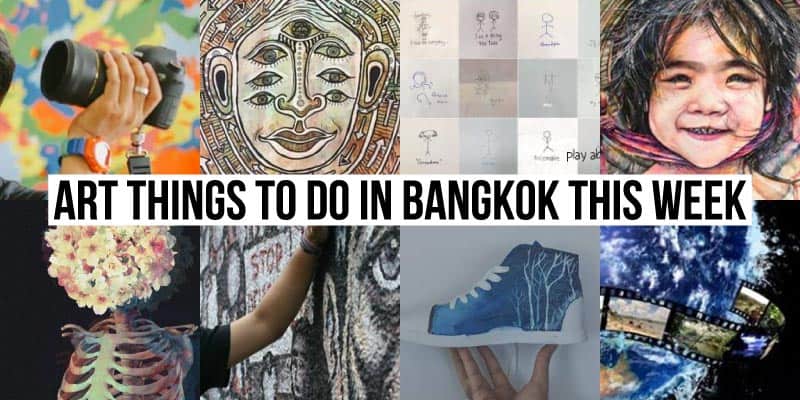 Art Events – May 30 – June 5
Greetings, Art Fanatics! Here's another weekly round-up of the best events and art exhibitions to catch in Bangkok.
What's New
Thong Lor Art Space – Stick Figures by Josh Ginsburg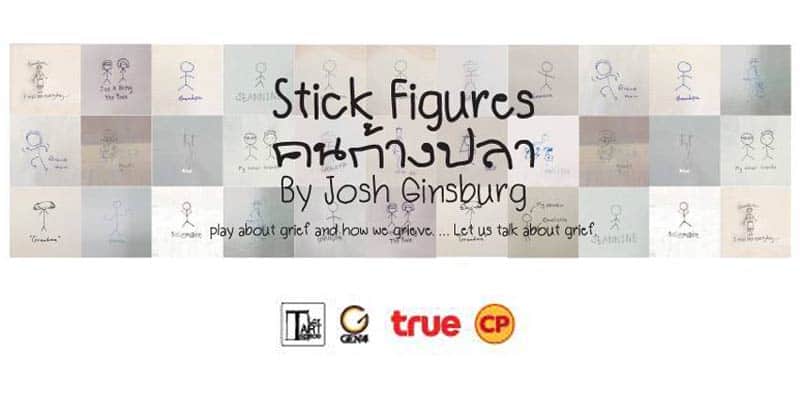 When: Wednesday, June 1, from 20:00
Where: Thong Lor Art Space, Khlong Tan Nuea, Bangkok, 10110
Thong Lor Art Space is set to host "Stick Figures", a play about grief and how we grieve, this Wednesday, June 1st from 20:00 onward. Written by Josh Ginsburg, the performance first premiered at Carnegie Mellon University's School of Drama, where Ginsburg did his MFA in Dramatic Writing Program in 2013. The play will be performed in both English and Thai. Directed by Pattarasuda Anuman Rajadhon. 
Performances in English will be on June 1/ 3/ 4M/ 4/ 8/ 11M/ 11/ 13/ 17/ 18/ 19/ 22/ 24/ 25/ 26/ 27/ 29. Performances are at 8 PM [*M = Matinee shows 2PM]. Check out their facebook page for more details. 
Ink & Lion Cafe – Homeless Art Show by Jenny Tiefel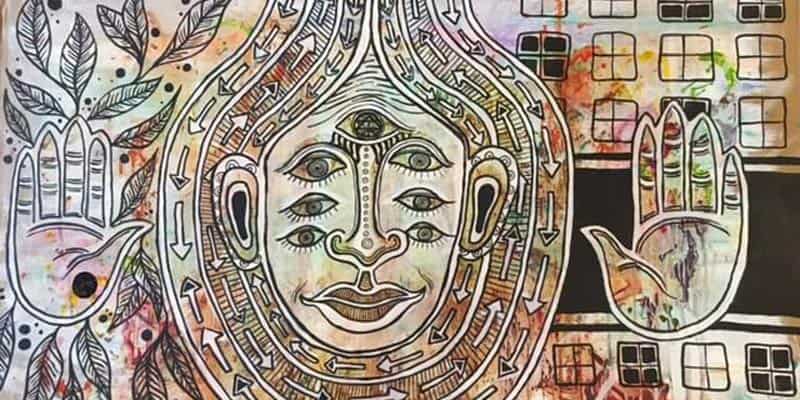 When: Friday, June 3, from 18:00 – 21:00 (through August 2)
Where: Ink & Lion Cafe,1/7 Soi Ekkamai 2, Sukhumvit 63, North Prakanong, Wattana, Bangkok
Ink and Lion Cafe in Ekkamai presents Homeless, an exhibition of new artwork by Jenny Tiefel on display from June 3rd through August 2nd. It is a series of two-dimensional art pieces that explore what it means to be homeless.
Chomp – Cultures from 10 Countries by Dream (Weerapan Phiwhoom)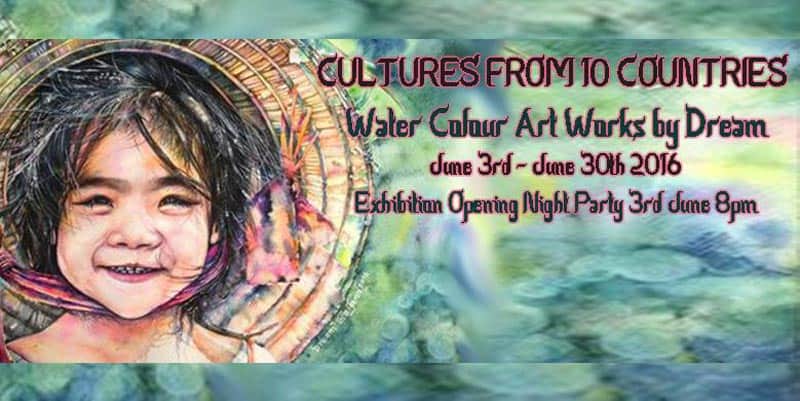 When: Friday, June 3, from 20:00 (through June 30)
Where: Chomp, 63-65 Samsen road, Samsen Soi 1, Phra Nakon, Bangkok
Weerapan Phiwhoom (Dream) presents his stunning water colors from moments in daily life across the ASEAN region. The exhibition will run from June 3rd – June 30th.
Paint Bar Bangkok – Art x Sneakers #1 Paint Party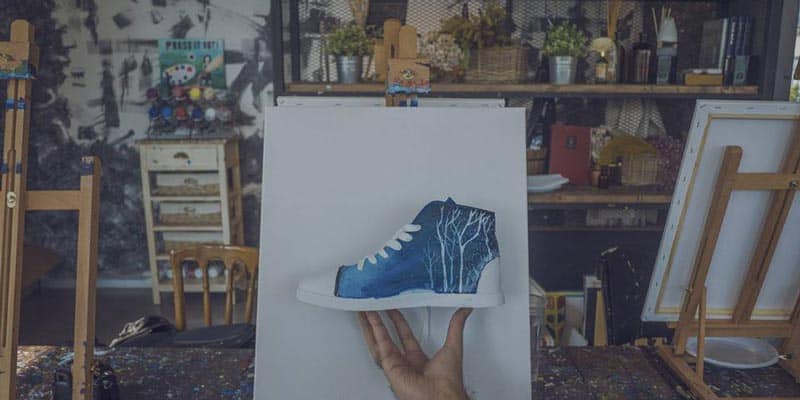 When: Saturday, June 4, from 18:00
Where: Paint Bar Bangkok, Sukhumvit Soi 49
Paint Bar Bangkok presents, Art x Sneakers #1 – Sneaker Painting Party (ภาษาไทยด้านล่าง), its first party inviting you to paint your own pair of Kraftka sneakers and then wear them home. No skill or experience required – instructors at Paint Bar will guide you through creating your masterpiece. Free Flow Beer courtesy of Smiling Mad Dog co. Limited to 25 seats, tickets 1,990 THB (single) and 3,800 THB (2 people). 
Chomp – ARTventure Thailand Photography, Calligraphy & Painting Workshop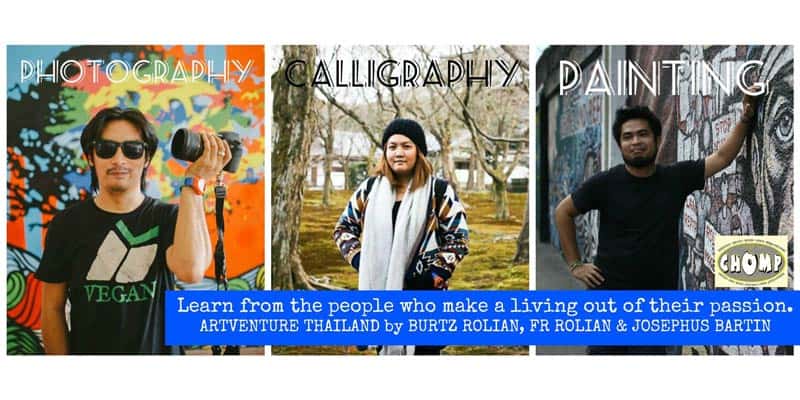 When: Sunday, June 5 – June 6, from 8:00, 17:00
Where; Chomp, 63-65 Samsen road, corner of Samsen Soi 1, Phra nakon, Bangkok
ARTventure – a special collection of workshops taught by people who travel and make a living out of their passions – presents 2 days of workshops. Basic Brush Calligraphy (1,500THB), Acrylic Portrait Painting (1,500THB) and Photowalk Street Photography (1,000 THB). Prices include materials; tasty snacks and soft drinks will also be provided. For more info, check out their facebook page. 
Missed Something?
Check out these events from last week.
Submit your Art Event – Exhibition – Festival etc.
Send us information about your upcoming art events and benefit from free coverage! Contact us at [email protected] for more details.
U love Art. U can share it.
onarto.com is the leader and first art store dedicated to Thailand contemporary art, promoting more than 200 thai artists around the world. Answering to art collectors and artists, onarto now expand his activiy to promote Asian art and open its boundaries to creative designer, become a tool to connect creatives mind and art doers with art collectors and unique beauty lovers.