Miguel Scheroff – Fleshy Hyperrealist Portraiture
Spanish hyperrealist painter Miguel Scheroff (b. 1988) blends reality and fiction through macabre and disturbing pieces that critique modern society.
Last modification :
April 29, 2016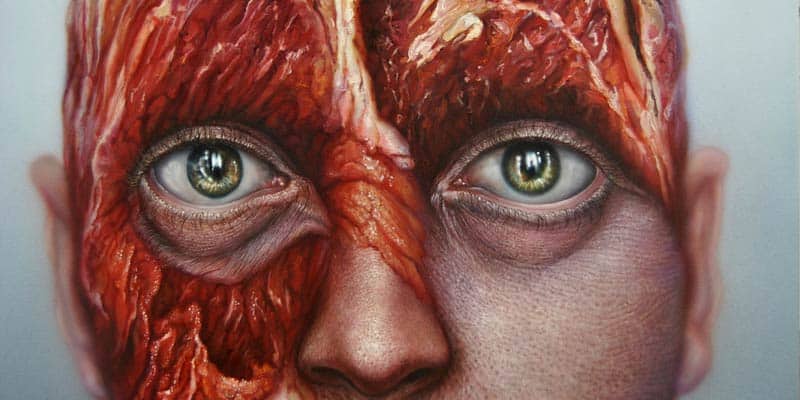 Artist Spotlight: Miguel Scheroff
About the Artist:
Miguel Scheroff (b. 1988) is a hyperrealist oil painter based out of Jaén, Spain. He is known for his large-scale works that seamlessly blend reality and fiction in a blur of hyperrealism, macabre and the grotesque.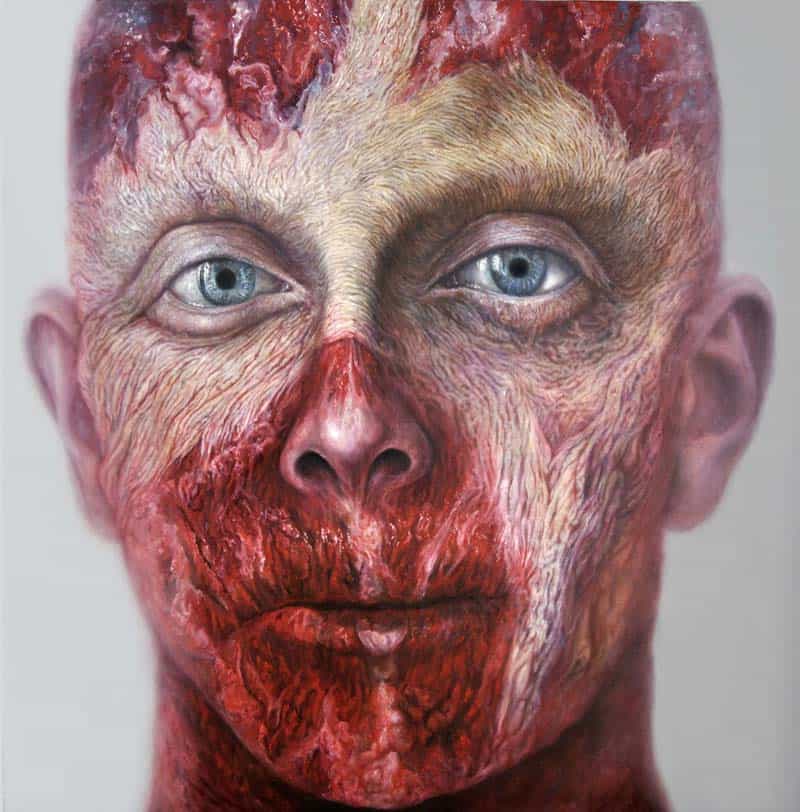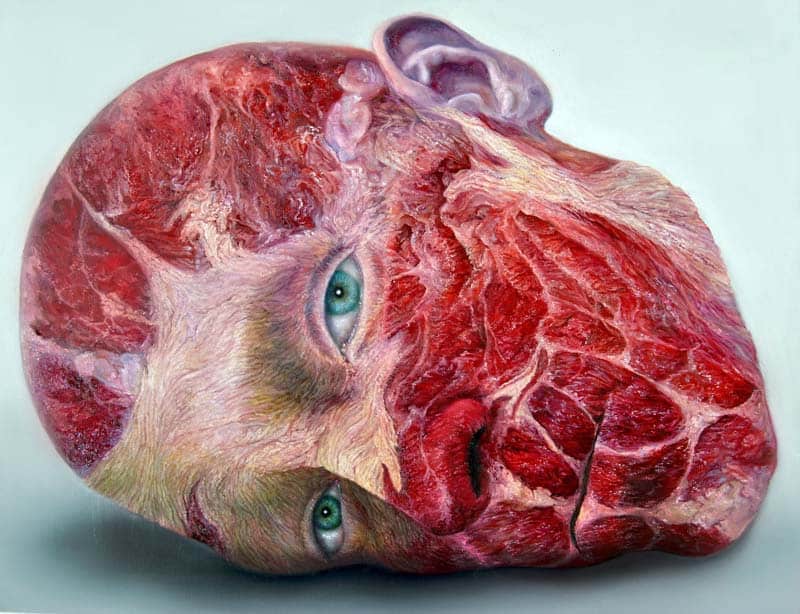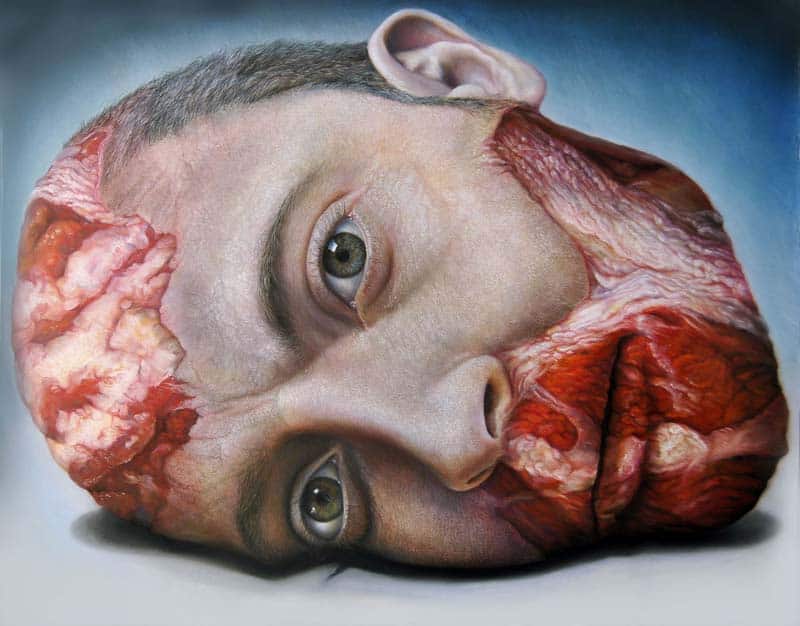 Miguel aims to create artwork that completes the link between photography and painting. His portrayal of faces with flesh appearing to be peeled off acts as a critique of our superficial modern society. In a sense, it tells the viewer that though we are appear to be more than our skin, we are all the same underneath – just meat and nothing more.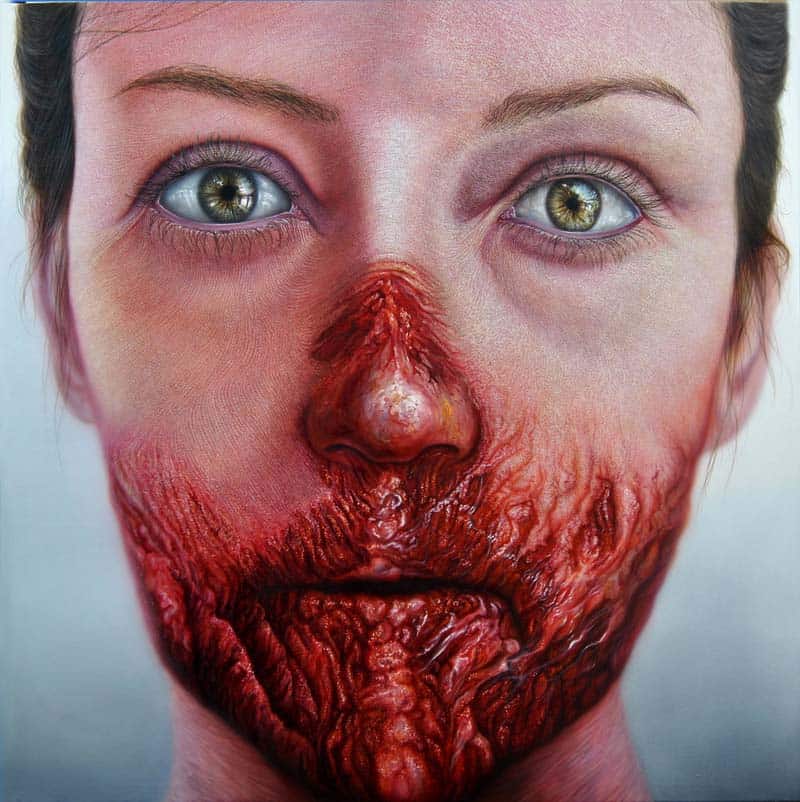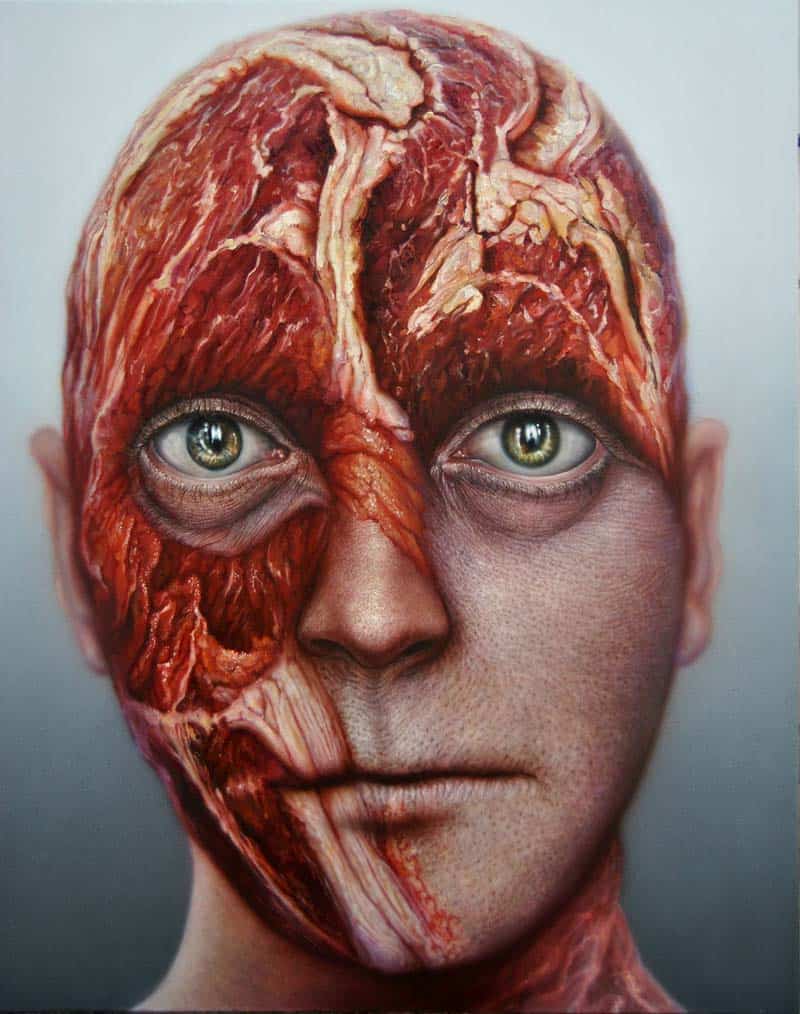 In His Own Words:
"My works consist of big format portraits developed through painting or drawing but supported by digital photography, new technologies and mass media which have become new information sources for art creatives.
Any kind of texture, framework, that look like skin, hair, or organic material can be found and re-contextualize in these artworks. These elements allude to psychological issues or context facets of the portrayed person."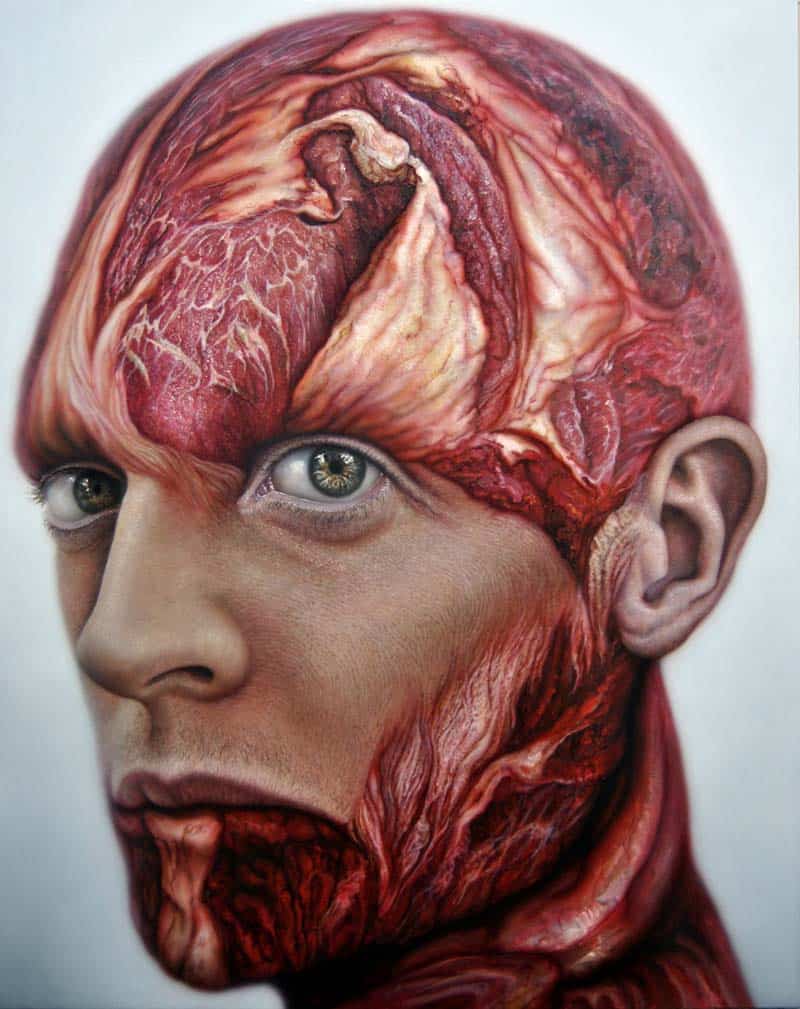 "By multiplying, or excessive de-contextualizing details, and mixing-up different organic concepts and images, this kind of portraits give more precise or imaginary information than obtained from the real nature used as model for those artworks."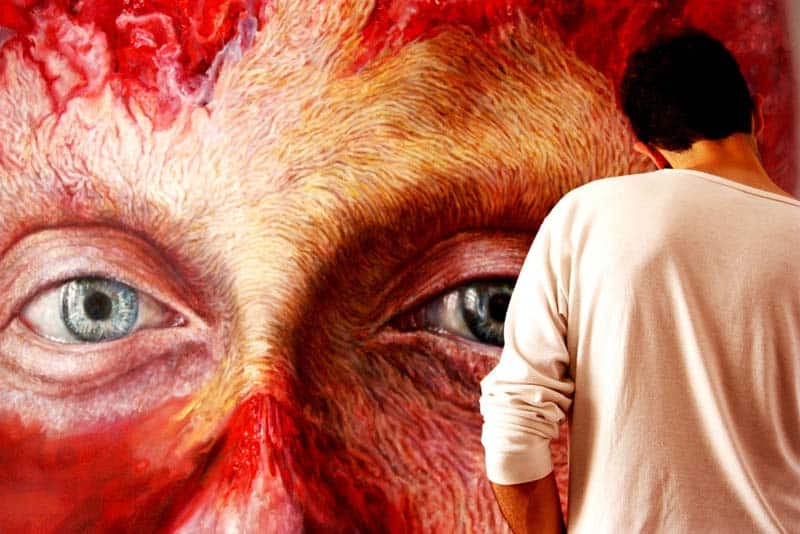 "Through this research, technical, esthetic and conceptual contributions present in this kind of portraits will be specified and put in to own practice." – Miguel Scheroff for Juxtapoz Magazine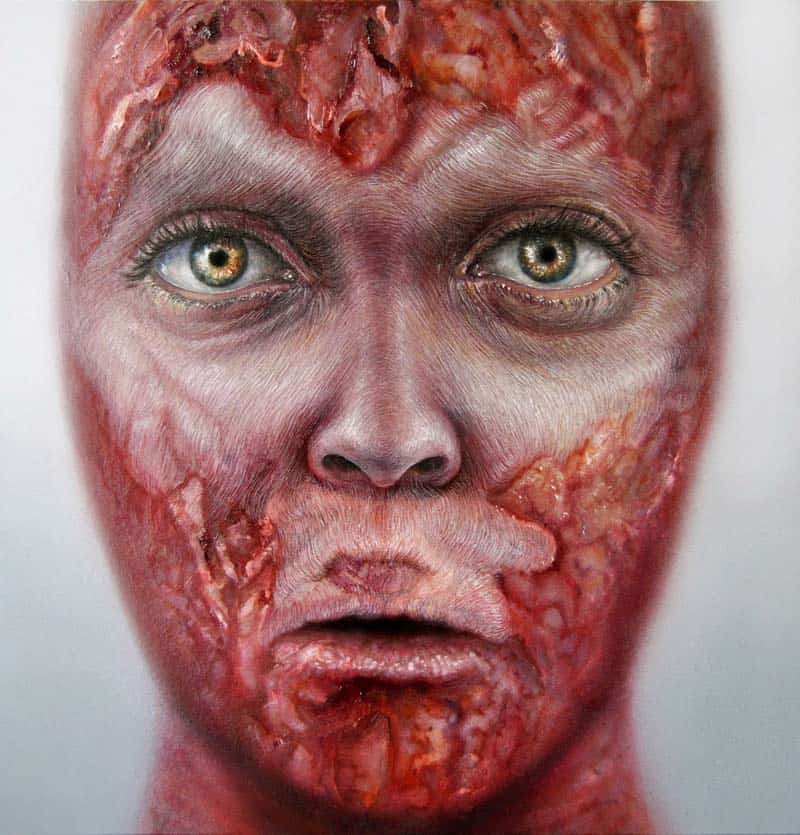 Education:
Master's Degree in Arts, Idea and Production, University of Sevilla, Spain, 2012-2013
Graduated in Fine Arts, University of Granada, Spain, 2006-2011
Bachelor's Degree in Arts, Escuela de Arte Las Torres, Úbeda (Jaén), Spain, 2004-2006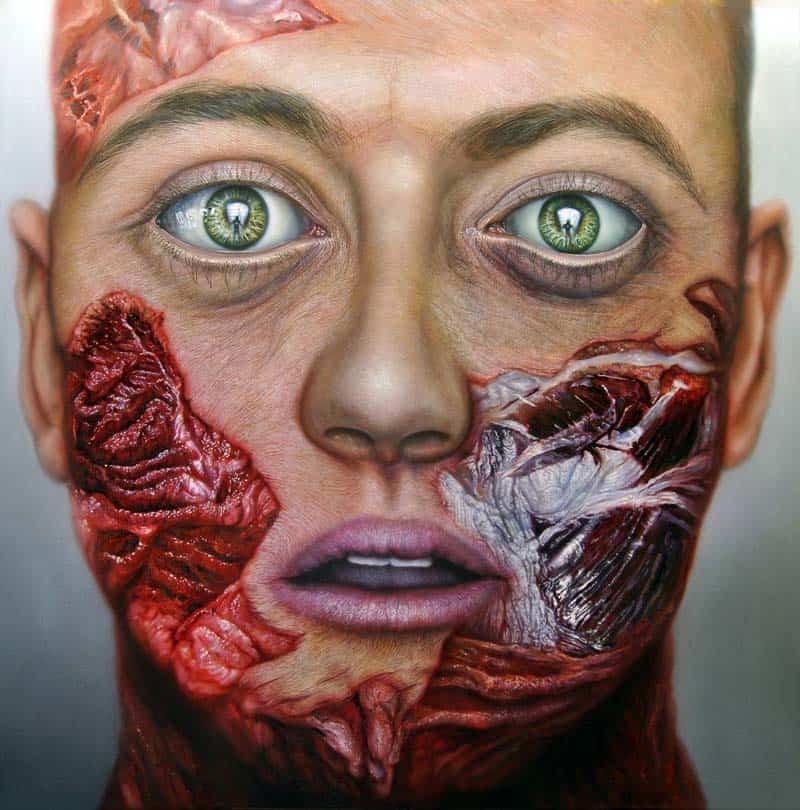 Exhibitions:
Solo Exhibitions
2014 – The Arcimboldo Beckett, Modern Meat Madrigals: Filippos Tsitsopoulos – Miguel Scheroff, Kir Royal Gallery, Valencia, Spain.
2013 – Vanitas, Galería La Zúa, Madrid, Spain.
2010 – Epidermis Voraz, Edificio Zaida de Caja Rural, Granada, Spain.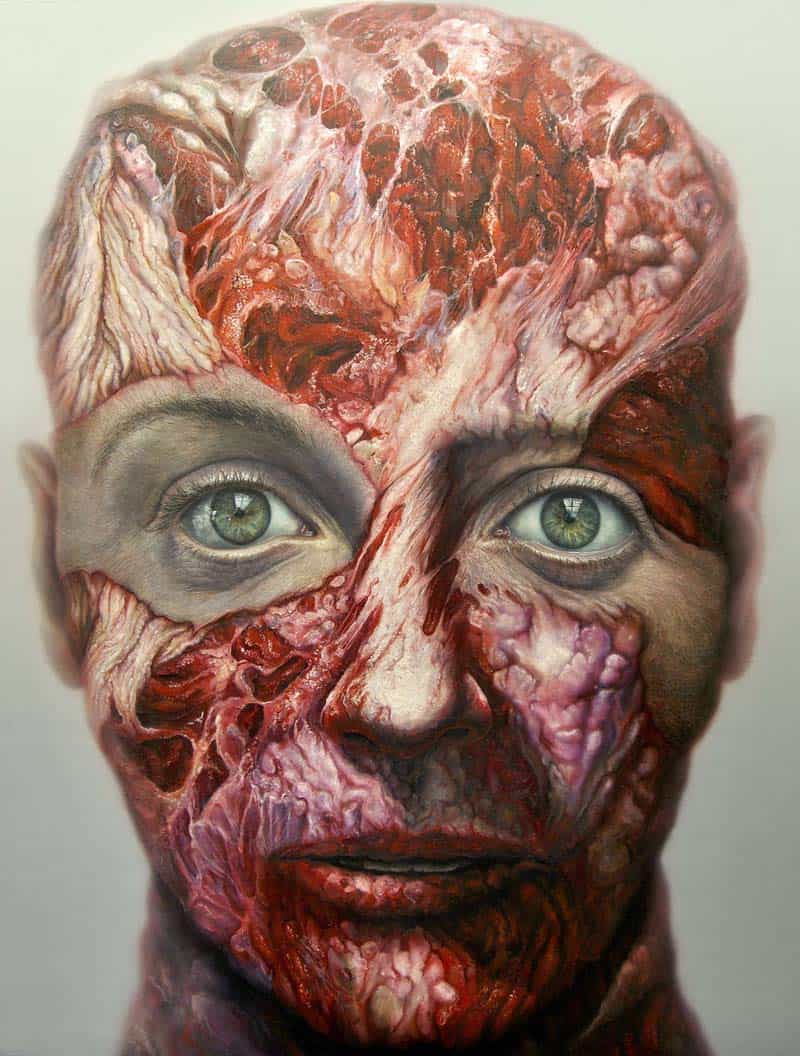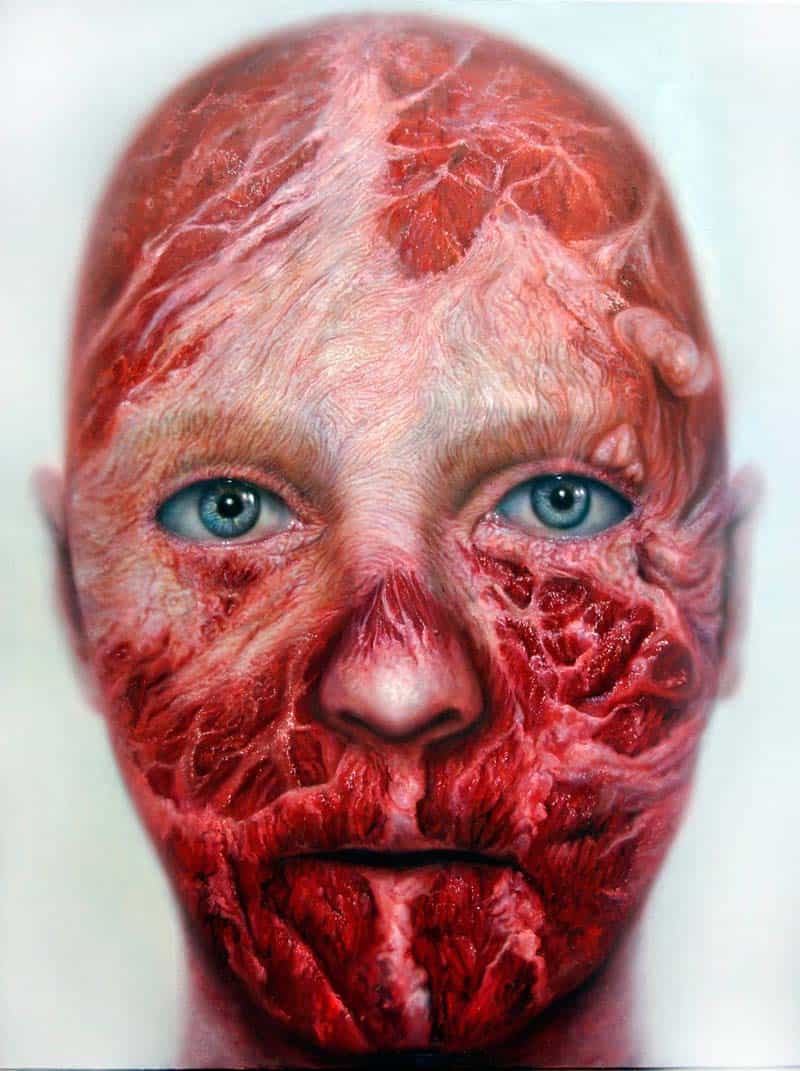 Selected Group Exhibitions (2013 – 2015)
2015 – 25 Miradas, Sala Zabaleta, Universidad de Jaén, Jaén, Spain.
2015 – El Papel del Dibujo VII, Galería Ángeles Baños, Badajoz, Spain.
2014 – Asphyxia, Hardy Tree Gallery, London, UK.
2013 – Creamos "Intercambios 0.2", Fundación 3 Culturas del Mediterráneo, Palacio Hassan II, Isla de La Cartuja, Sevilla, Spain.
2013 – I Certamen de Arte Emergente, La Galería Roja, Sevilla, Spain.
2013 – MálagaCrea 2013, La Caja Blanca, Málaga, Spain.
2013 – Travelling exhibition, Instituto Nacional de Bellas Artes de Tetuán (INBA), Marocco /Sede de la Fundación Tres Culturas del Mediterráneo, Sevilla, Spain.
Image Sources: Miguel Scheroff
Other Sources: Kir Royal Gallery Valencia
U love Art. U can share it.
onarto.com is the leader and first art store dedicated to Thailand contemporary art, promoting more than 200 thai artists around the world. Answering to art collectors and artists, onarto now expand his activiy to promote Asian art and open its boundaries to creative designer, become a tool to connect creatives mind and art doers with art collectors and unique beauty lovers.