Kevin Earl Taylor – Surreal Landscapes, Animals, Constructions
San Franciscan artist Kevin Earl Taylor produces fantastical, allegorical works highlighting the human desire to dominate the natural world.
Last modification :
September 26, 2016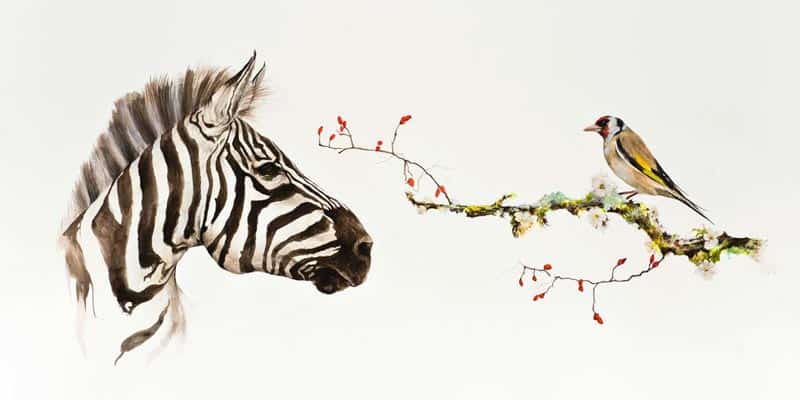 Artist Spotlight: Kevin Earl Taylor
San Francisco based artist Kevin Earl Taylor is known for oil paintings featuring stark, surreal landscapes interspersed with a wide variety of wild animals.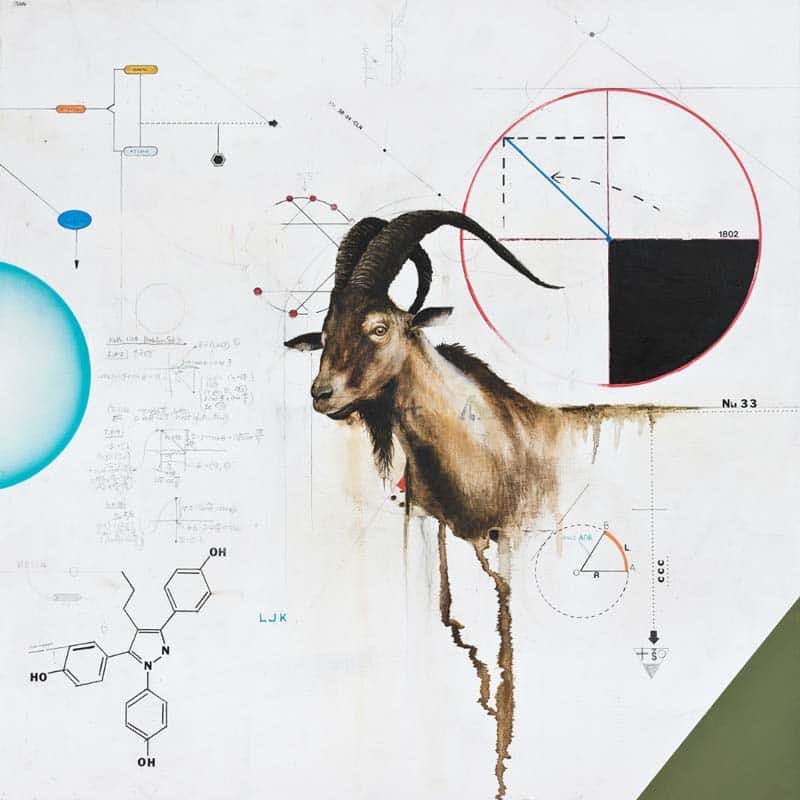 He blends landscapes with geometric shapes, splatters, drips and stains. These contemporary surrealist paintings meet the mid-point between fantastical works and studies of nature.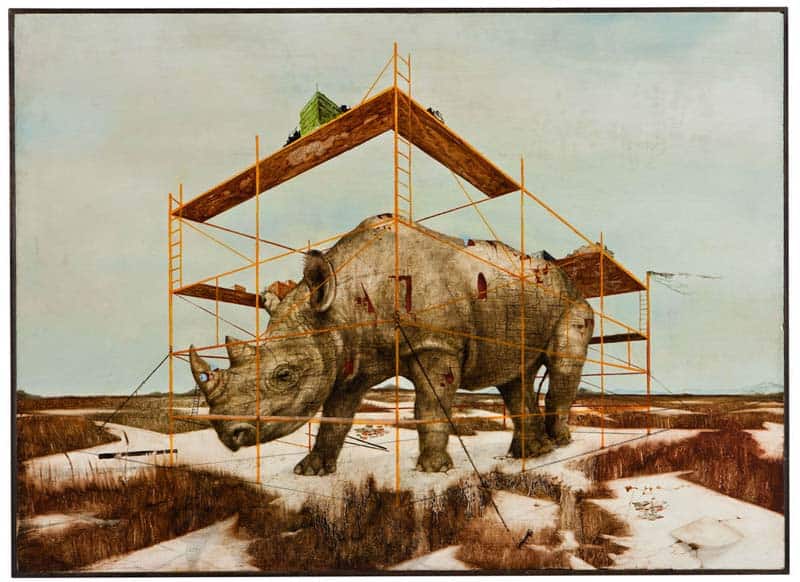 Taylor's works have a way of forcing the viewer to view wild animals in a unique light. By excluding a human figure in his paintings, the viewer starts to see how animals are objects, vulnerable to their surroundings.
The inclusion of man-made artifacts like scaffolding, geometric shapes and other external factors reflect humankind's desire to dominate animals and nature. However, despite the animals' seemingly passive role, Taylor uses them to highlight the fact that we are not the center of our own universe.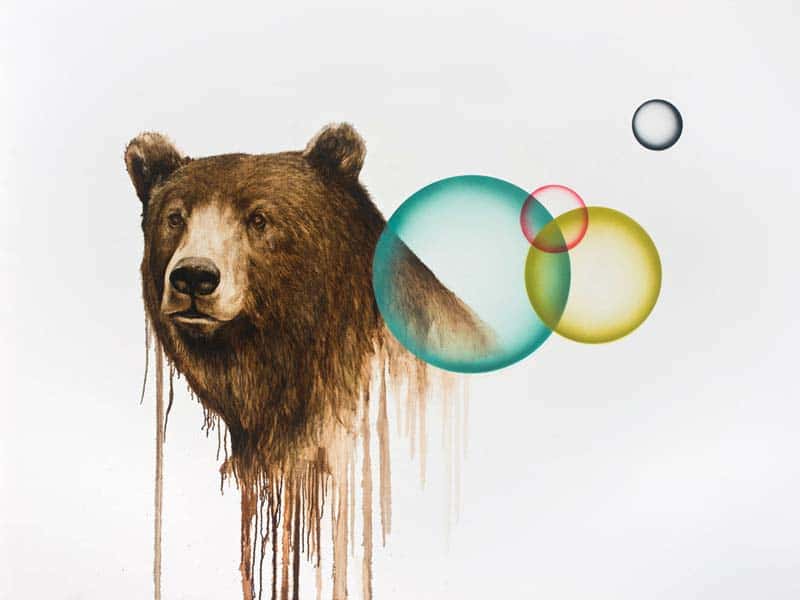 In His Own Words:
Do the animals admire the humans in any of your work, or just each other? Is admiration a necessary part of coexistence?
"It's more of an equal respect for one another and their respective roles within the ecosystem. Essentially, I'm trying to dissolve the imaginary boundaries separating humans from nature and coax people to treat everything as an imperative part of the cycle. The more I can twist the characteristics of the diverse elements of nature, the better. It's easy to forget that we too are animals, and our ever increasing separation from the natural world tends to spawn poor decision making. I'd like to think that if we treated our habitat with the same sensitivity as non-human animals do to theirs, we'd consider the consequences of our actions much more than we do presently." – Kevin Earl Taylor (excerpt from Interview with Other Peoples Pixels)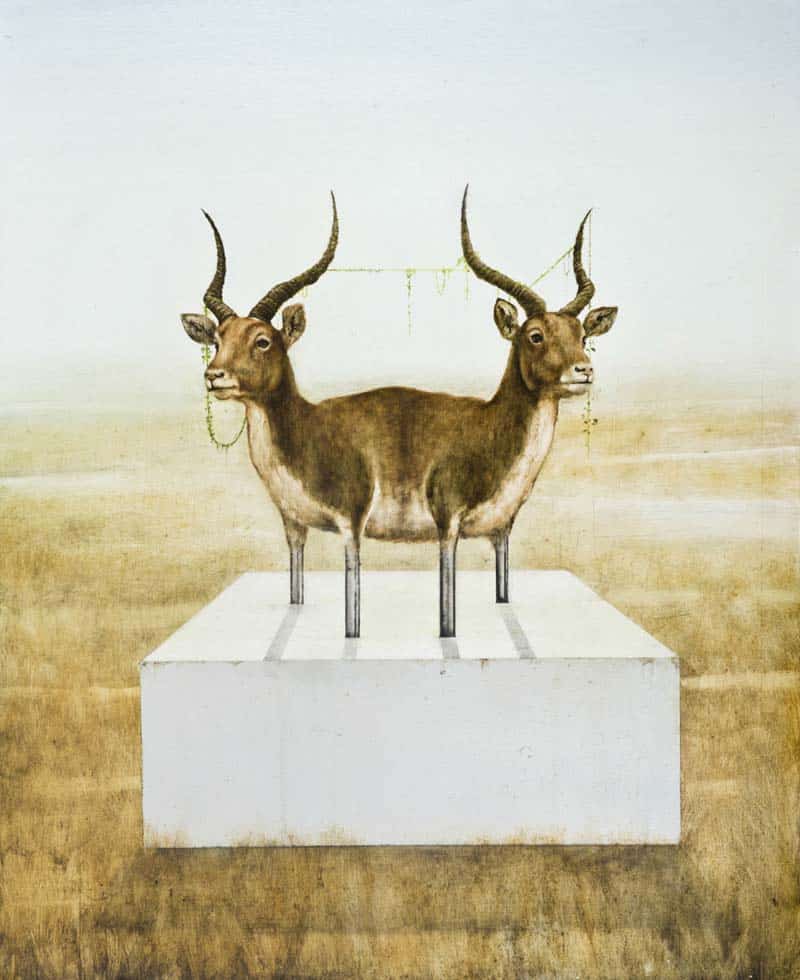 Education:
Savannah College of Art and Design B.F.A. Illustration, 1994
School of Visual Arts -Painting Study with Marshall Arismann, Summer 1993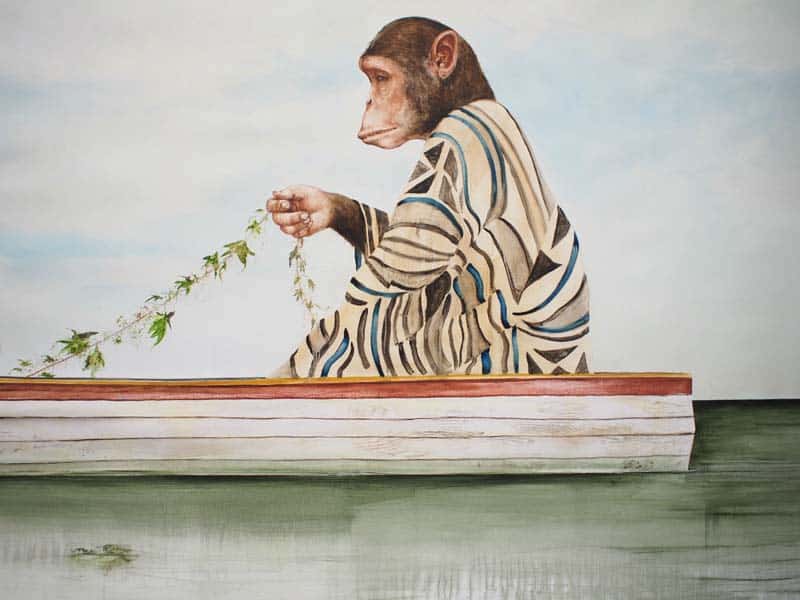 Recent Solo Exhibitions:
2015 – LUX, K Imperial Fine Art, San Francisco, CA
2015 – Spirit Animal, Subliminal Projects, Los Angeles, CA
2012 – Monument Adrift, Breeze Block Gallery, Portland, OR
2012 – Google, Mountain View, CA
2012 – Annex, Circle Culture, Hamburg, Germany
2012 – Kounterpart, Guerrero Gallery, San Francisco, CA
2011 – Primal Union, Rebekah Jacob Gallery, Charleston, SC
2011 – Deviant Instinct, Circle Culture, Berlin, Germany
2010 – Dislocated, Eleanor Harwood Gallery, San Francisco, CA
Sources: Artsy, Juxtapoz
U love Art. U can share it.
onarto.com is the leader and first art store dedicated to Thailand contemporary art, promoting more than 200 thai artists around the world. Answering to art collectors and artists, onarto now expand his activiy to promote Asian art and open its boundaries to creative designer, become a tool to connect creatives mind and art doers with art collectors and unique beauty lovers.