Hanging by a Thread by Melanie Gritzka del Villar
German-Philippine artist Melanie Gritzka del Villar uses found objects, painting and collage to explore inherent themes of identity, ecology and mythology.
Last modification :
September 26, 2016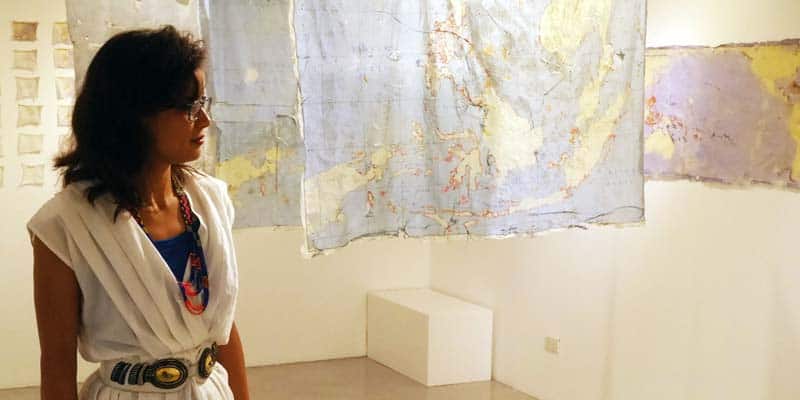 Art Exhibition Review : Melanie Gritzka del Villar
Altro Mondo Arte Contemporanea Gallery – 'Hanging by a Thread' by Melanie Gritzka del Villar
When: Mar 23 – April 24, 2016
Where: Altro Mondo Arte Contemporanea Gallery at the Picasso, The Picasso Boutique Serviced Residences, 119 L.P. Leviste St., Salcedo Village, Makati City, 1227, The Philippines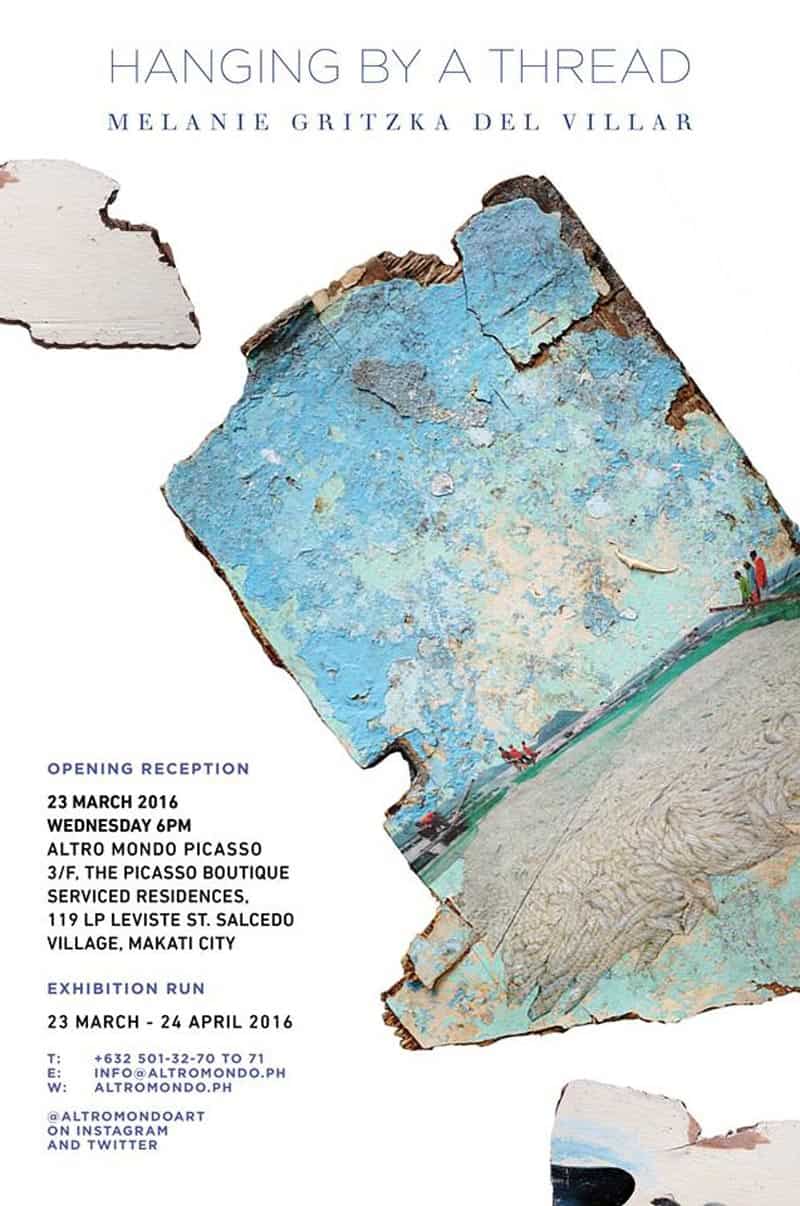 Onarto is proud to share news of talented, multi-cultural visual artist Melanie Gritzka del Villar's past exhibition at Altro Mondo Arte Contemporanea in Makati, the Philippines. The exhibition opened March 23 and ran through April 24.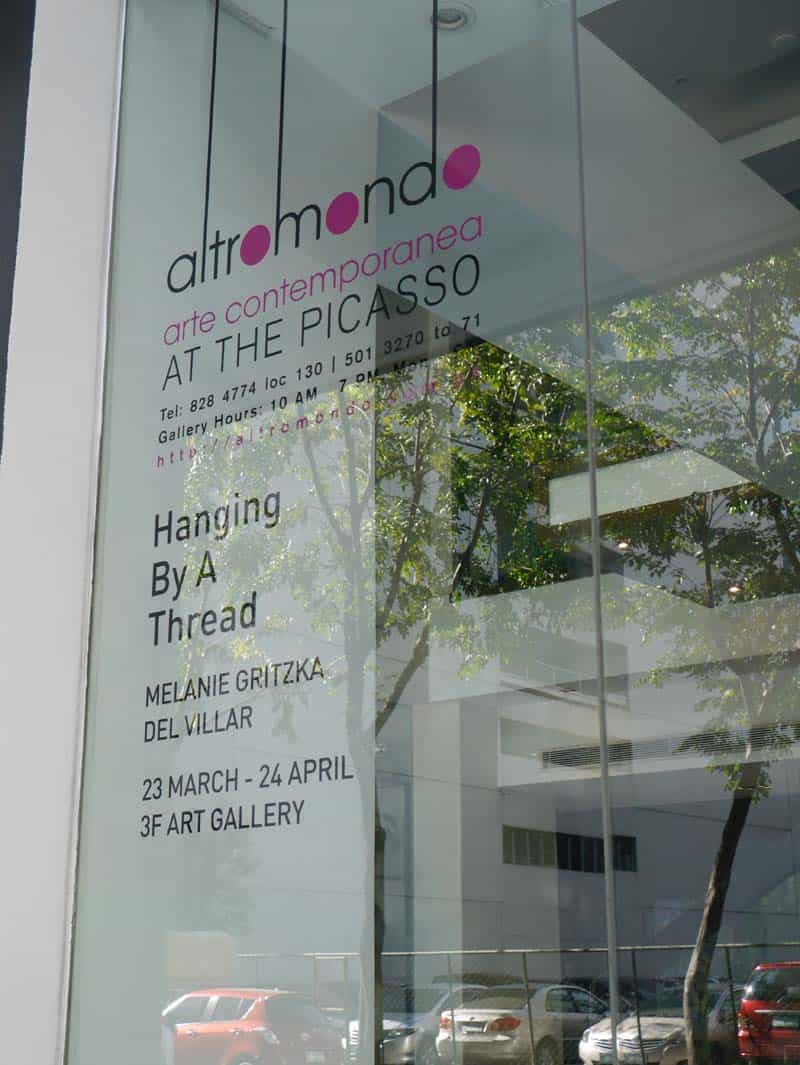 About the Artist & Exhibition:
Born in 1982 to German-Philippine parents, Melanie has lived, worked and studied in countries across the globe, including Germany, Spain, England, Thailand and the Philippines. She is a visual artist known for her signature use of mixed media, using found objects in painting and collage work.
Her global cultural background and experiences are just some of the factors that inform her latest collection, 'Hanging by a Thread' which explores the artist's concern with the current state of affairs in our increasingly fragmented and fragile world.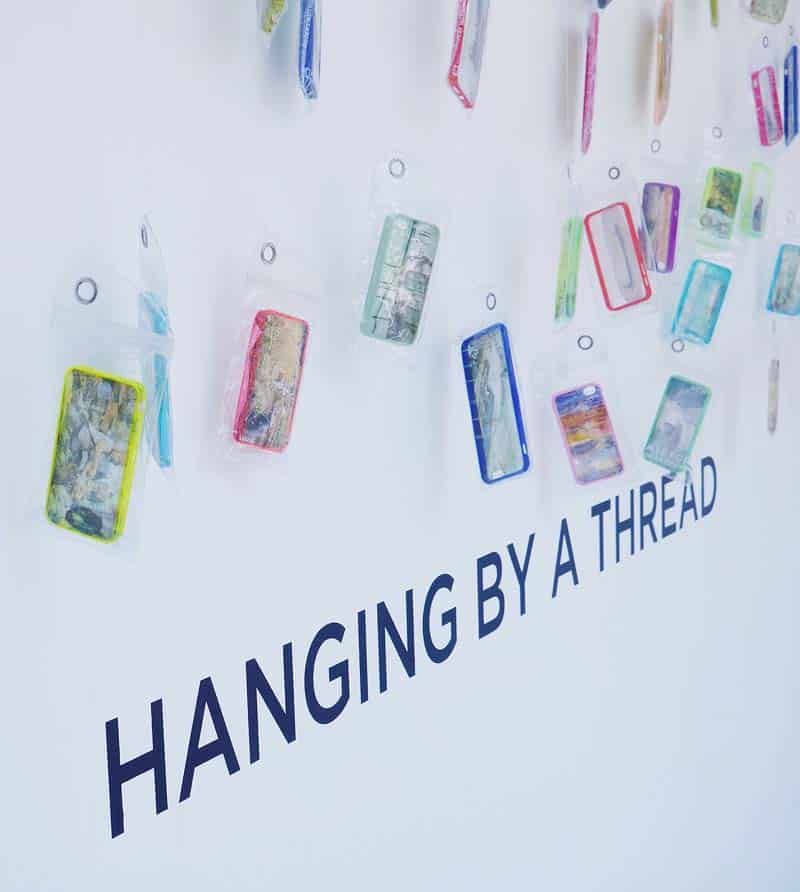 Recycling and re-contextualizing are themes inherent in Melanie's work. This latest exhibition serves as the artist's reminder to herself and her public that not all that is broken is lost.
'Hanging By a Thread' is presented in three separate yet linked parts:
Room 1 : 'Traces' & 'The Catch'
The first room of the exhibition focuses on communities that are dependent on the ocean for subsistence, through the raw materials that symbolize their connection to their environment.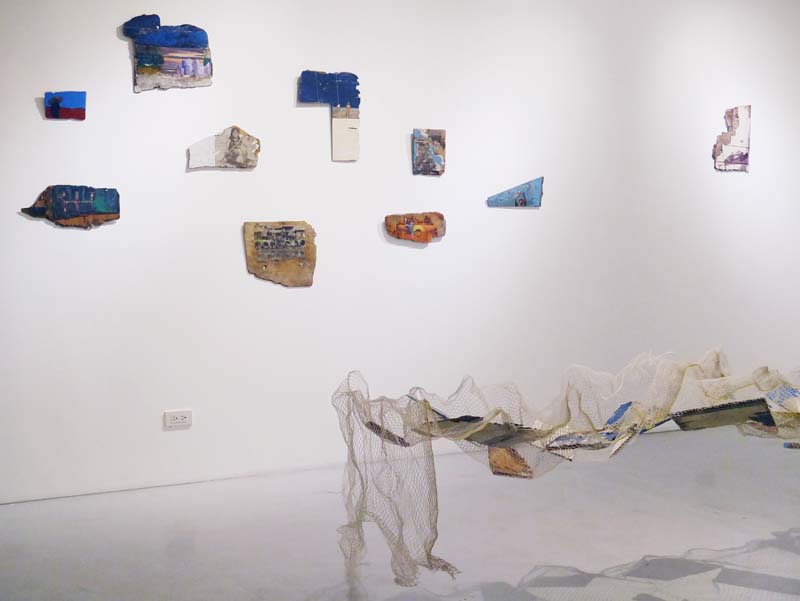 The driftwood collages are part of the artist's series 'Traces'. For this collection she uses driftwood remnants from typhoon wreckage gathered on the shores of Philippine islands.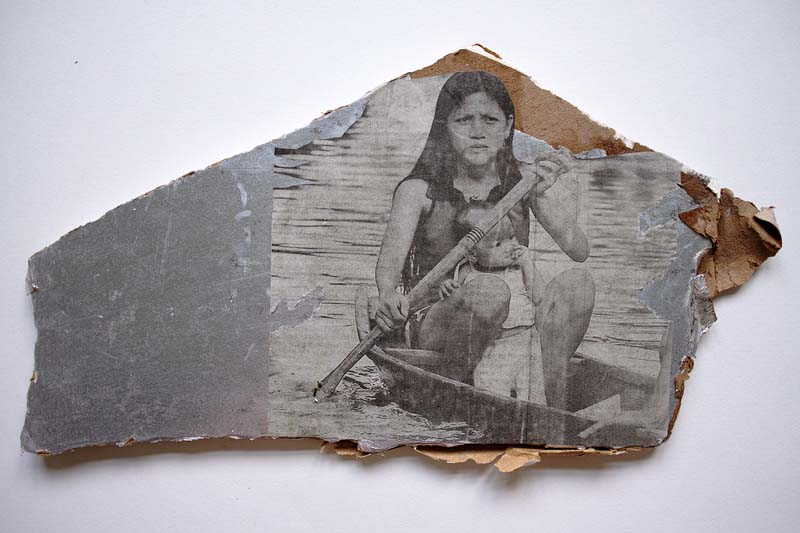 She combines this with newspaper images from local Filipino and Thai newspapers (Manila Bulletin, Bangkok Post and The Inquirer). By repurposing the disparate fragments the artist creates a platform for alternative narratives.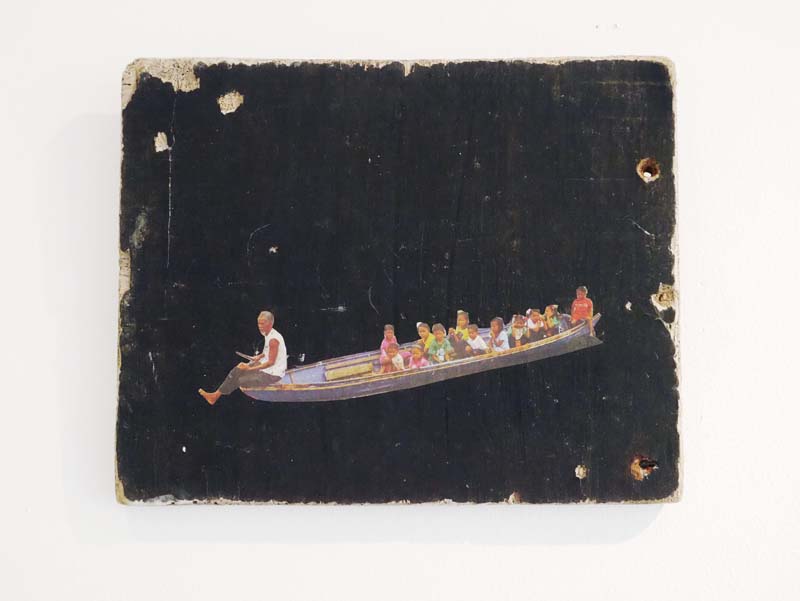 Meanwhile, bringing into play overlooked surfaces and stories, she invites the audience to question the given hierarchies of value.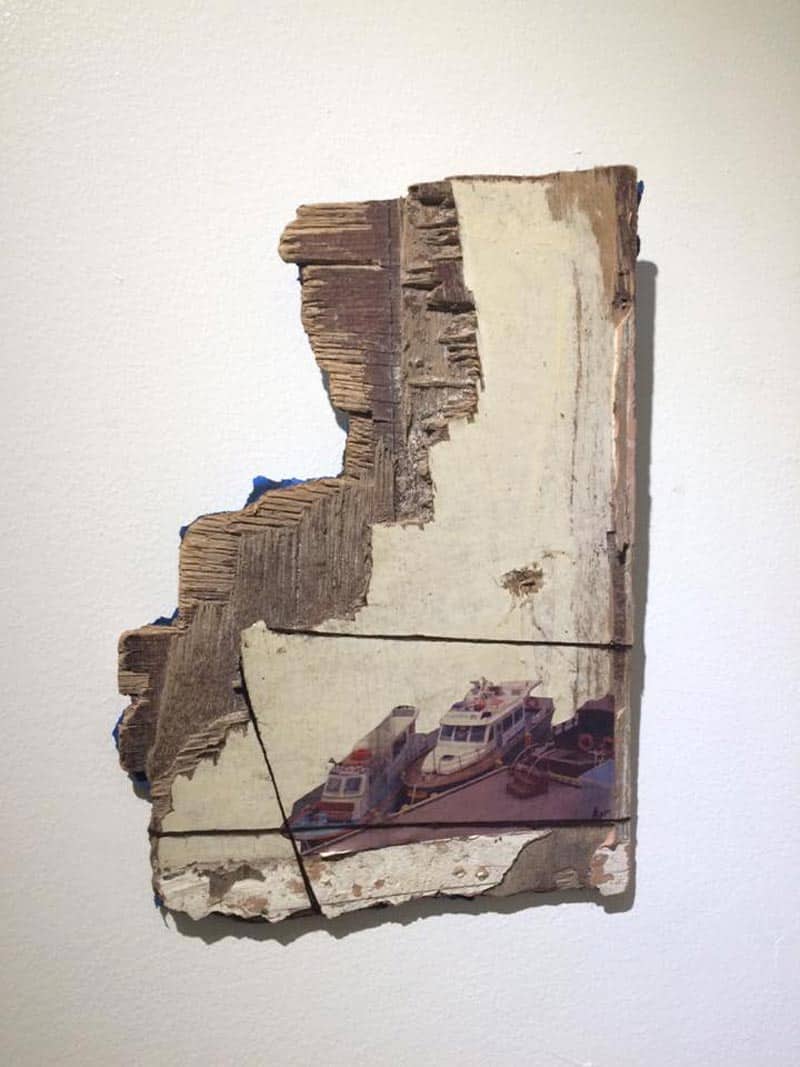 Another piece found in the same space, 'The Catch', further addresses these themes using image transfers connected through a fishing net.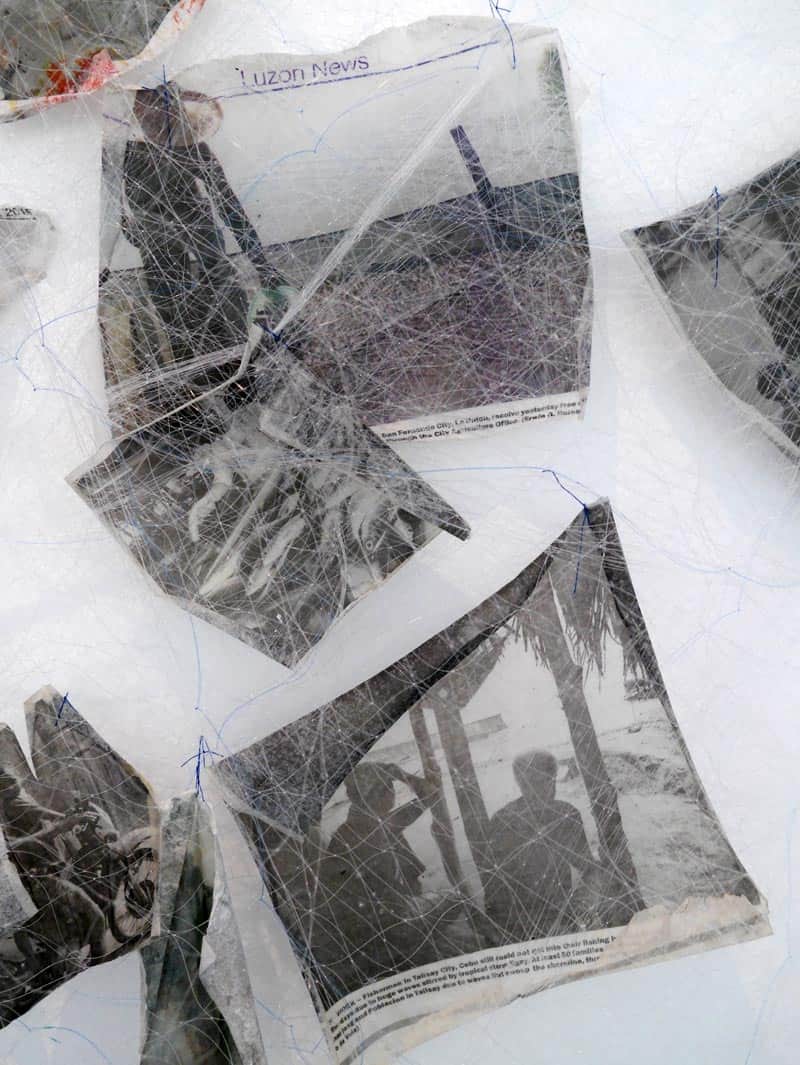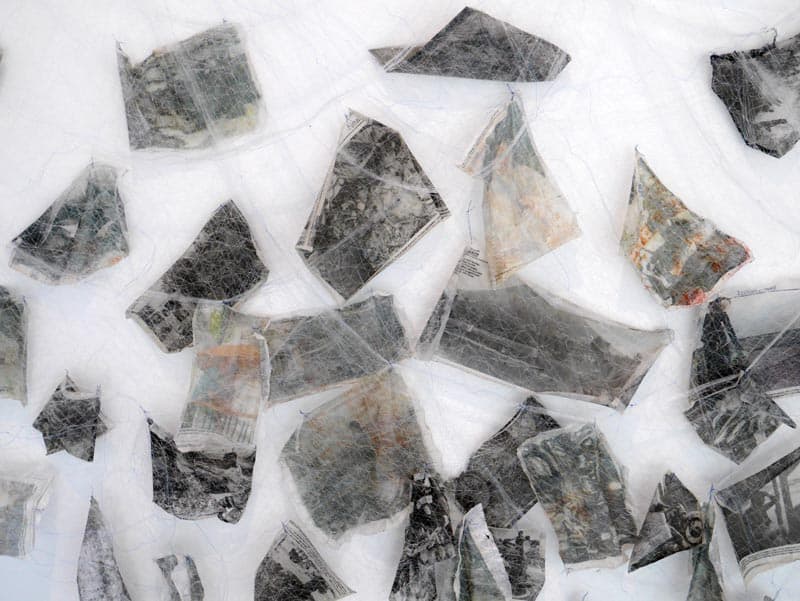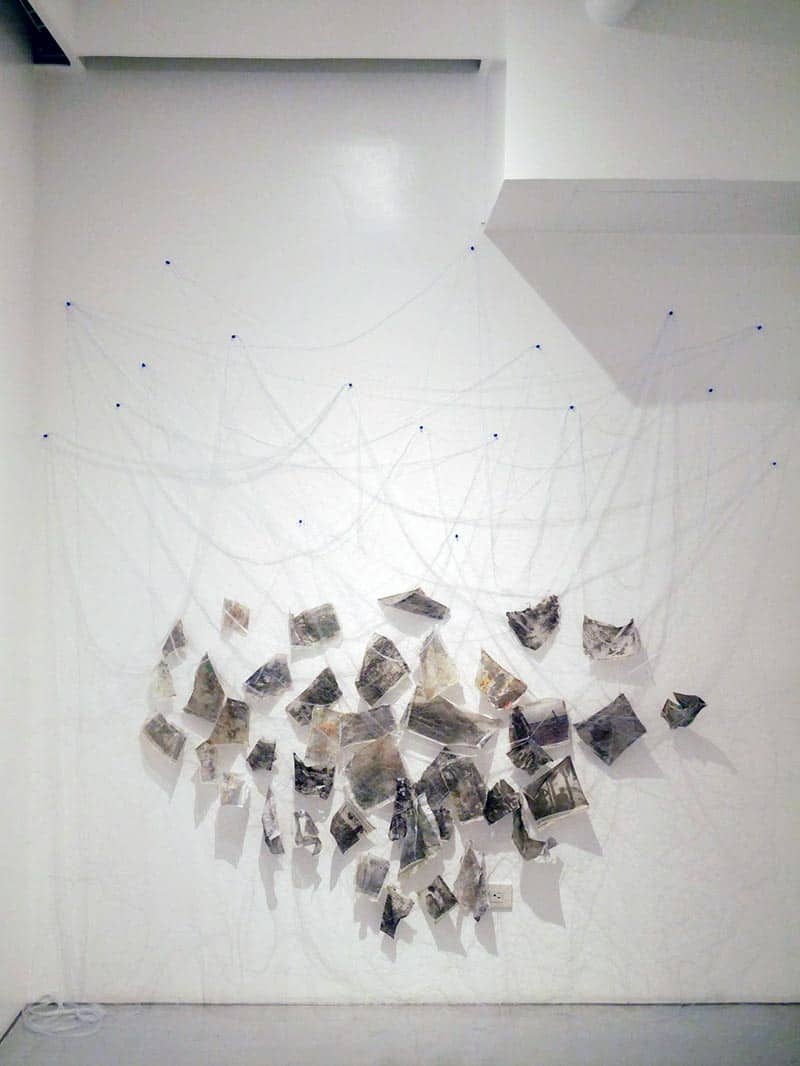 Room 2 : 'Hanging By A Thread'
The second section draws from old maps produced by the World Resources Institute showing data on endangered coral reefs. Melanie has developed a unique technique of transferring the printed images onto gel medium to produce this particular collection.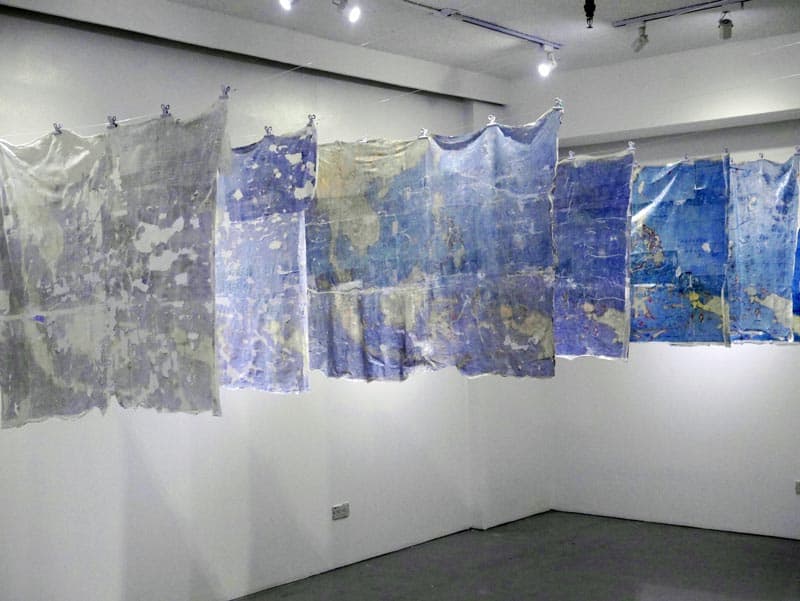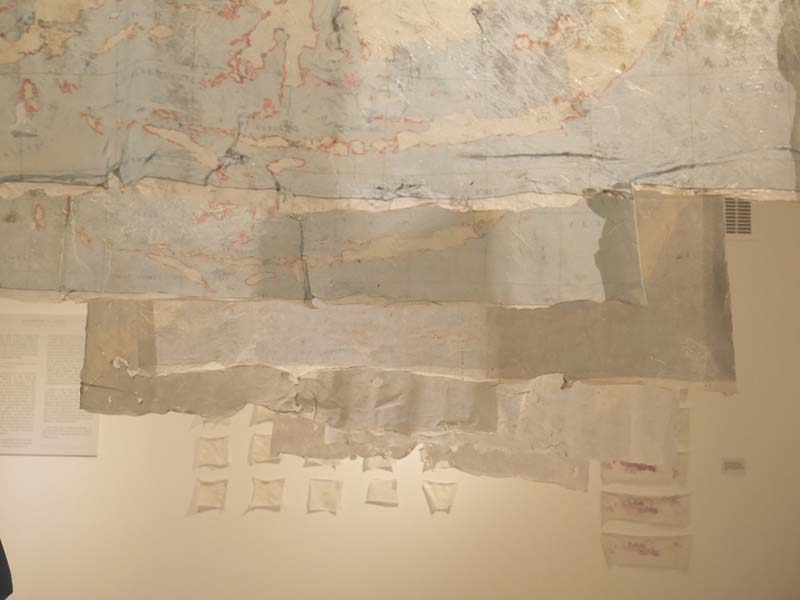 According to the artist, this method serves to highlight the tension between the totality of the world as coherent and complete, which the maps seek to present, and the unstable state of the medium through which it is communicated.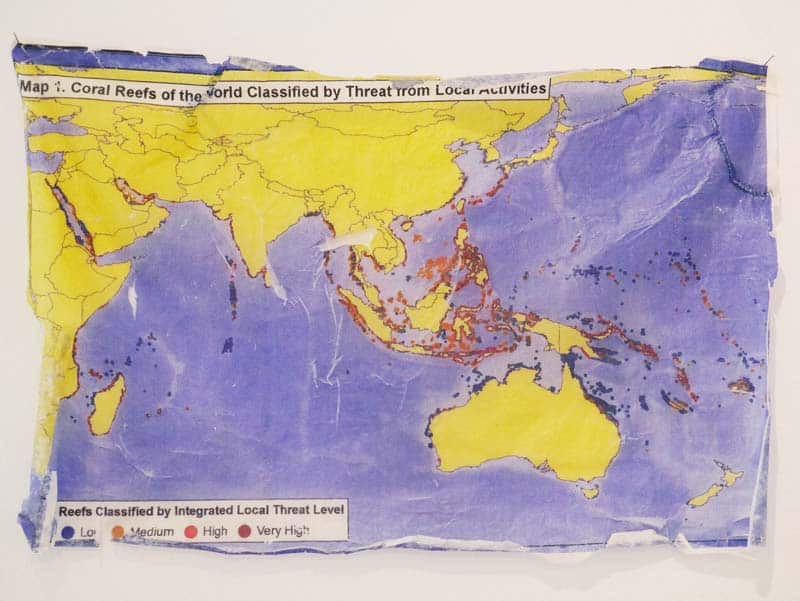 Moreover, the process of successive transfer of the images blurs the original clarity of the information. Consequently, the artist used stitches in an attempt to hold the image from falling apart.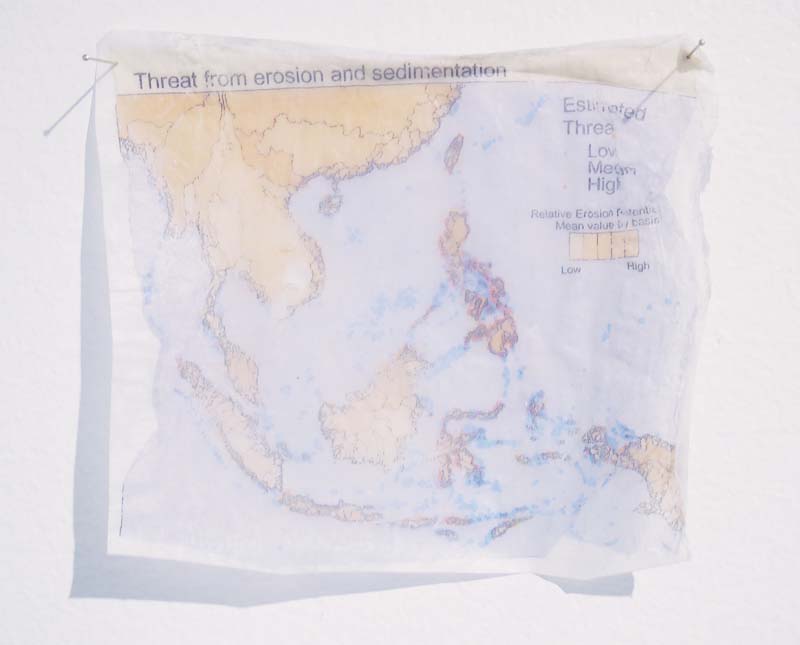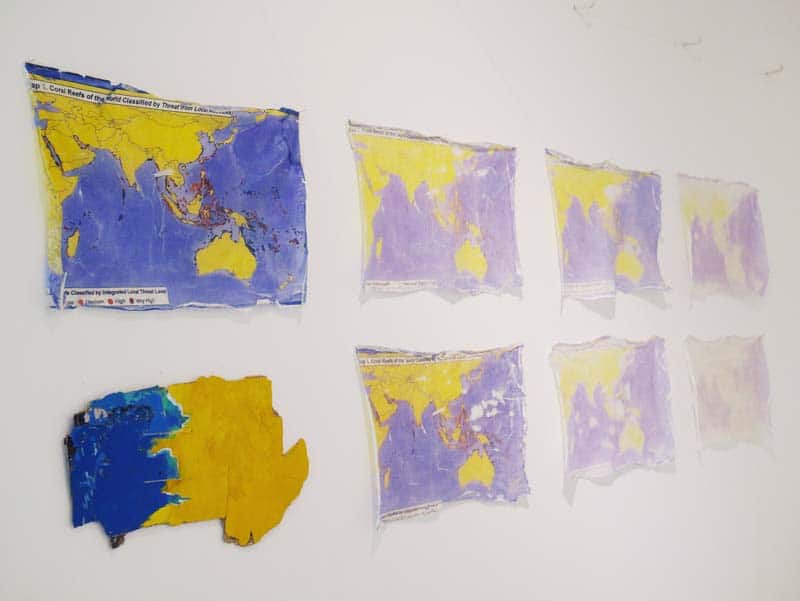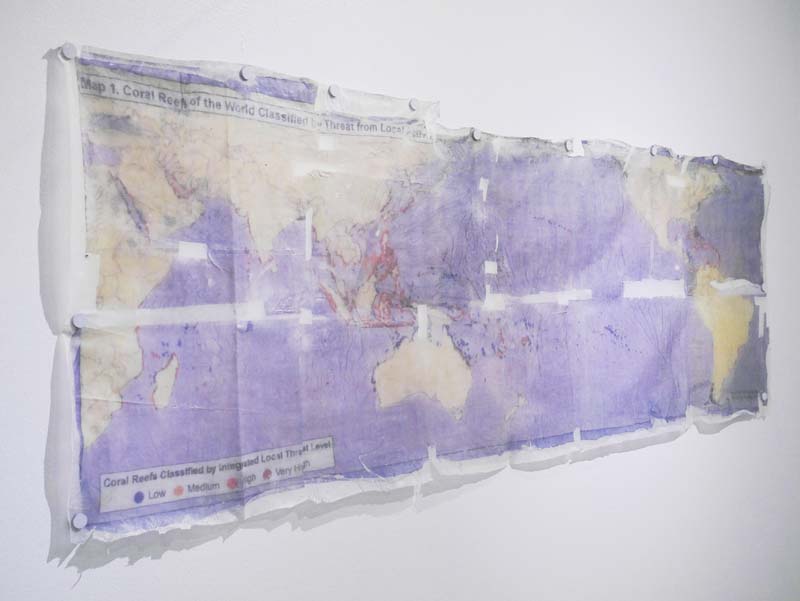 Together, the layers, marks and stitches become a symbol of the artist's creative journey marked by an ongoing search for harmony out of disparate cultural, geographical and environmental elements.
Annex Room : 'No Network'
Lastly, in an annex room with large windows to the roadside, hangs the installation 'No Network'. Here, the artist has inserted her gel transfers into empty phone covers.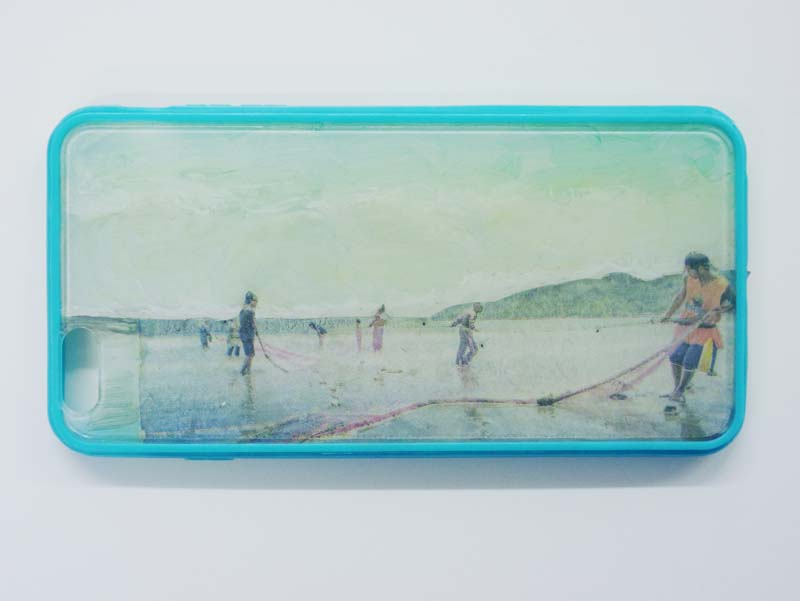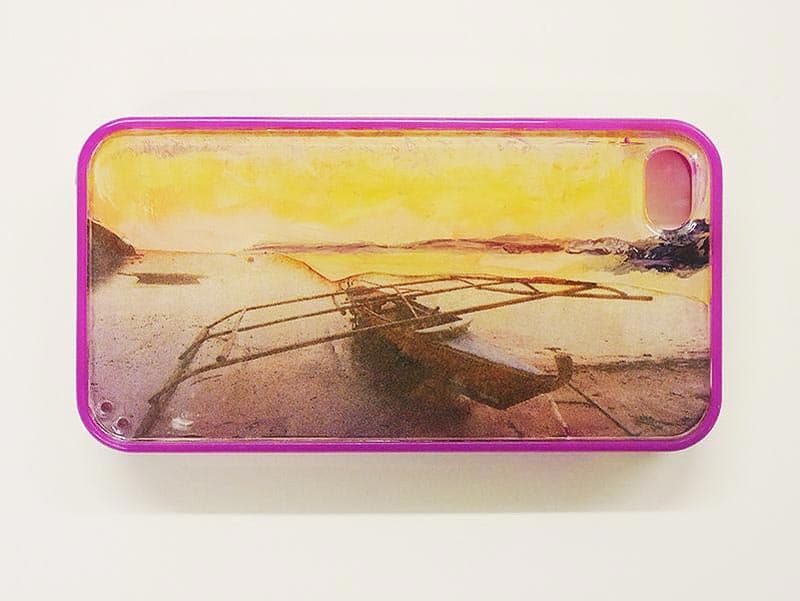 The work echoes the way in which we filter and view the world through a screen but ultimately remain detached from reality.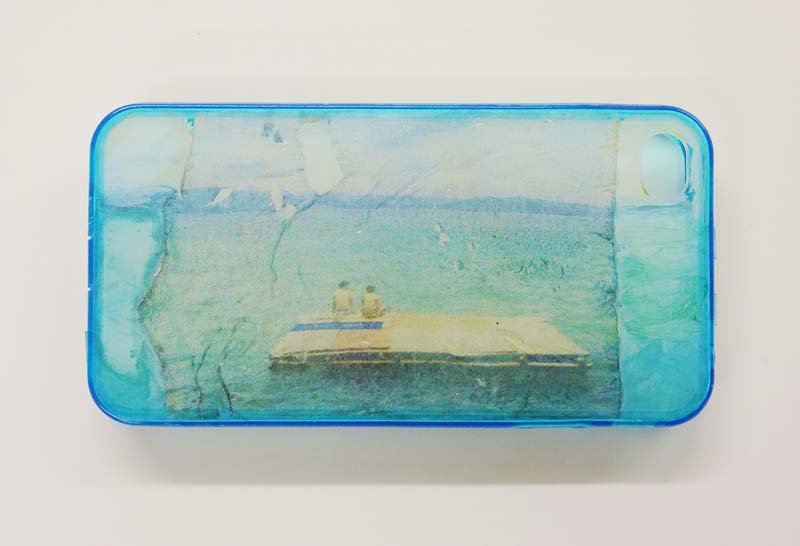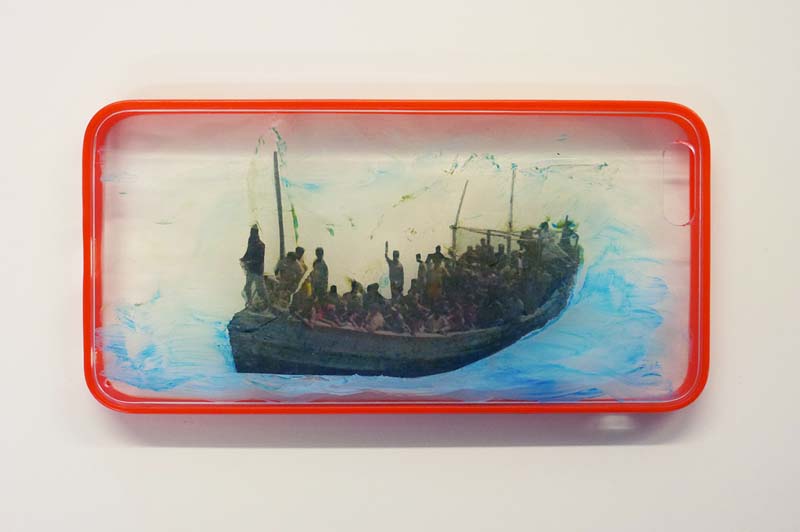 Information is disseminated into an overwhelming stream of images that are all-pervasive but nevertheless remain in isolation – floating and adrift.
The Works of Melanie Gritzka del Villar:
Though Melanie was born in Munich, Germany she continues to expand her global horizons, with bases in Boracay Island in the Philippines as well as Bangkok, Thailand and Paris, France.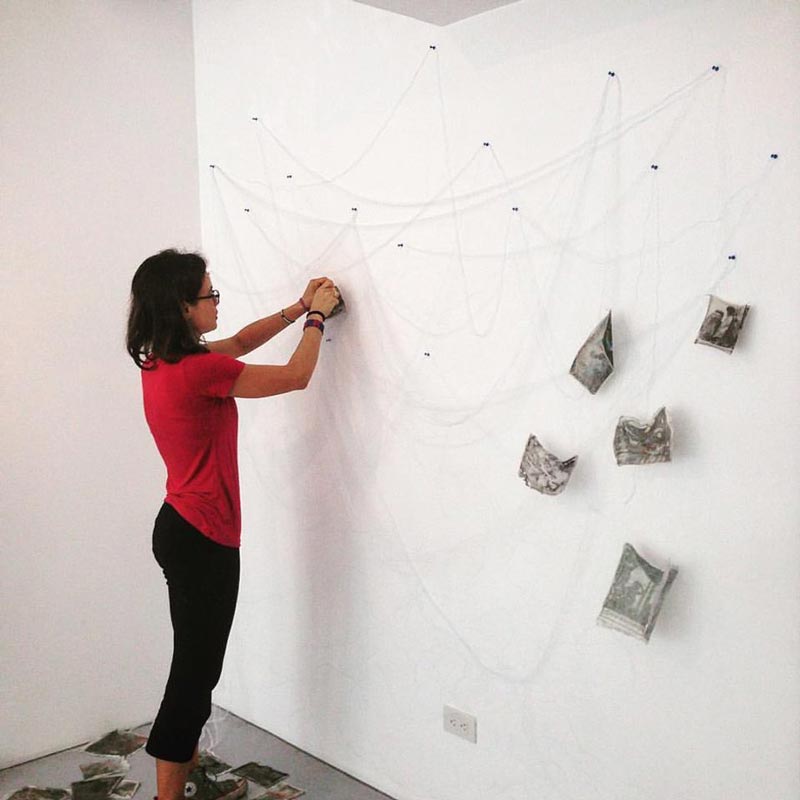 Melanie's work often tackles questions of belonging and perpetual transformation. She expresses the existential insecurity that besets many so-called Third Culture Kids.
Meanwhile, her themes explore the ongoing fragmentation of traditional concepts regarding cultural boundaries in the globalized world through her appropriation and integration of motifs and objects taken from different cultures – in particular Southeast Asia.
In Her Own Words:
"I consider myself a synthesizer of different cultural references, of archaic as well as dream symbols; a reclaimer of discarded or overlooked surfaces.
I am interested in a new human ecology, one that respects our interdependence as human beings, our own inner nature, and the natural environment. My main expression is painting, however I frequently use collage and layering techniques too and venture into mixed media work.
My art is a record of my experiences, emotions and visions – a record that charts a lived personal reality which hopefully touches upon a more collective and universal truth." – Melanie Gritzka del Villar for Onarto
Follow the link to browse Melanie Gritzka del Villar's original art for sale on Onarto, or visit her webpage, www.gritzkadelvillar.com
Details of Exhibition:
Title of show: Hanging By A Thread
Artist: Melanie Gritzka del Villar
Duration: March 23 – April 24 2016
Venue: Altro Mondo Arte Contemporanea Gallery at the Picasso, The Picasso Boutique Serviced Residences, 119 L.P. Leviste St., Salcedo Village, Makati City, 1227, The Philippines
Links & Sources: Altro Mondo Arte Contemporanea Gallery, Twitter, @AltroMondoArt, Facebook, @gritzkadelvillar
U love Art. U can share it.
onarto.com is the leader and first art store dedicated to Thailand contemporary art, promoting more than 200 thai artists around the world. Answering to art collectors and artists, onarto now expand his activiy to promote Asian art and open its boundaries to creative designer, become a tool to connect creatives mind and art doers with art collectors and unique beauty lovers.