Interesting Christmas Trees From Around the World
From New York City's Metropolitan Museum of Art to Galleries Lafayette in Paris, here are this years' most unique and interesting Christmas trees.
Last modification :
September 28, 2017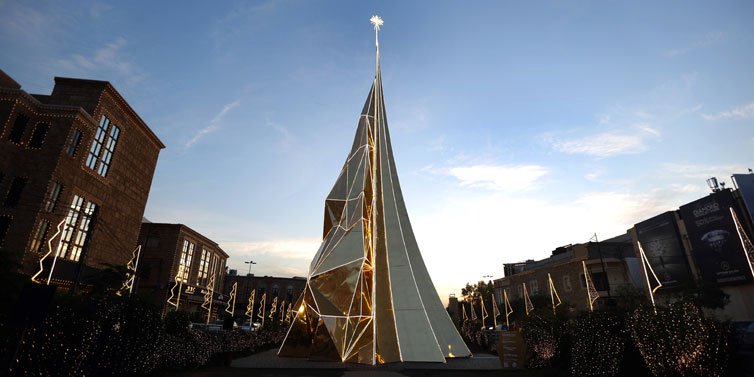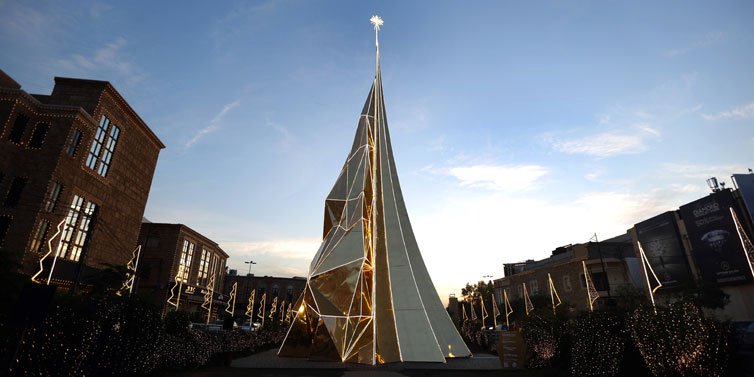 Early December is the time to witness the decoration and spread of Christmas joy, with major cities around the world, iconic shopping centers and cultural landmarks all offering their own displays of Christmas cheer to a delighted public.
From New York City's Metropolitan Museum of Art to Galleries Lafayette in Paris, here are this years most unique and interesting christmas trees.
London, England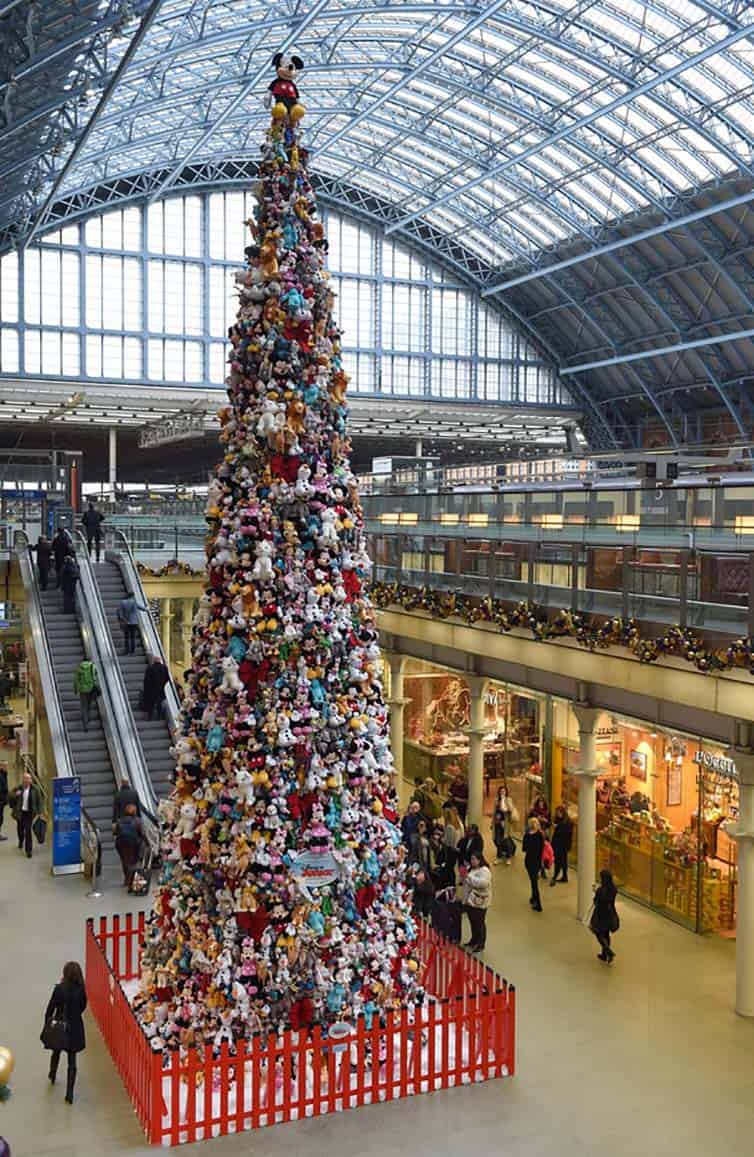 Some 2,000 plush toys were piled up to create this Disney-themed kids fantasy tree in London's St.Pancras International Station.
Taipei, Taiwan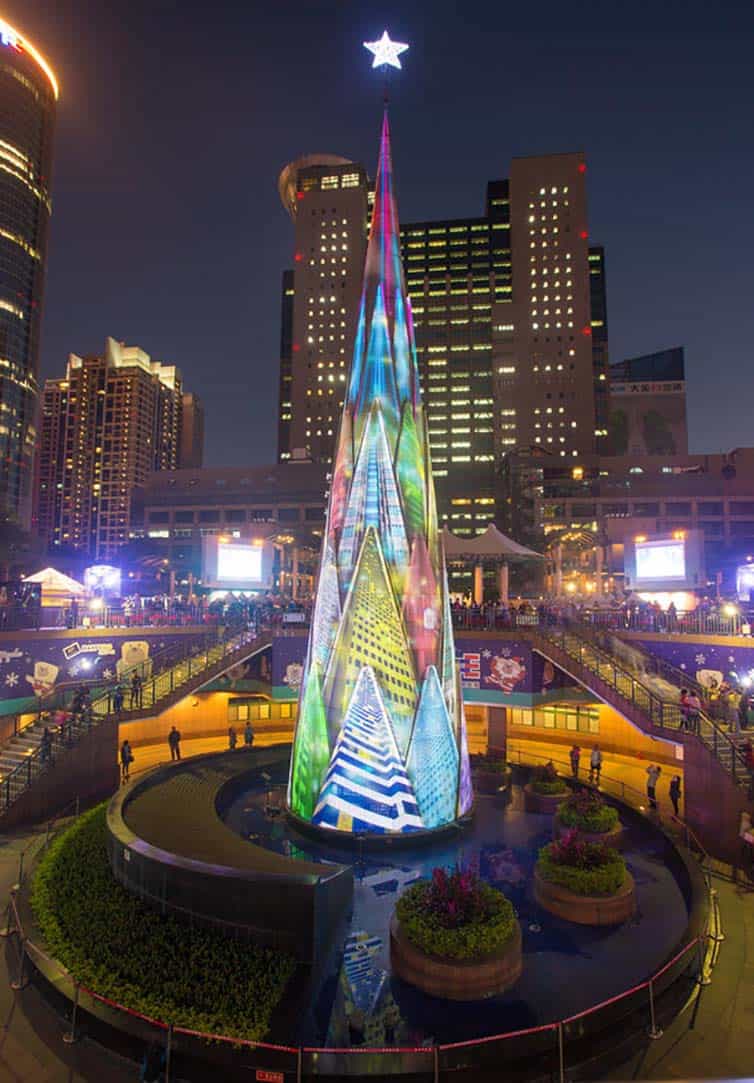 This LED tree in the Taiwanese capital of Taipei is the largest public Christmas decoration in the country, standing at around 36 meters tall. It also features a light show every half hour following sundown.
Paris, France – Le Royal Monceau Hotel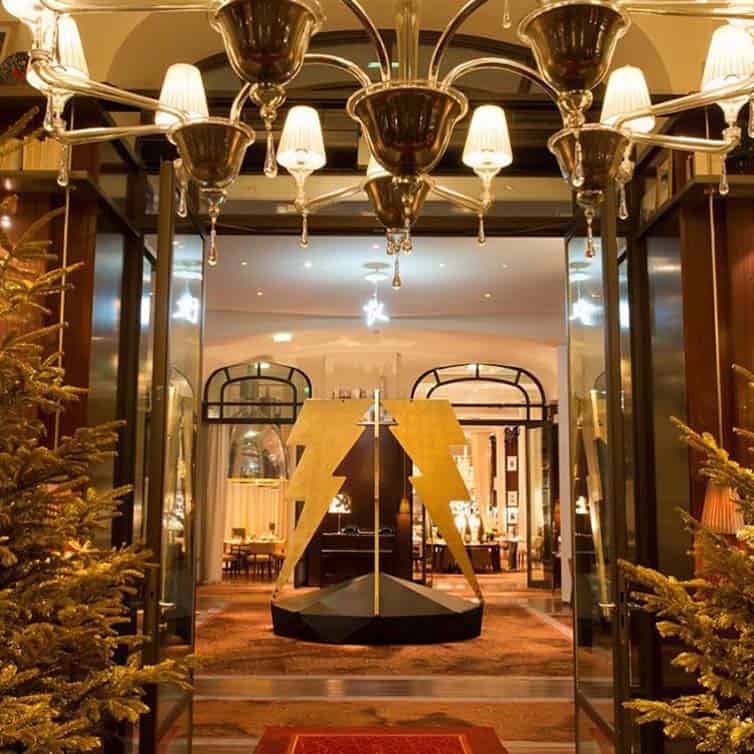 Le Royal Monceau Hotel in Paris displayed a beautifully minimalist and chic Christmas lobby this winter. Titled, "The Lightning Tree", the work of art was created by French artist and architect, Didier Faustino.
New York City, New York, United States – The American Museum of Natural History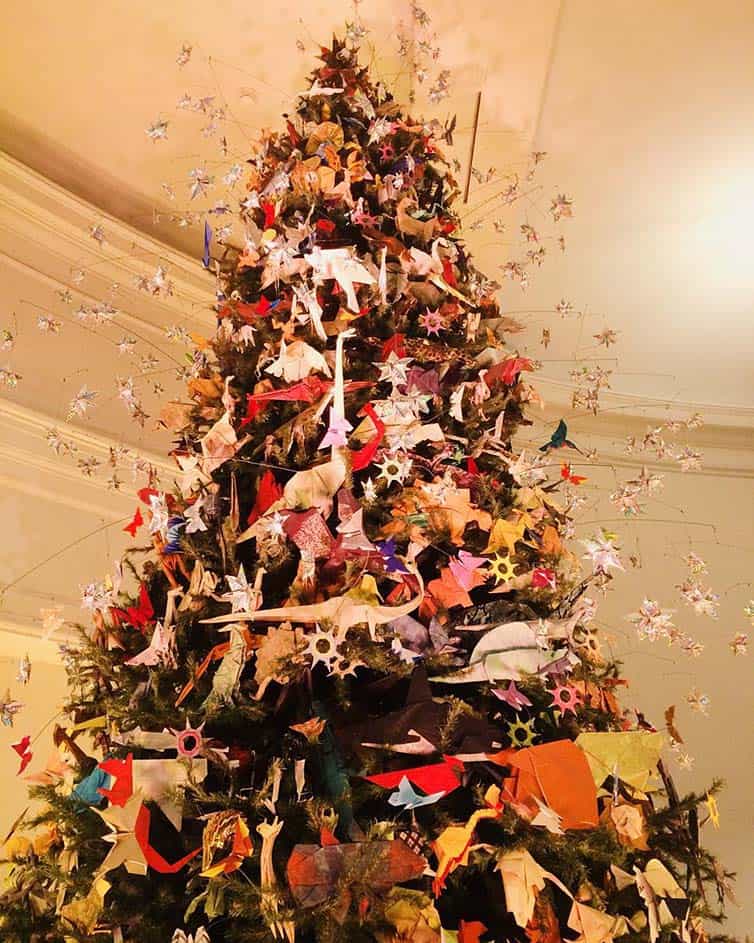 The American Museum of Natural History in New York City unveiled a christmas tree covered with delightful animal origami inspired by the diverse flora and fauna housed within its very walls.
London, England – Victoria and Albert Museum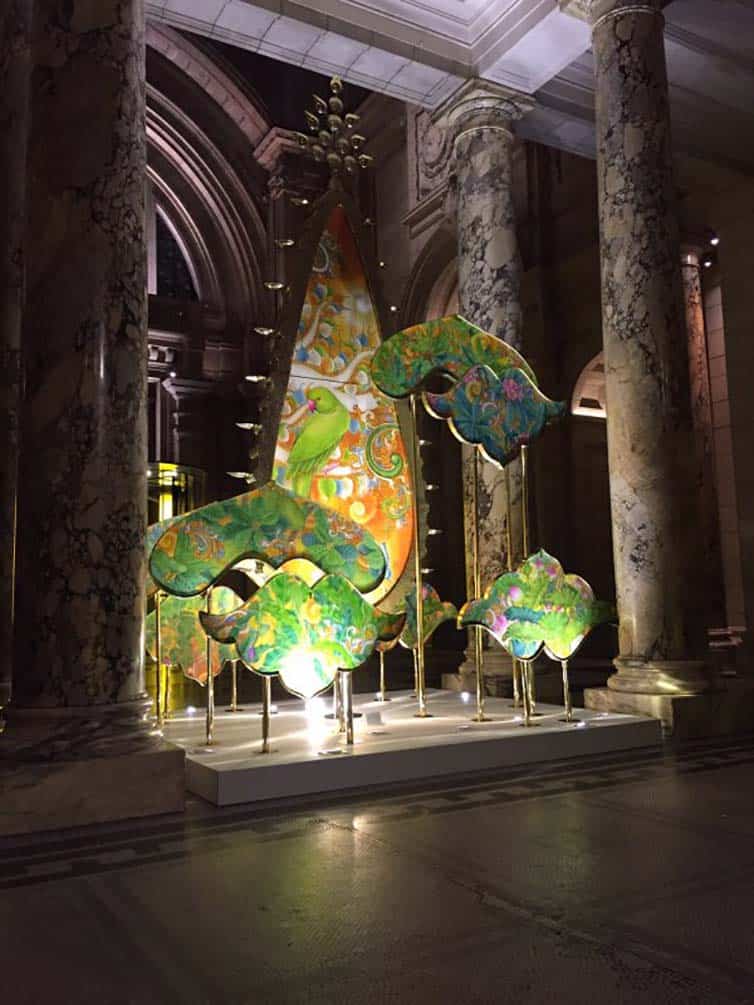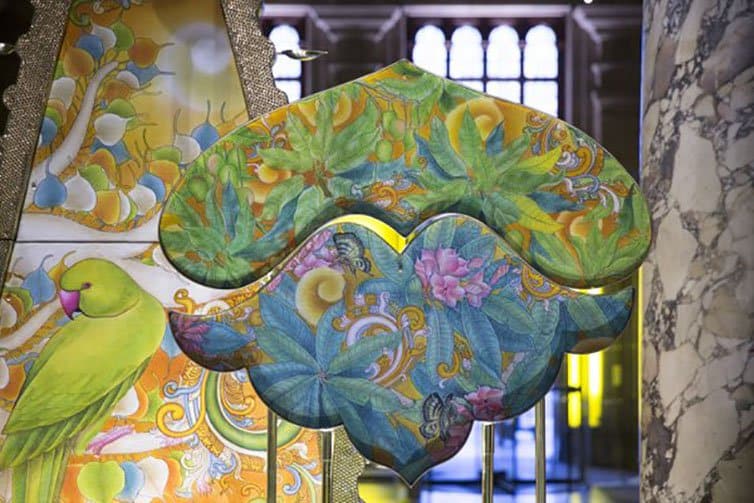 This installation, titled Kalpataru, was created by the Delhi-based designers, Sarthak and Sahil. Though the Kalpatura is a wish granting tree common in Indian mythology, the V&A stated that the installation embodied the metaphorical spirit of Diwali and Christmas, and can be enjoyed by everyone during the festive season. The tree is made from handcrafted beaten brass and features paintings by Kerala artists of traditional motifs in a distinctive mural style.
London, England – Claridge's Hotel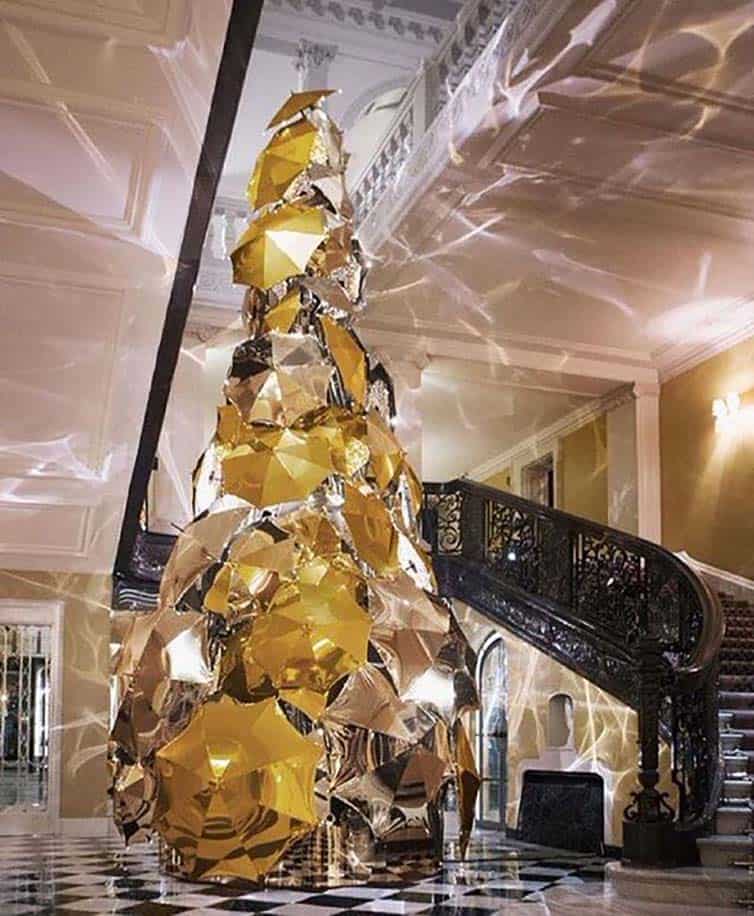 Claridge's Hotel is one of London's most iconic art deco luxury hotels. It is located in the posh Mayfair area, within walking distance of the famous Oxford Street. Every year the hotel unveils an exceptional Christmas tree, and this year was no different, as Burberry's Christopher Bailey was behind the design of the quintessential British themed tree of umbrellas. Past designers to take over the creation of the tree have included Domenico Dolce and Stefano Gabbana of Dolce & Gabbana, who decorated the tree for two years. Previous to that, John Galliano and Lanvin's Alber Elbaz were chosen for the honor.
New York City, New York, United States – The Metropolitan Museum of Art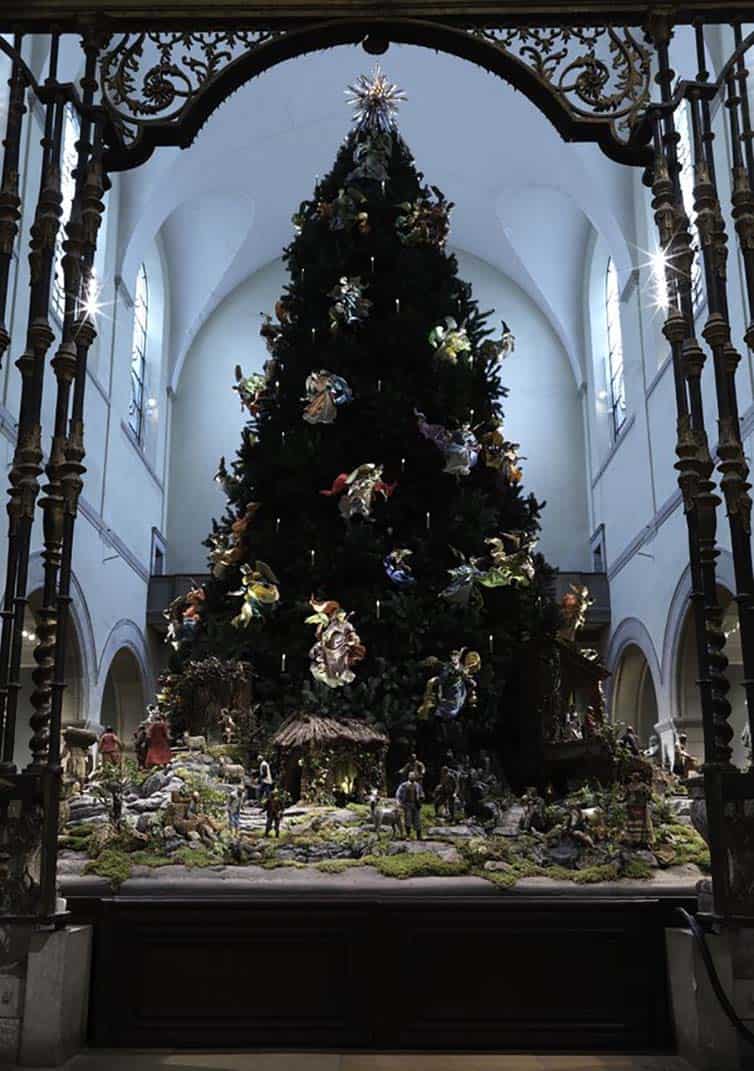 New York's Metropolitan Museum of Art unveiled its highly anticipated Christmas tree which will be on display through January 6, 2016. The huge tree is themed on traditional elements of 18th century Neapolitan nativity scenes and is adorned with twenty-two cherubs and fifty-five suspended angels. The landscape at the base features shepherds and their flocks, the procession of the three Magi, and peasants and townspeople.
Assisi, Italy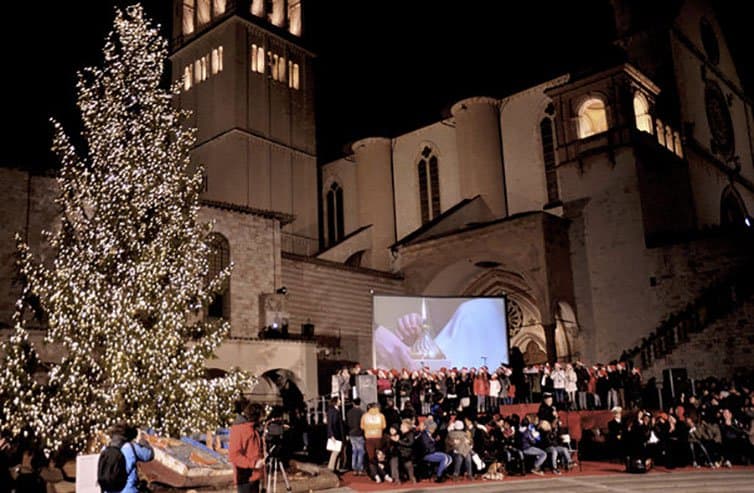 Pope Francis illuminated this Christmas tree and nativity scene in the Italian city of Assisi. The specially designed manger was made from the remainder of a boat used to carry migrants to the coast of Lampedusa. Reportedly, some thirty-one immigrants and refugees attended the nativity ceremony, which took place in the same exact spot where Saint Francis of Assisi began the tradition in the 12th century.
Vilnius, Lithuania – Cathedral Square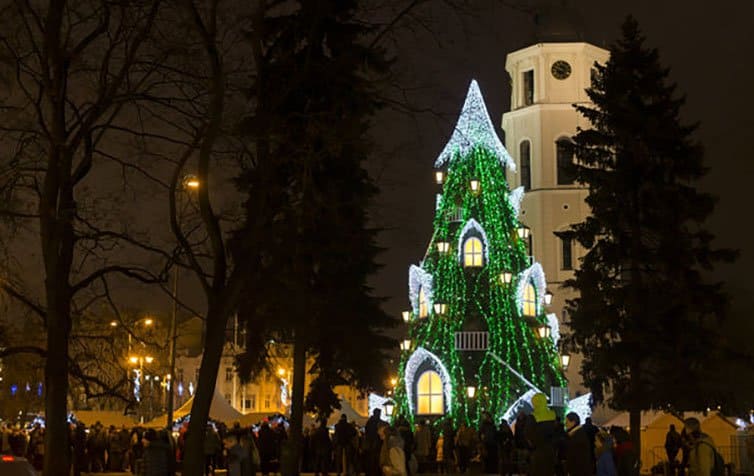 Cathedral Square in Vilnius, Lithuania is the site of the beloved Christmas tree lighting ceremony celebrated each year.
Paris, France – Galeries Lafayette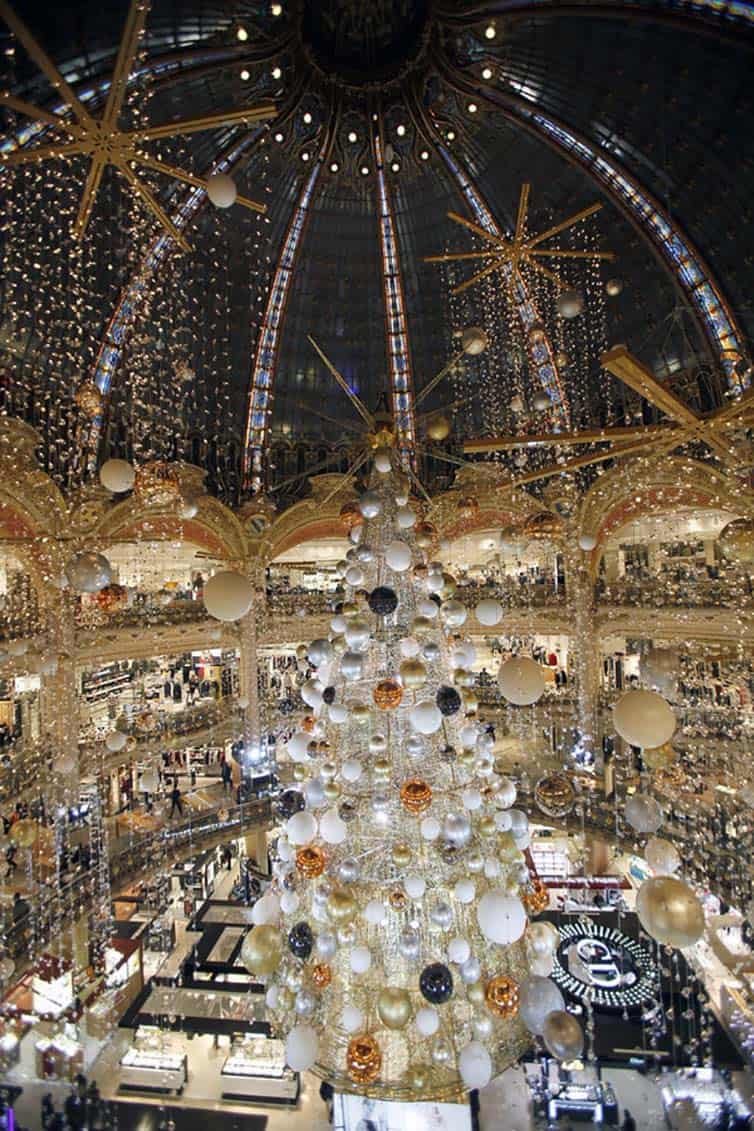 Galeries Lafayette is a famous French department store in Paris and each year it is home to what might be the most beautiful and extravagant Christmas decorations in the country.
Warsaw, Poland – Old City Square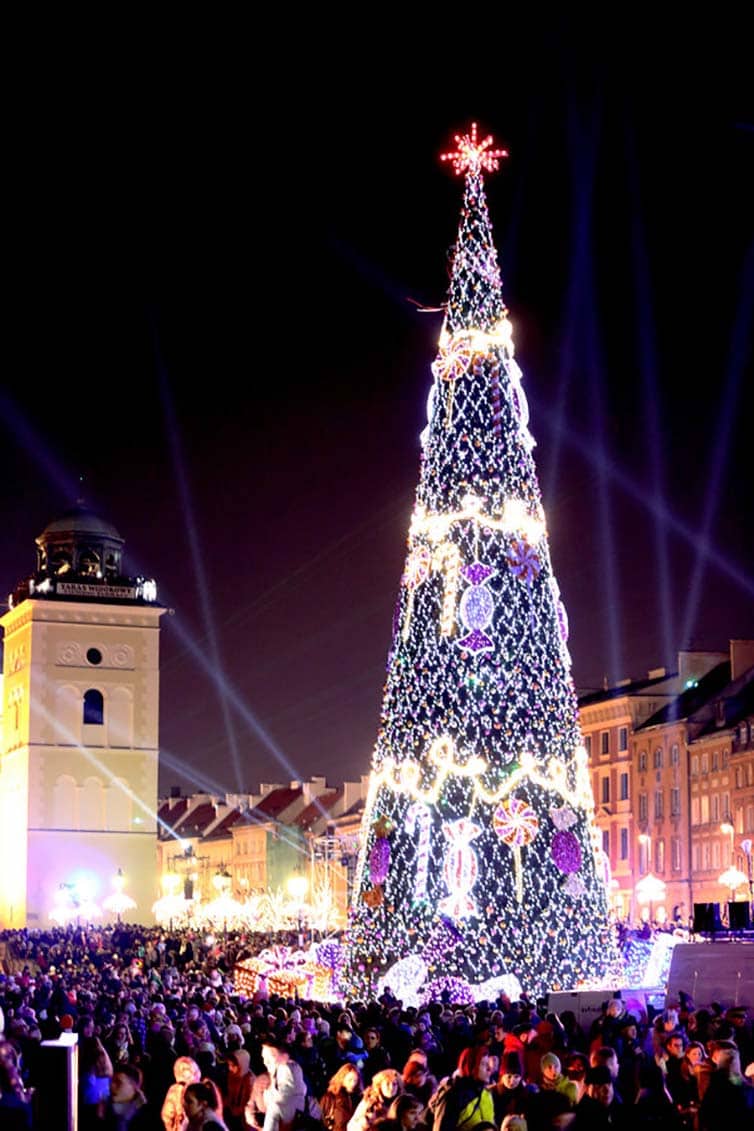 In Warsaw's old city square, revellers gather to witness the lighting of the Christmas tree and ring in the festive season. Celebrated the day before the Feast of St.Nicholas, the holiday is a religious event and a special day for Polish children.
Turin, Italy – Piazza Castello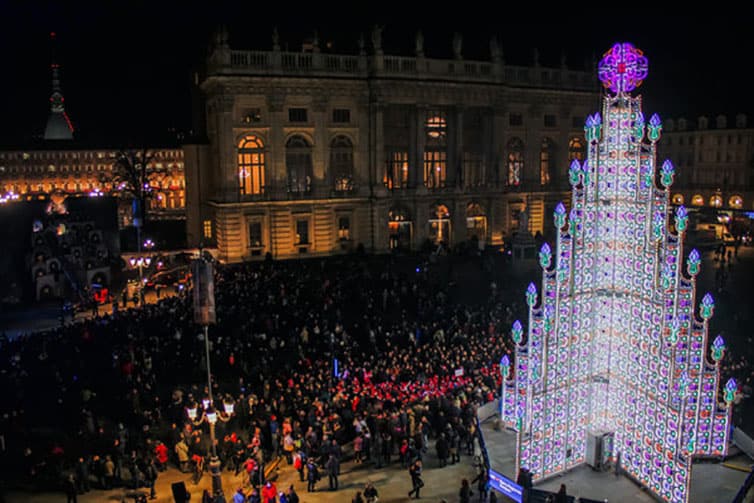 The lively Piazza Castello in central Turin hosts the lighting of the Christmas tree every festive season.
Washington, D.C., United States – U.S. Capitol Building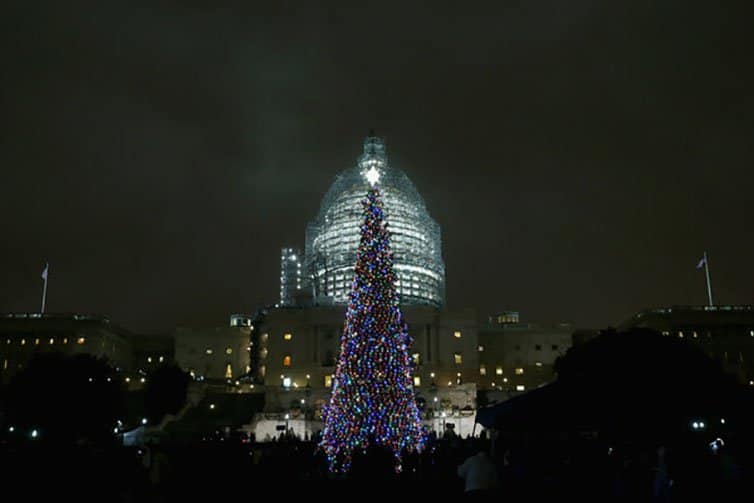 A large 23-meter, 90-year old Lutz Spruce decorates the west side of the U.S. Capitol building in Washington D.C.
Washington, D.C., United States – The Ellipse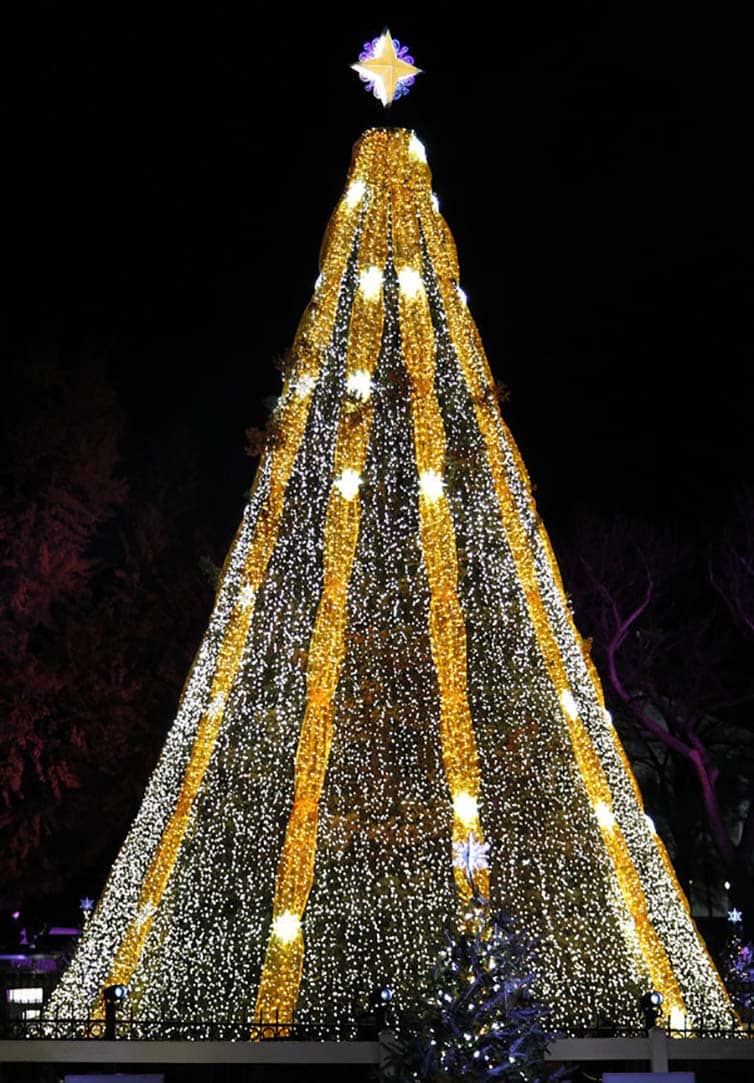 The National Christmas tree as pictured at Washington D.C.'s famous landmark, The Ellipse – a 52-acre park located south of the White House fence and home to numerous historical monuments.
Prague, Czech Republic – Old Town Square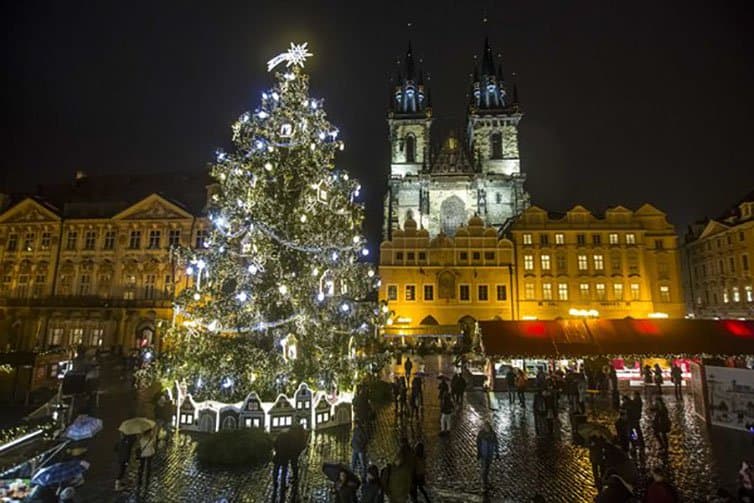 The Chirstmas Market in Prague's Old Town Square is a highly anticipated event that draws visitors from across the globe. The market will be held this year from 28th November 2015 until 6th January 2016 and is the ideal spot for people wanting to experience traditional Christmas delights.
Melbourne, Australia – Federation Square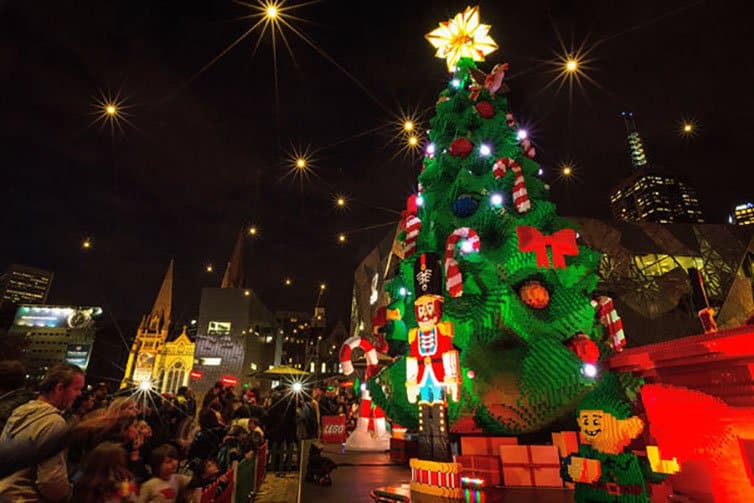 This Christmas tree in Melbourne's Federation Square was created with the help of over half a million Lego bricks.
Quezon City, The Philippines – SM North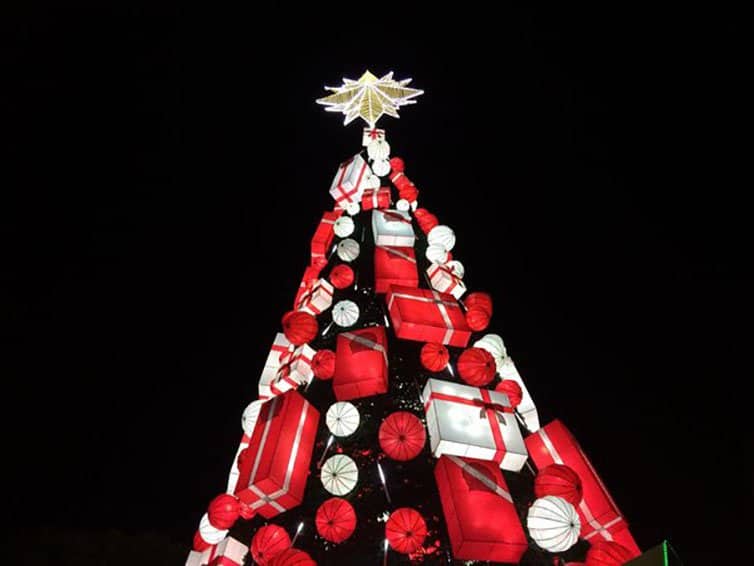 SM North in Quezon City is the fifth-largest shopping center in the world. Fittingly, the department store unveiled this 15-meter Christmas tree on November 6 to delighted audiences.
Byblos, Lebanon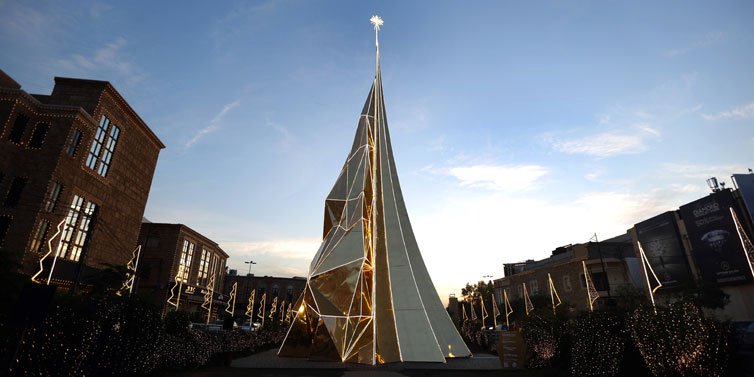 Byblos, a Mediterranean city in the Mount Lebanon Governorate of Lebanon, is a UNESCO World Heritage Site and reportedly the world's oldest port.
Muskegon, Michigan, United States – Frauenthal Center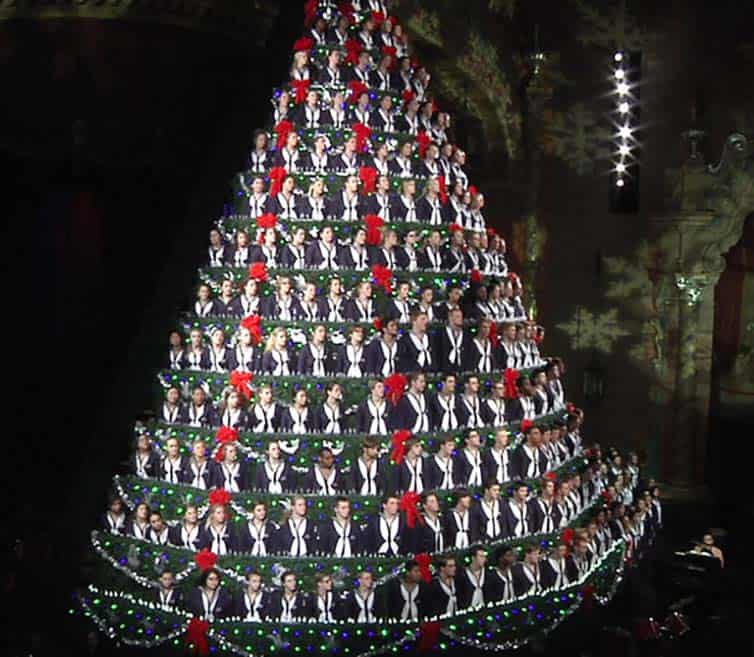 A depart from the traditional Christmas tree, here we have a five-story Singing Christmas Tree in Michigan's Frauenthal Center in Muskegon. Some 220 students participated in the event.
U love Art. U can share it.
onarto.com is the leader and first art store dedicated to Thailand contemporary art, promoting more than 200 thai artists around the world. Answering to art collectors and artists, onarto now expand his activiy to promote Asian art and open its boundaries to creative designer, become a tool to connect creatives mind and art doers with art collectors and unique beauty lovers.