Brooklyn Street Art's Most Popular Murals of 2015 – Worldwide
New-York based website, Brooklyn Street Art (BSA), the dedicated resource for street art fanatics worldwide, compiles list of best street art of 2015.
Last modification :
August 30, 2016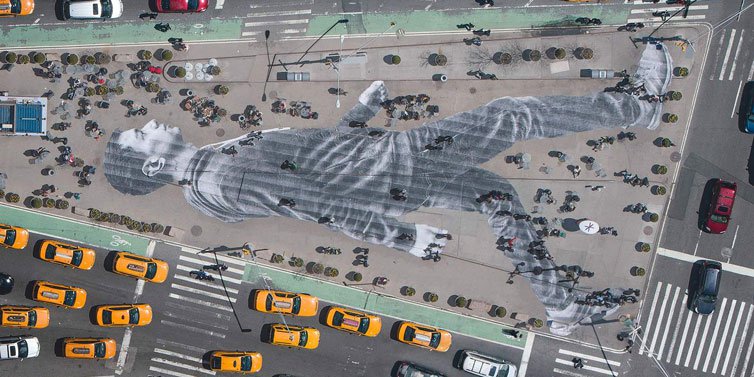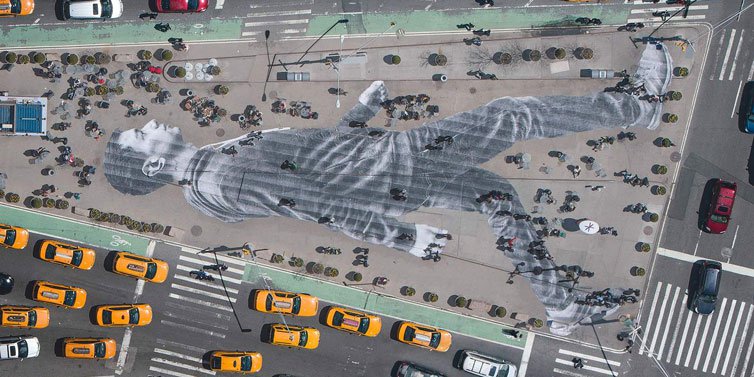 Brooklyn Street Art's Most Popular Murals of 2015 – Worldwide
The New-York based website, Brooklyn Street Art (BSA), is a one-stop dedicated resource for street art fanatics worldwide.
Who better then to compile a list of 2015's most popular murals from across the world?
According to the site, BSA came up with the list by surveying the number of "Likes" and shares each image received on various social media platform, namely Instagram and Facebook.
The majority of the works listed here are successful for obvious reasons – particularly those by bigger street artists such as Os Gemeos, Okuda and Alexis Diaz, but you may just be surprised by some works on the list.
Check out below the top 15 murals of 2015 according to BSA:
15. Os Gemeos – Manhattan, NYC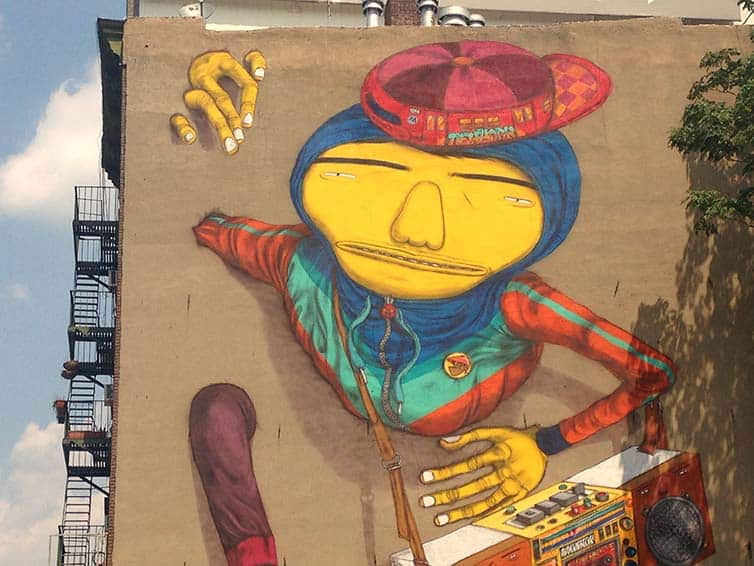 Os Gemeos (Portuguese for The Twins) are identical twin brothers and graffiti artists hailing from Sao Paulo, Brazil. Born in 1974, the duo are known for their funky, yellow skinned characters and combination of Brazilian aesthetic and hip hop culture.
14. Icy and Sot – Berlin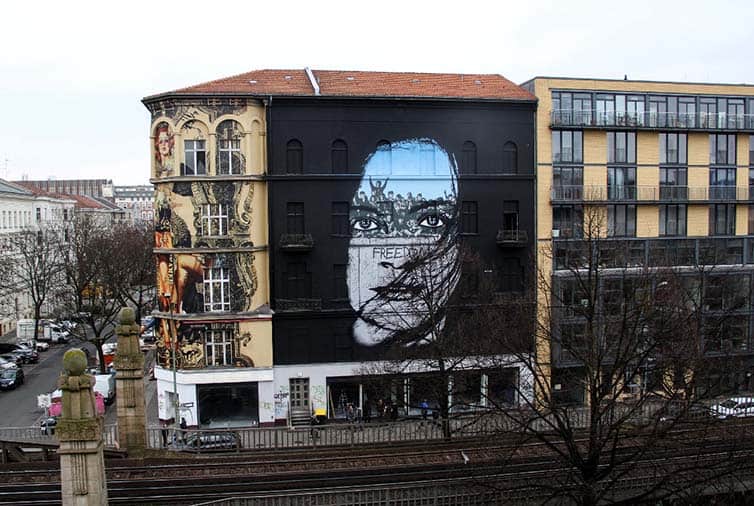 Icy and Sot are brothers and stencil artists from Tabriz, Iran, who first stepped out into the global street art scene in 2008. Their works center on social themes including war, love, hope, humans rights and Iranian culture.
13. Alexis Diaz – Manhattan, NYC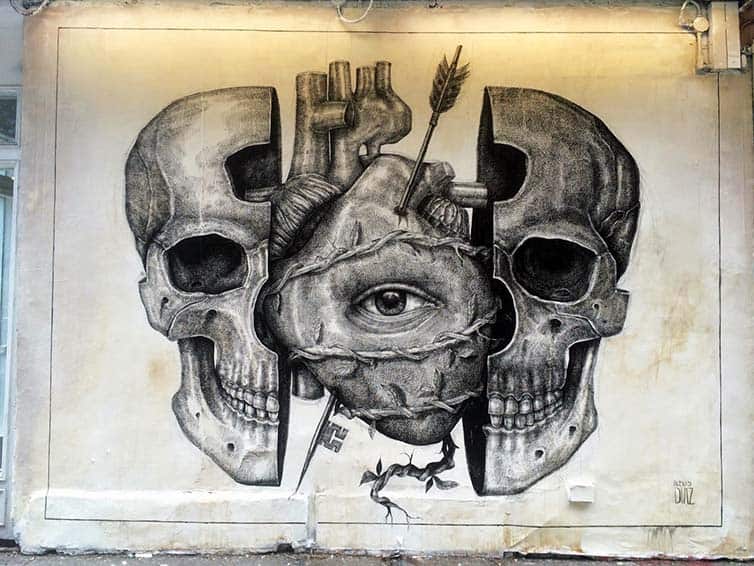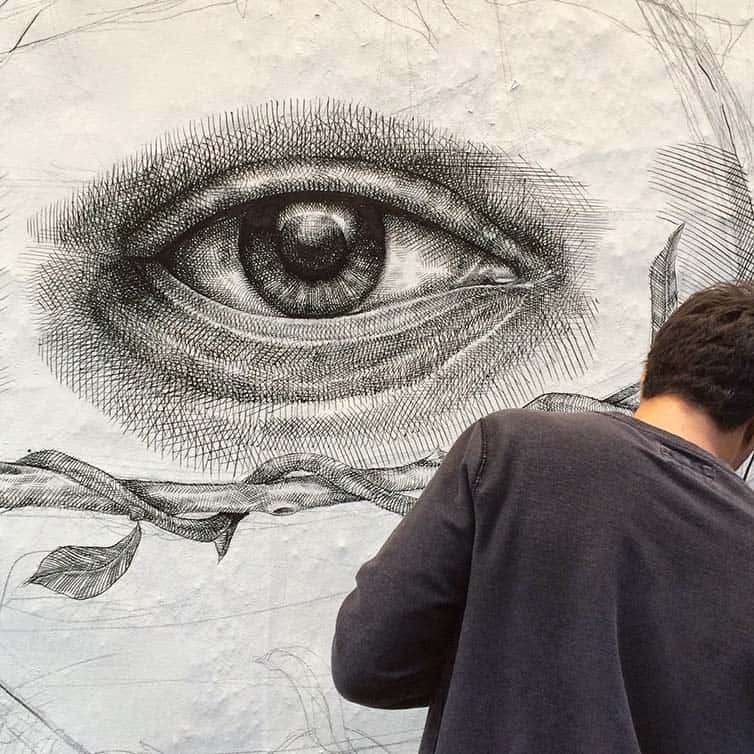 Puerto Rican painter and urban muralist, Alexis Diaz, is renowned for his very detailed line drawings and huge murals. He now has an international following, with works in Paris, Las Vegas, London, Vienna and Miami.
12. Dian – Brooklyn, NYC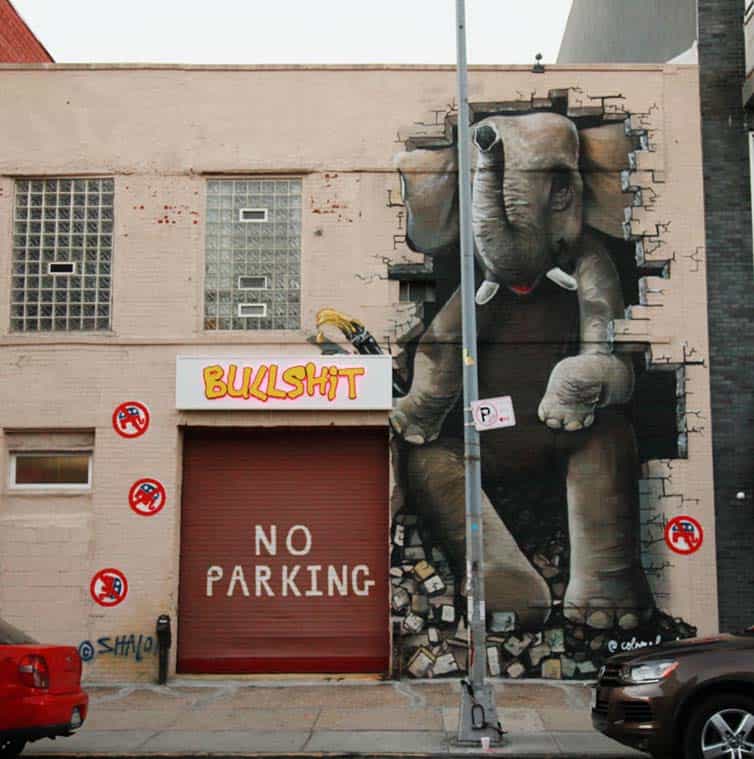 Dian – a street artist from European art label, Life is Porno – did a series of stop-frame animations around Europe and the world in 2015. In the featured mural in Brooklyn, he grew an elephant from mushrooms. The whole animation was created solely with spray-paint. Take a look at the video below to see the full process.
11. Pichi & Avo – Borås, Sweden
Spanish street art duo, Pichi & Avo are well-known for their style that blends fine art, surrealism and classic graffiti. Their murals are often celebrated for their incredible artistic skill and dynamic use of color.
10. Dal East – Borås, Sweden
Chinese-born Dal East is a prolific street artist, as well as an accomplished painter, sculptor, and digital artist. He was born in 1984 in Wuhan, China and is currently based in Cape Town, South Africa.
9. Owen Dippie – Brooklyn, NYC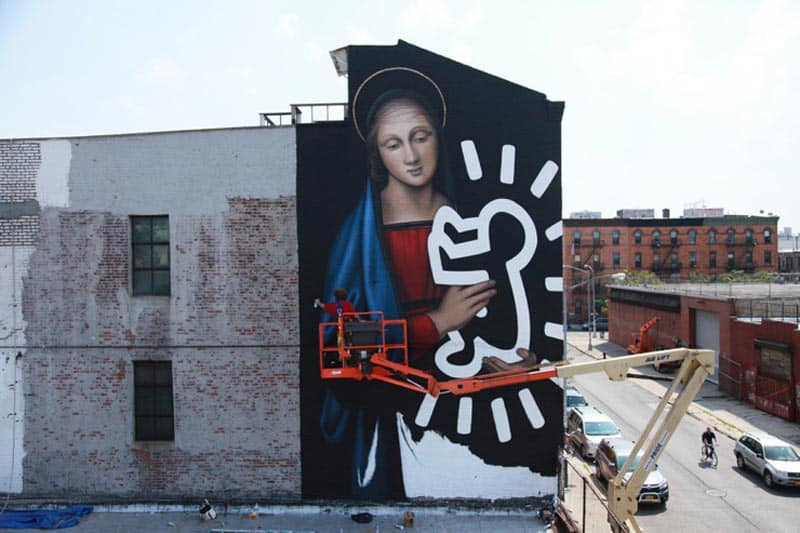 Dippie's mural combines Raphael's Madonna with Keith Haring's radiant baby to brilliant effect. The piece undoubtedly grabbed attention for its unconventional pairing as much as it drew connections to the coming out of Keith Haring during the AIDS crisis of the 1980's and his short lived interest in Christian fundamentalism.
8. Ernest Zacharevic – Brooklyn, NYC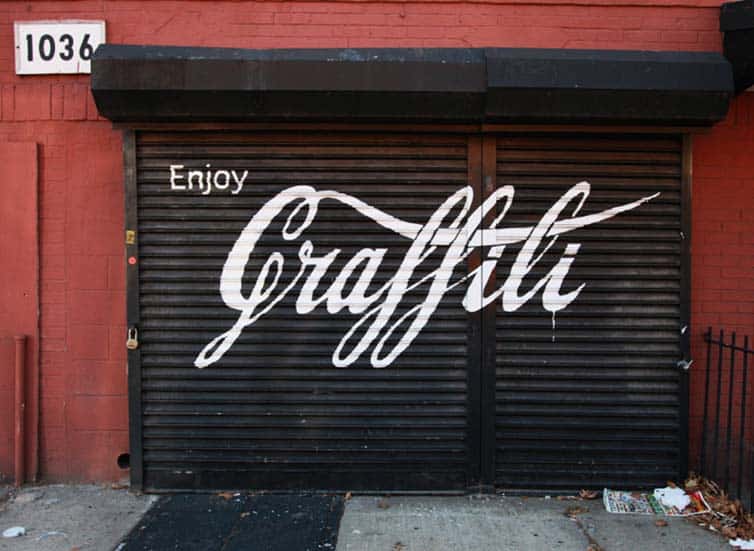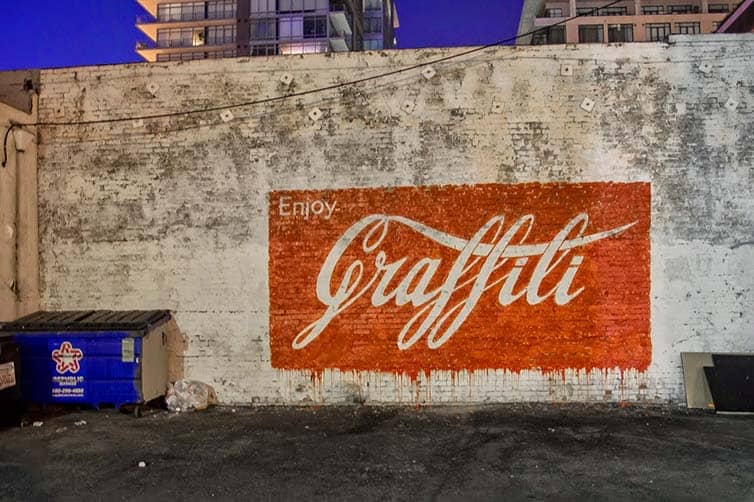 Multi-disciplinary artist, Ernest Zacharevic creates oil paintings, installations, sculptures and stencil and spray paint murals inside galleries and on public walls. In 2012, BBC called him "Malaysia's answer to Banksy" after he received worldwide recognition for a series of 6 street art murals for the George Town Culture festival in Penang, Malaysia.
7. Ella & Pitr – Stravanger, Norway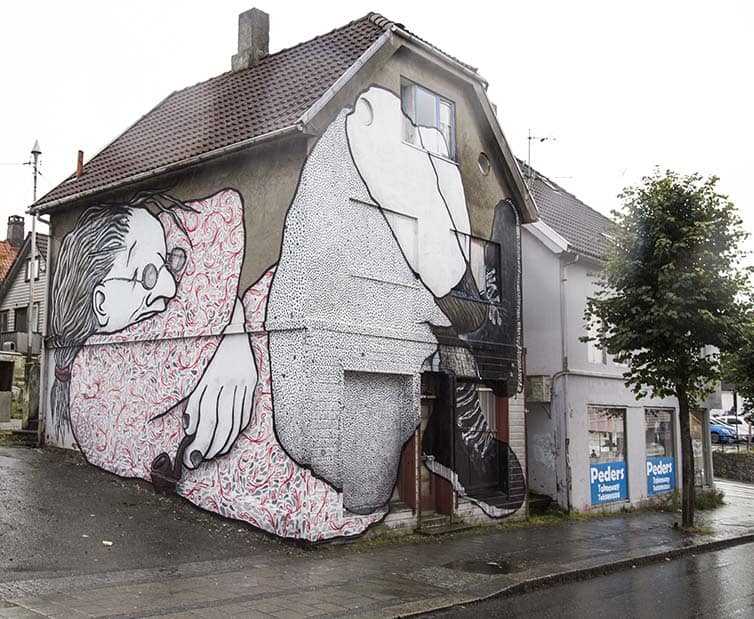 Much loved French couple, based out of St.Etienne, France, Ella & Pitr were celebrated across the world following their instantly loved mural of an elderly woman crawling into a hidden space. The piece was specially done for the Nuart Street Art Festival in 2015.
6. ECB in Brooklyn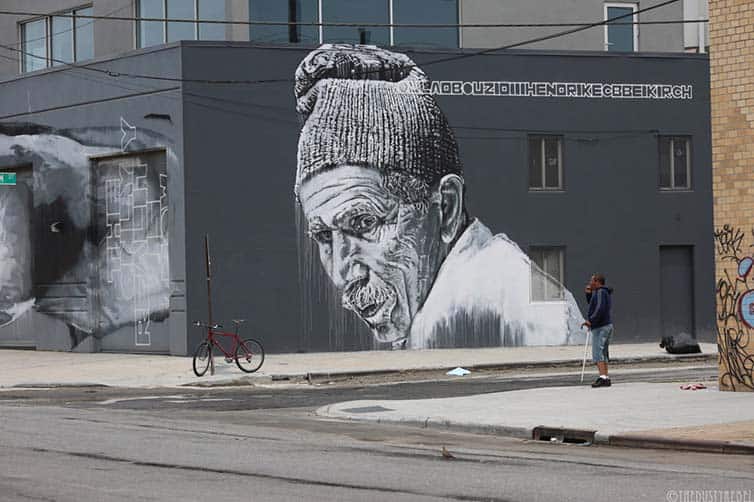 German street artist Hendrik Beikirch, a.k.a. ECB, has been known on the scene in recent years for his massive portraits of people, sometimes subjects known to the artist and other times from his imagination.
5. Okuda in Manhattan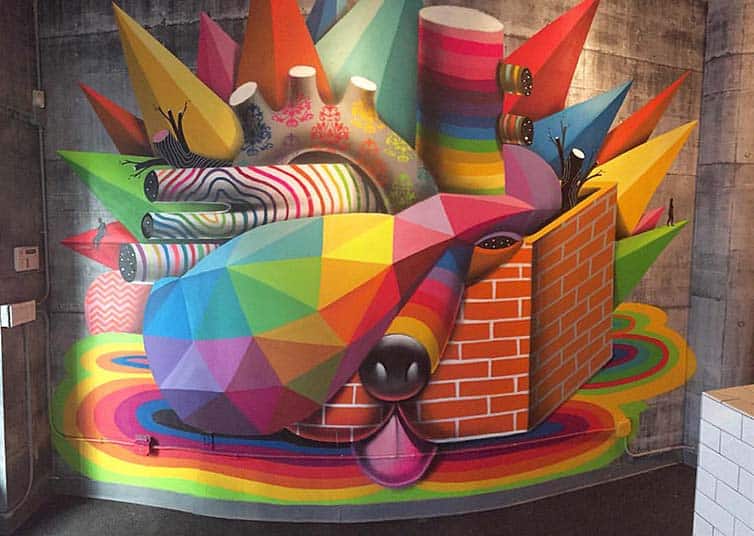 Nearing 20 years in the game, Spanish Street Artist Okuda is always a pleaser with its rich-hued pop surrealism and geometrics that mimic the man-made urban environment.
4. Case Ma'Claim in Berlin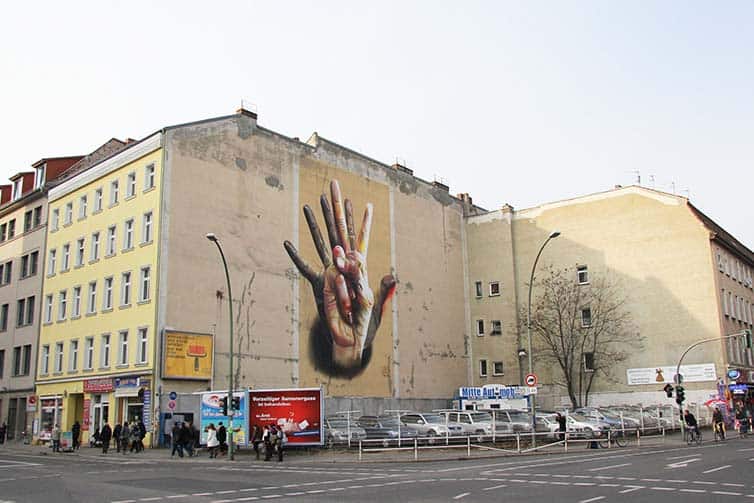 Case Ma'Claim heads the new crop of photo-realist street artists that are drawing so much attention, with his focus often being hands.
3. Nick Walker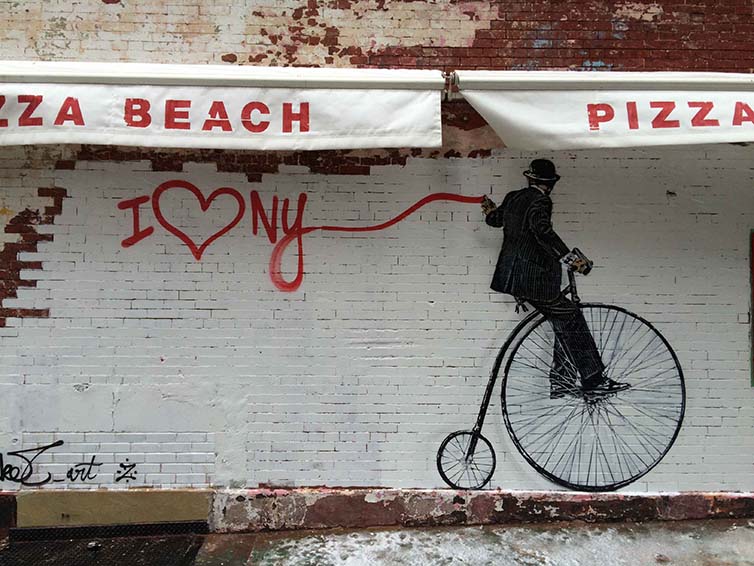 Bristol-born Nick Walker has a soft spot for New York and this placement outside a pizza parlor of his iconic bowler-hatted avatar made a lot of connections for viewers on Facebook who shared this image like crazy last winter.
2. JR in Manhattan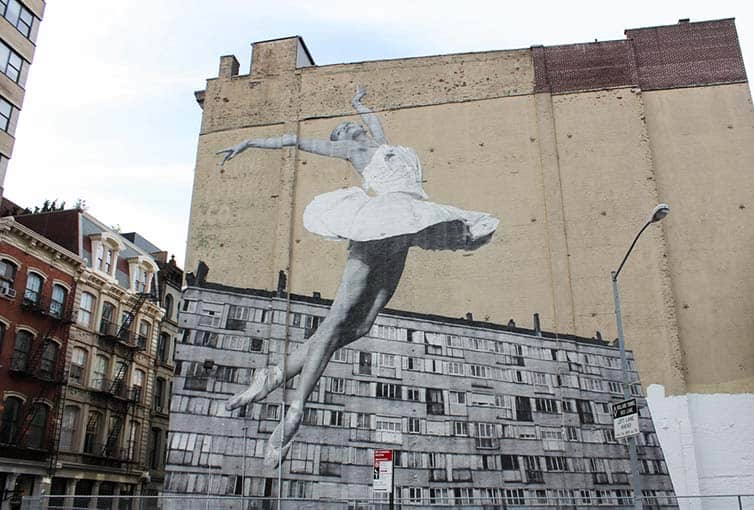 The New York City Ballet, their principal dancer the ballerina Lauren Lovette, a documentary called LES BOSQUETS, and a real estate developer, this image of a woman flying through the air to kiss Manhattan's sky was so riveting that it continued to ricochet JR's image across digital devices for months after BSA's posting.
1.Owen Dippie "Ninja Renaissance Masters" in Brooklyn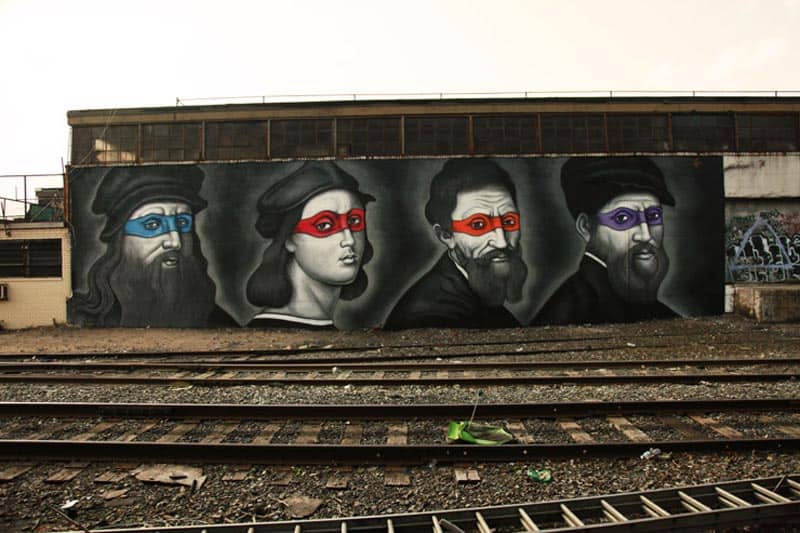 With 1.1 million shares on Facebook, this merging of four Renaissance masters and 1990s Ninja Turtles masks leap-frogged every other street art image of 2015 for its clever blend of art and pop culture.
Source: Brooklyn Street Art
U love Art. U can share it.
onarto.com is the leader and first art store dedicated to Thailand contemporary art, promoting more than 200 thai artists around the world. Answering to art collectors and artists, onarto now expand his activiy to promote Asian art and open its boundaries to creative designer, become a tool to connect creatives mind and art doers with art collectors and unique beauty lovers.