Street art as a symbol of communication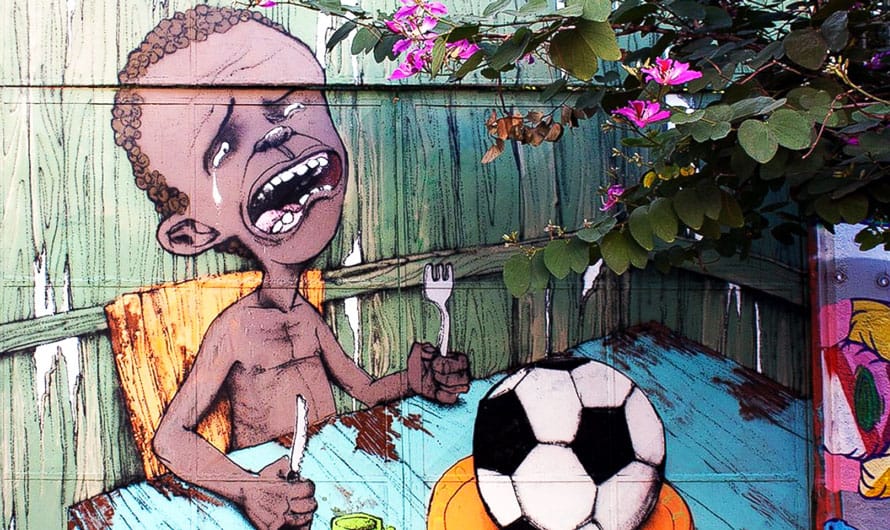 In Brazil, politic is often expressing in the streets, on walls or fences: the street art is everywhere, especially in São Paulo. It is with no surprise that contestation against the spending for the World Cup will as well be express with Art, and of work of Paulo Ito, paulista graffiti artist of 36 years old, is going heavily through social networks.
It is a stunted child, in starvation, with on his plate a foot ball instead of food. No comments needed: the artwork is saying way more than a speech against poverty and the cost engaged by the tournament organization (11 billion euros), under the authority of the wealthy Fifa.
You may have seen that photo around Facebook or Twitter. Paulo Ito publishes it on the 13th of May on his page and his publication by TV Revolta, a very famous and followed Facebook page (3.5 million members) in Brazil, made it viral.
Ito original plan was to do it in front of the Itaquerão stadium, which will be holding the opening game on the 12th of June (Brazil – Croatia). He finally decided that the entrance of a school in Pompeia, a middle class area of city, would be more appropriate and enjoyed a street art festival.
A similar cartoon painted on the street has also been shared on the social networks. More may come up during the tournament, says Ito by mail:
"I never repeat an idea but I may do an exception for that one"
We need food not football
Ito said to be inspire by a wall painting made by French artist Goin in 2013 in the streets of Athena. A black child, sad, only the skin on his bones with a foot ball at his feet, with the slogan " We need food not football."
A national journey of demonstration against the World Cup has been made last week. The opposition fears that the freedom of speech will be limited by the presence of heavy security forces.
Tuesday, demonstrators invaded the site of the Trophy exposition, on a tour in the country, in Belem. The event had to be cancel.
With this graffiti, the artist is not targeting the Fifa, nor the government or the football amateur, he said:
"I am only reporting Brazil problems: the major priority for the politics is the fight against power. There are health problems, security, housing, poverty, culture, education and transports. Those problems are the same for years."