Siam Sudkhunth paintings breathe Buddhism influences, it also represent wonders that encounter between traditional Thai and contemporary art.
Last modification :
September 5, 2016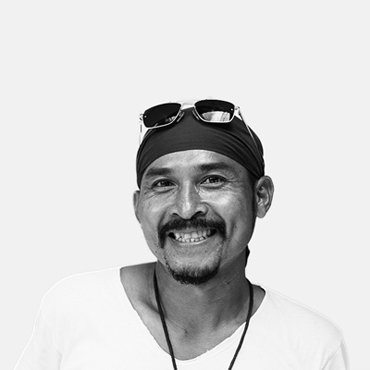 Psiam Sudkhunth, Thai artist
Psiam Sudkhunth, known as Siam, will not leave anyone indifferent. If his painting breathe Buddhism influences, it also represent a wonder the encounter between traditional Thai art and contemporary art. The works of Siam to the delight of the largest hotels in Thailand that require a modern luxury with a strong local architectural identity.
Siam is also a sculptor, and able to shape the metal recycling and even a work of very high quality carpenter. His metal art made with recycled motorcycle is a must in Thailand and already have found a lot of lovers around the world. The cares of detail is essential for this self-educated artist who is also recognised as one of the best singer, drummer and percussionist of the community of artists living in Bangkok. Browser all original art of Thailand by Psiam Sudkhunth.
Psiam Sudkhunth info
Artist Psiam Sudkhunth
Nickname Siam
Country Of Origin Thailand
Style Acrylic Painting – mixed media – sculpture
Artistic Education self-educated
Model, Artist Favorite nobody
Inspiration social problems – environment
Favorite Color all colors
Favorite Material brush
U love Art. U can share it.
onarto.com is the leader and first art store dedicated to Thailand contemporary art, promoting more than 200 thai artists around the world. Answering to art collectors and artists, onarto now expand his activiy to promote Asian art and open its boundaries to creative designer, become a tool to connect creatives mind and art doers with art collectors and unique beauty lovers.