Paitoon Jumee is a contemporary Thai artist, portraitist. Paitoon studied art at the Thai Vijitsil Art School 93-96 and at Pohchang University 96-98.
Last modification :
September 30, 2019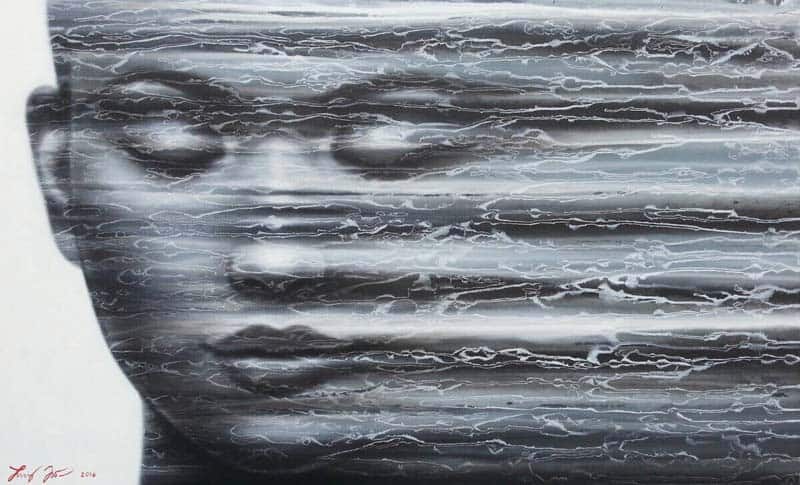 Paitoon Jumee is a Thai artist, portraitist.
Born in 1978, Paitoon Jumee is a contemporary Thai artist known for his portrayals of the female face. Jumee studied at the Thai Vijitsil Art School from 1993-1996, later graduating from Pochang University in 1998 after being trained in multiple disciplines including lithography, sculpture, and xylography.
A fan of blending techniques and bright colors, Jumee's paintings are sought-after pieces appealing to collectors from around the world.
Of his collections, the series of paintings depicting female portraits remains the most popular. The majority of these faces feature calm serene expressions, often with closed eyes and pan-Asian features such as almond-shaped eyes.
Paitoon's colored + black and white female portraits are now mainly requested by customers living in Europe, France mostly. His stunning portraits – almost old inspired by his ex-girlfriend and artist – never stays available more than a month in our art gallery online.
The use of the drip technique, among other textural effects, can be considered Jumee's signature touch. These flourishes add depth and melancholy to what would otherwise appear a clean and detached portrait. Jumee's works display his innate sense for textural depth and allow his work to be instantly recognizable.
Most of the artworks are sold out – collectors already know that Paitoon is one of the best art investment to do now in Thailand.
Contact our team for art commissions and custom paintings and portraits by Paitoon.
Artist Bio
Paitoon Jumee
Bangkok, Thailand
January 2nd, 1978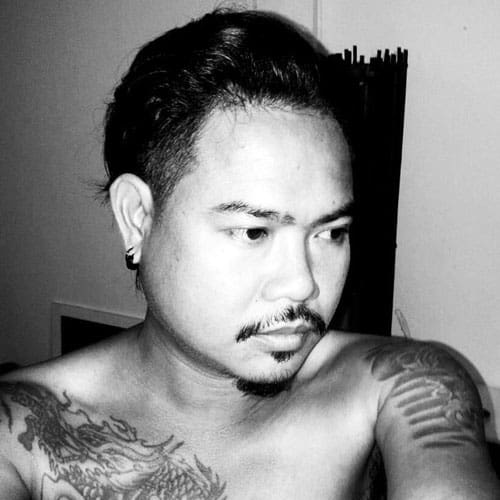 Education
• 1996-1998: Ratchamongkol Institution (Poh Chang Faculty)
• 1993-1996: Thaivichitsilp Art school (Fine art)
Art Exhibitions
• 1998: 22nd, Bua Luong Exhibition of paintings
• 2007: Art market at Central Chidlom
• 2008: Art market at River City Shopping Complex
• 2008: A preview of the future, Somerset Hotel Bangkok
• 2008: Art Expo, Malaysia
• 2009: Neo black, River City shopping complex
• 2009: See Saw Seen, River city shopping complex
• 2009: Black and White, at Grand 7, Chatuchak market section 7
• 2009: Art variety 2009, River City shopping complex
• 2009: Aesthetics of body, Si/om Galleria
• 2011: Melbourne's affordable art fair, Australia (May 19-22)
• 2011: Group Exhibition Lady First, V64 Art Studio (August)
• 2012: Group Exhibition Grand Opening V64 Art Studio, Thailand (Jan. 20-Feb. 20)
• 2012: Group Exhibition "Black & White Paintings" At V64 Art Studio, Thailand ( Mar. 16 – 25)
• 2012: Installation & Sculpture Exhibition "Up to Go" At V64 Art Studio (Jul. 21 -Aug. 21)
• 2013: Exhibition 1st Anniversary "Simple >>> Tomorrow" V64 Art Studio Bangkok Thailand
• 2014: Art fair Singapore
• 2014: Group Exhibition, woo gallery
• 2014: Faces – At Atha gallery on November
Paitoon Jumee paintings for sale
U love Art. U can share it.
onarto.com is the leader and first art store dedicated to Thailand contemporary art, promoting more than 200 thai artists around the world. Answering to art collectors and artists, onarto now expand his activiy to promote Asian art and open its boundaries to creative designer, become a tool to connect creatives mind and art doers with art collectors and unique beauty lovers.