Female artist Arporn Sang-on, is a Thai landscape artist. She uses acrylic paint to create abstract landscape mainly dedicated to the sea.
Last modification :
October 18, 2017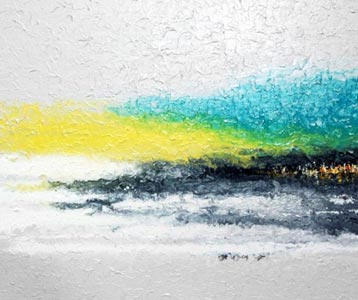 Mam or Arporn Sang-on is a Thai female artist born on 5th October 1974.
Graduated bechelor from Poh Chang she is currently working as a Thai landscape Artist, most of her creation are made with acrylic, and are dedicated to the Sea.
Have been having 1st-4th "Faculty of Painting's Memorial day" group exhibition at Bangkok Gallery.
and "Alumni Reunite Exhibition"at Poh Chang Gallery.
Arporn Sangon (Mam) paintings for sale
U love Art. U can share it.
onarto.com is the leader and first art store dedicated to Thailand contemporary art, promoting more than 200 thai artists around the world. Answering to art collectors and artists, onarto now expand his activiy to promote Asian art and open its boundaries to creative designer, become a tool to connect creatives mind and art doers with art collectors and unique beauty lovers.