Amy Diener, American artist in Bangkok, Thailand.
Last modification :
April 2, 2018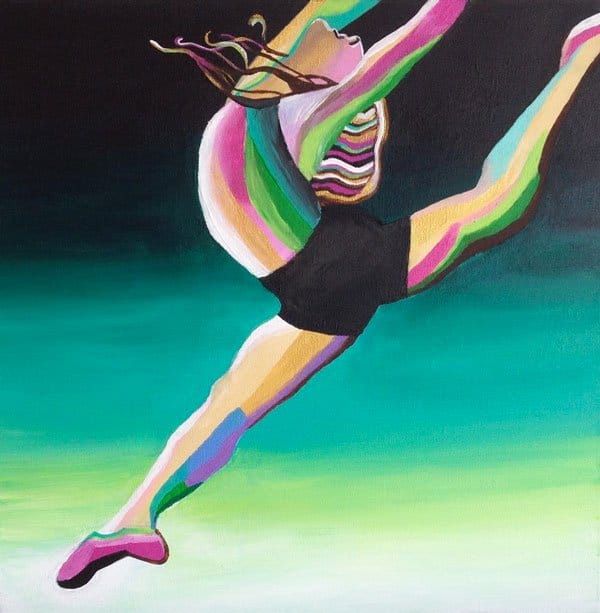 Amy Diener, american artist in Thailand
I am a painter and art educator born and raised in the suburbs of New York. Currently, I live in the most exciting city in Southeast Asia: Bangkok, Thailand.
My original motivation to live in Thailand was sparked by a desire to pursue meditation, a desire that grew into a wider love for life in Bangkok. My paintings are largely inspired by travel and culture, informed by vivacious color and abstract mark making.
As an artist, I was mindful of the beautiful, bright multihued Bangkok. I observed and perceived the golden temples, hot pink taxis, lime green motorcycles, cyan blue malls, magenta apartments, forest green leaves, and violet flowers. At the beaches, I noticed the tan sands, and turquoise blue waters. These cultural colors provoked emotions of zeal, excitement and happiness; they were colors I was inspired to use in my paintings. My artwork investigates how the use of vibrant color and brushwork can affect your present mood in a positive way.
My artistic process is defined by the implementation of a layering effect guided by the temporal quality of acrylics. Working in layers or coats of paint conveys the palimpsest nature of being. There is always another layer of paint underneath, documenting a memory of the process.
My artistic specialization is in commissioned portrait paintings. I explore and examine the constructs of positive identity through portraiture. I foster the optimism of humanity through cheerful and bold color palettes and brushstrokes. The hopeful soul or essence of the subject is embodied within the pictorial space. I represent the cheeks of faces through the form of hearts to highlight the vibrancy and energy of the cheeks. Cheeks represent internal feelings and thoughts; the hearts provide a loving and positive connotation to these emotions and contemplations. Aesthetically, I enjoy the interesting juxtaposition between the organic heart cheeks and the geometric brushstrokes on the rest of the face. I have named this style of art "Heart Portraiture." I encourage dialogue about the significance of embracing positivity in human beings daily lives.
I enjoy making others happy through painting portraits. The smiles and tears of joy when they receive the portrait are both beautiful and gratifying. This brings a deep connectivity between myself and the subject(s) I paint.
Outside of portrait depictions, my subject matter encompasses fantasy, animals, and abstract art through lively colors and brushstrokes.
You can buy Amy Diener online now!
U love Art. U can share it.
onarto.com is the leader and first art store dedicated to Thailand contemporary art, promoting more than 200 thai artists around the world. Answering to art collectors and artists, onarto now expand his activiy to promote Asian art and open its boundaries to creative designer, become a tool to connect creatives mind and art doers with art collectors and unique beauty lovers.