Tida Wei: a spiritual follower and a vibrant painter
Thai artist and spiritual follower Tida Wei paints still life of flowers in a vibrant and expressive, acrylic-based style.
Last modification :
September 28, 2017


About Tida:
Tida is a Thai-born, Taiwanese artist who creates vivid acrylic paintings inspired by her love for flowers and landscapes. She is a fan of impressionism, particularly the works of Van Gogh, Cortes and Monet.
Artist Full Name: Tida Wei
Nickname: Tida
Country of Origin: Thailand/Taiwan
Date of Birth: 20 May 1989
Occupation: Minister in Service of God / Priest
City/Neighborhood: Bangkok, Pattanakarn & Clearwater, Florida
Medium: Acrylic
Artistic Influences: Impressionism
Exhibition of Artworks: Private, Commission-based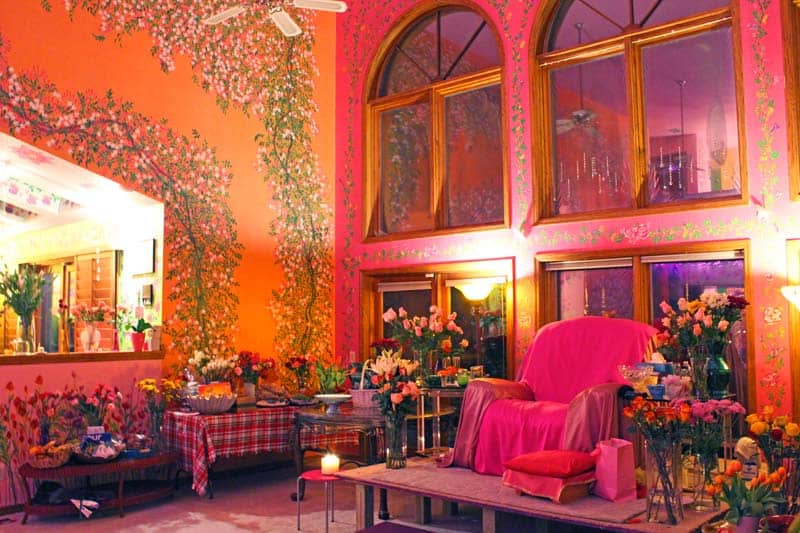 Interview with Tida Wei:
1. How would you describe your subject matter?
The magnificence of Mother Nature. I try to capture the beauty of flowers and landscapes – sunrises and sunsets with fast, messy strokes that transform them into a painting.
2. What techniques or materials do you primarily use? Why?
Acrylic on canvas because I love playing with the natural textures of the different types of acrylic. Of course ideally I would use oil, but I paint in my bedroom mostly so I might be intoxicated to death by the smell of it!
3. Has there been a defining moment or change in your life that led you to produce the works you are creating now? Are there any personal narratives related to your work?
I have been painting since I was 8 – the artistic genes were passed down from my mother's side of the family – architects, painters, sculptors. So naturally, I have collected many pieces of my own artwork since young age. My portfolio got me into the prestigious Faculty of Architecture at Chulalongkorn University. Not long after, a friend borrowed my portfolio because she too wanted to join the program, and something horrible happened – she lost it all somehow.
I stopped painting for five years – distraught, angry, and just jaded. Until I met my spiritual teacher, the only descendant of the 'Healing Saint' of Northern India that Steve Jobs and Mark Zuckerberg went all the way to India in search for. She gave me a brush and told me to paint flowers on the walls of her ashram, and I haven't stopped painting since. Now I am still completing the flower paintings of our new ashram in Clearwater, Florida – which is 5,000 sqft big! Magnificent!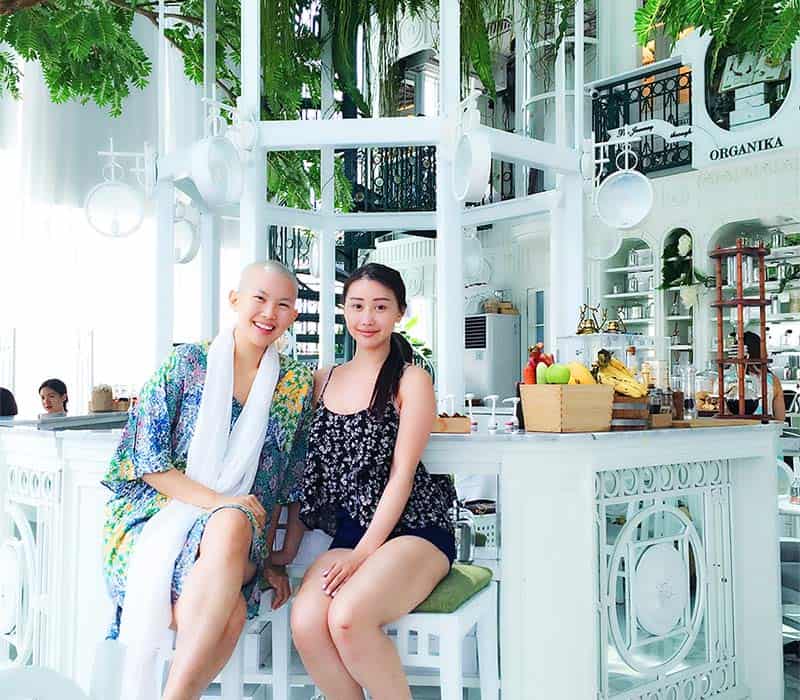 4. What are your biggest challenges to creating art? How do you deal with them?
Moments of inspirations and passion come in explosions for me. During those times, I don't stop painting, and sleep becomes very insignificant to me! Painting is like meditation to me. The challenge is when I have problems deciphering my own thoughts, and my mind doesn't stop chattering. I fall into a deep emotional rut when I can't find peace. How do I deal with them? Like anything distressing in your life I guess. You have to face it to let go of it.
5. What's the first piece of artwork you ever sold?
A painting of a luxury watch – the Julien Coudray 1518 worth $473,000 Swiss Franc (the watch, not the painting!). :)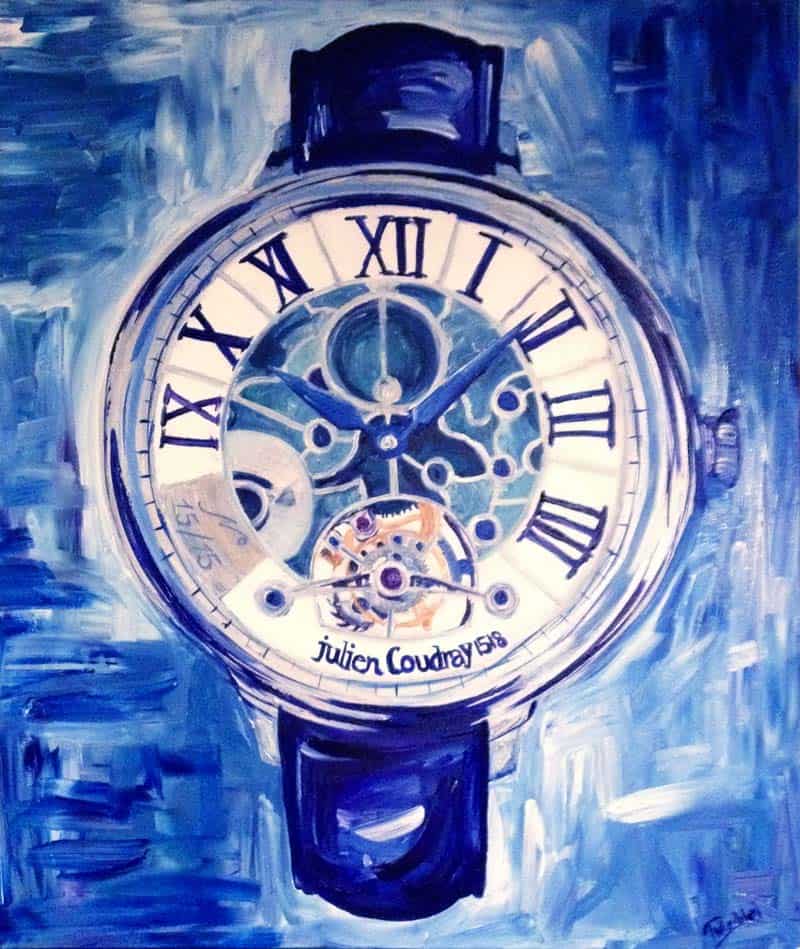 6. Describe a real life situation that inspired you?
I started painting as a real hobby at a gallery in Singapore – 28th Fevrier – owned by Dominic Khoo, a celebrity photographer and businessman. He was passionate about watches, and started The Watch Fund where people invest in unique and extremely rare luxury watches to sell them for much more later on. He showed me a picture of the Julien Coudray watch in May after I'd just finished a Robert Mille watch painting. I loved it, but never got to it…until two days before the private watch launch event. I heard my Param Guru, Babaji (the teacher of my spiritual teacher) yell at me "Get your butt up and go paint! I was shocked. He's already passed on! But his voice was just so clear. I thought I was going a bit mad, so I went back to sleep. "Get your butt up now! Go paint!"
It was impossible for me to finish a painting in two days! What is going on!
I actually got up and thought, oh well, doesn't hurt to try. I've got nothing to lose. I took a bus down to the gallery, and prayed to the angels to help me, because I knew I couldn't do it on my own. It was the first time I had ever painted anything without sketching and outlining before. But the messages were very clear. They were actually instructions, in my head (I know this sounds crazy), to use certain colors, certain type of strokes, and before I know it, I'd finished the painting.
Two days after that, the CEO of the group that brought in the watch wanted my painting. And since then, I'd never painted the same ever again. What changed? I started trusting myself and the cosmic guidance that much more. I think that's extremely important in doing anything in one's life.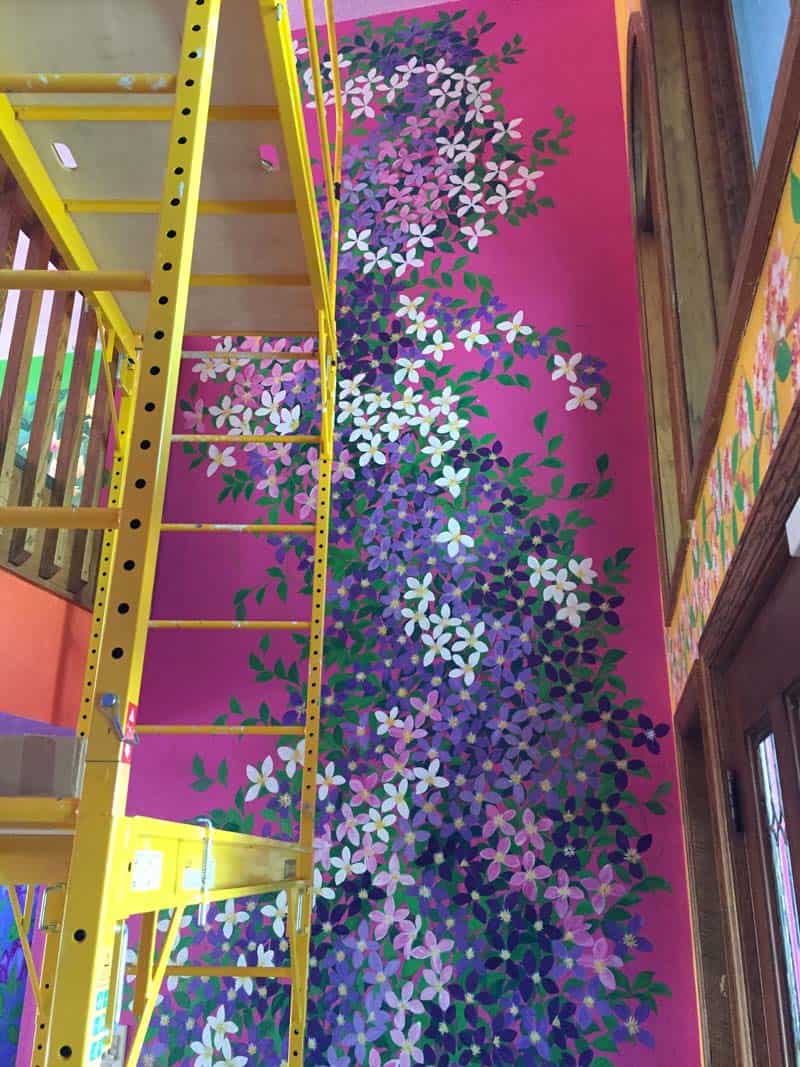 7. What do you like most about your work?
When I stop thinking, I paint really fast, like a mad person, And my messy strokes always turn into something above average! Quite decent I must say. Haha!
8. What are three things you couldn't live/produce your art without?
Trust in myself, trust in my Guru, and vibrant acylic colors.
9. Do you have a personal art studio/space? How much does this space mean to you and in what ways does it influence your process?
I have been ordained a minister and priest at my Guru's ashram in Florida. It is my sanctuary, and I paint there. The energies of that place makes you feel so calm, so peaceful, like heaven on Earth. The space amplifies my ability to paint by ten times. It is amazingly beautiful – each wall is a different color, designed by my teacher to heal you in a different way. the ashram is called Divine Bliss International and it means the world to me.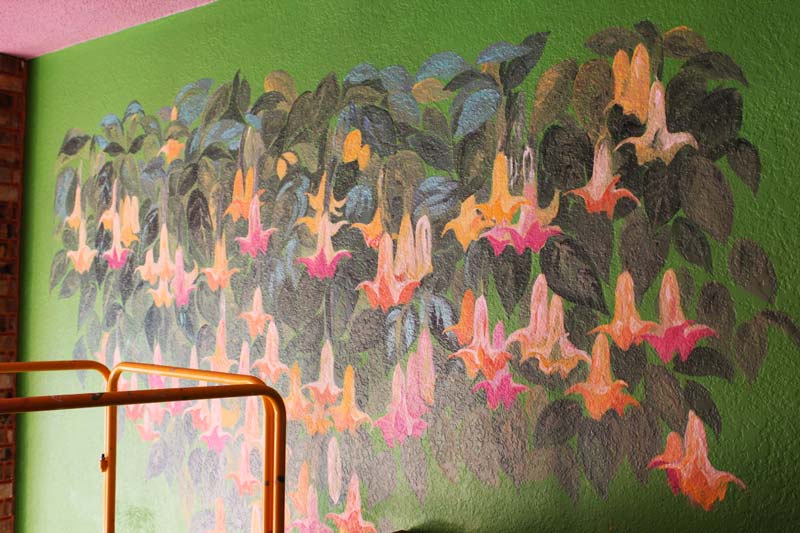 10. Three things that never fail to cheer you up?
I'm going to sound like a total priest, but chanting, meditation/yoga, and nature – the greener the better!
11. Name three artists that inspire you.
Vincent Van Gogh, Edouard Cortes & Claude Monet!
12. Can you tell us a bit about something you are currently working on, or are excited to start? Any upcoming events or exhibits – when/where?
Keep an open mind and come to Divine Bliss International in Clearwater, Florida, and feel how amazingly healing the ashram is! If you come in time I will still be on the scaffolding trying to complete the wall paintings!
13. Do you intend your work to challenge the viewer?
No not at all. To me art is beauty, not controversy, and beauty is very simple to me. They are adding pleasant energies to your space. Flower and sunsets bring love and calmness to the heart. That's what my paintings are for.
14. What international art destination is on your must-visit list?
Italy, Austria, oh, yes, Provence in France! Flower heaven.
15. Do you have any hobbies besides art?
I cook a lot. I try my best to avoid meat and dairy, so living a plant-based life does fuel my creativity a lot!
16. Would you say the artistic life is lonely?
When I am one with the colors I put on the canvas, not at all. When I am not painting, yes, it does feel empty sometimes.
17. Do you have a personal motto?
It's never too late to be who you might have become.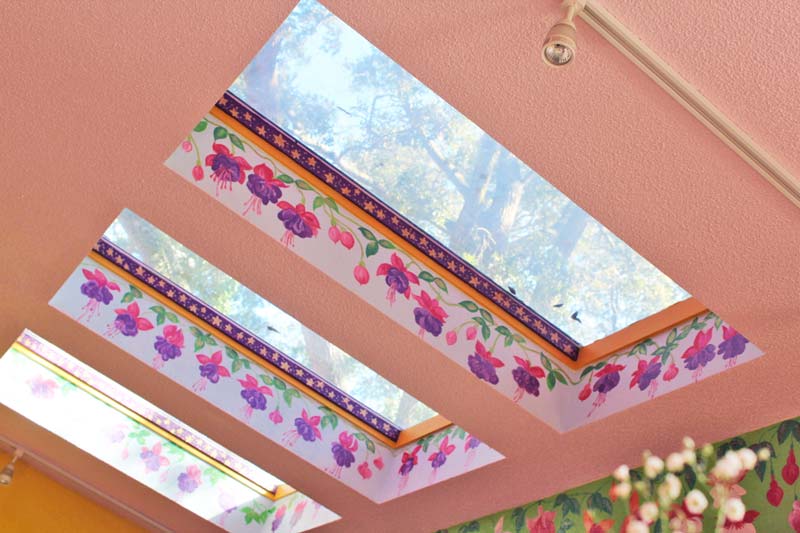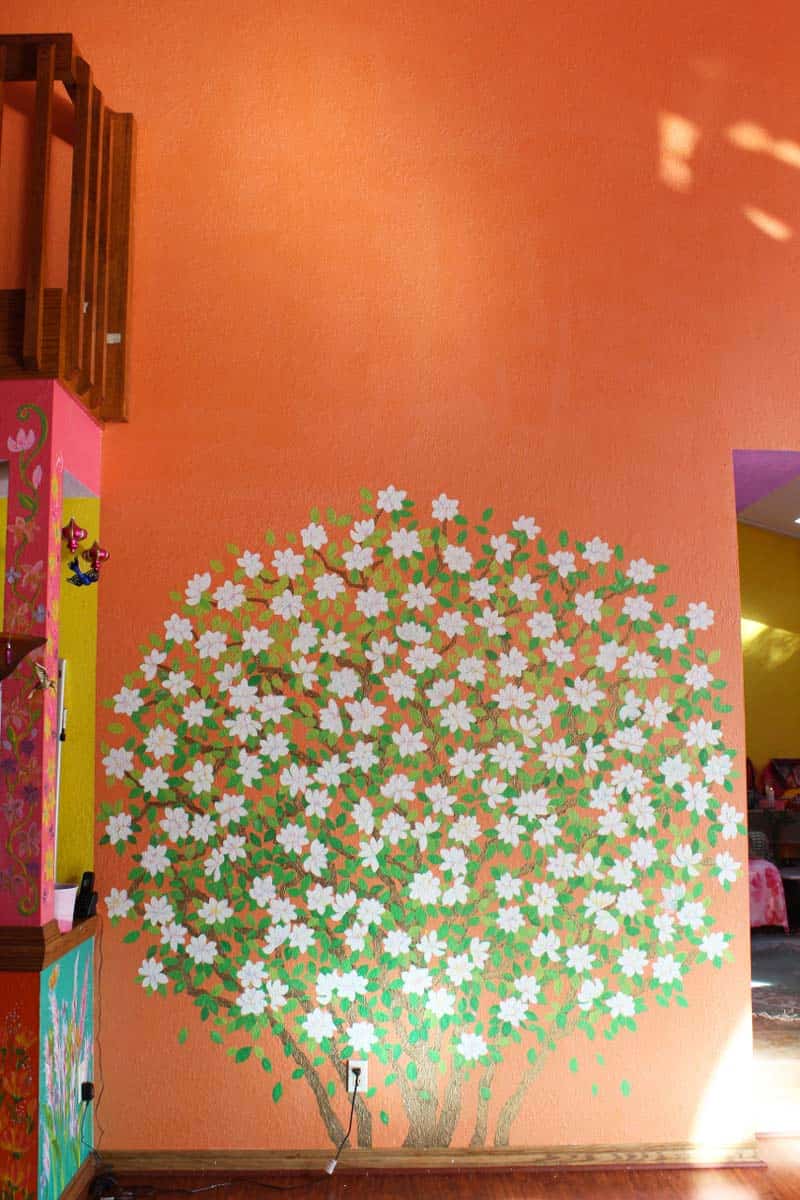 Thank you Tida Wei for your time and give us insight of your works. If you would like to visit Tida personal website you can fine it at https://tidawei.com
Artworks by Tida Wei
Save
U love Art. U can share it.
onarto.com is the leader and first art store dedicated to Thailand contemporary art, promoting more than 200 thai artists around the world. Answering to art collectors and artists, onarto now expand his activiy to promote Asian art and open its boundaries to creative designer, become a tool to connect creatives mind and art doers with art collectors and unique beauty lovers.