Artist Interview – Karma Sirikogar
Karma Sirikogar is a Bangkok-based artist whose work combines psychedelic geometrical shapes with the surreal, all in a riotous explosion of color and form.
Last modification :
September 28, 2017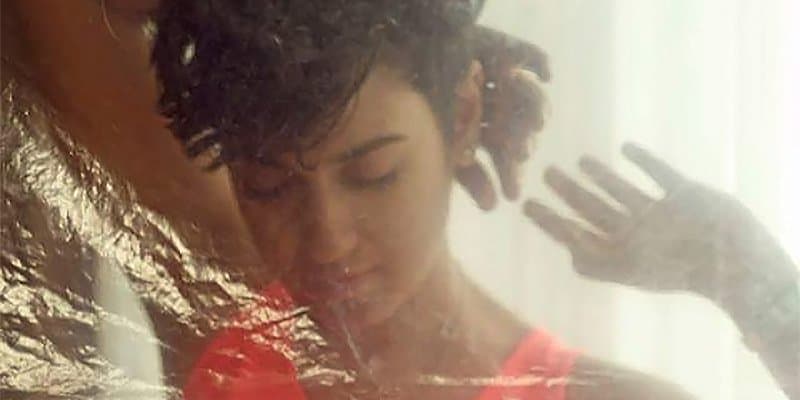 About Karma
Karma Sirikogar is a Bangkok-based artist whose work combines psychedelic geometrical shapes with the surreal, all in a riotous explosion of color and form.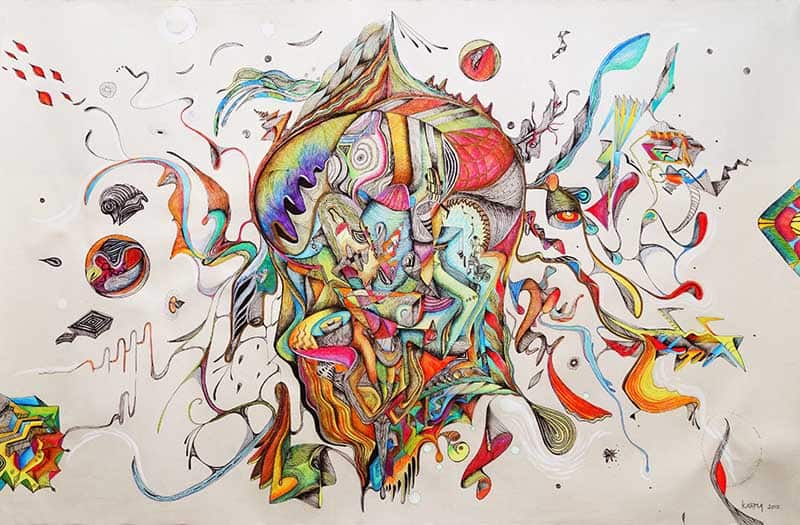 As an artist of many mediums, Karma's use of various materials, from ink, acrylics, spray paint and wood block prints, are well suited to her love of constant evolution and moving forward –  especially as the young artist enjoys experimenting with canvas, paper and street walls.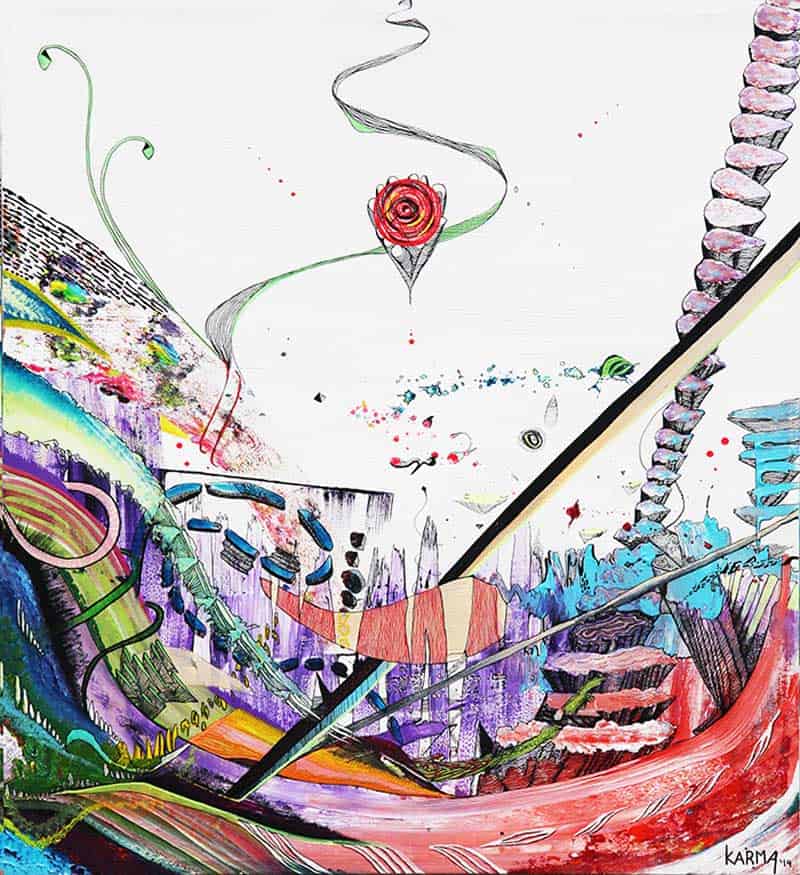 Her Unique Aesthetic
Karma's unique universal aesthetic invokes viewers to relate to her work individually, as if they were interpreting a Rorschach test.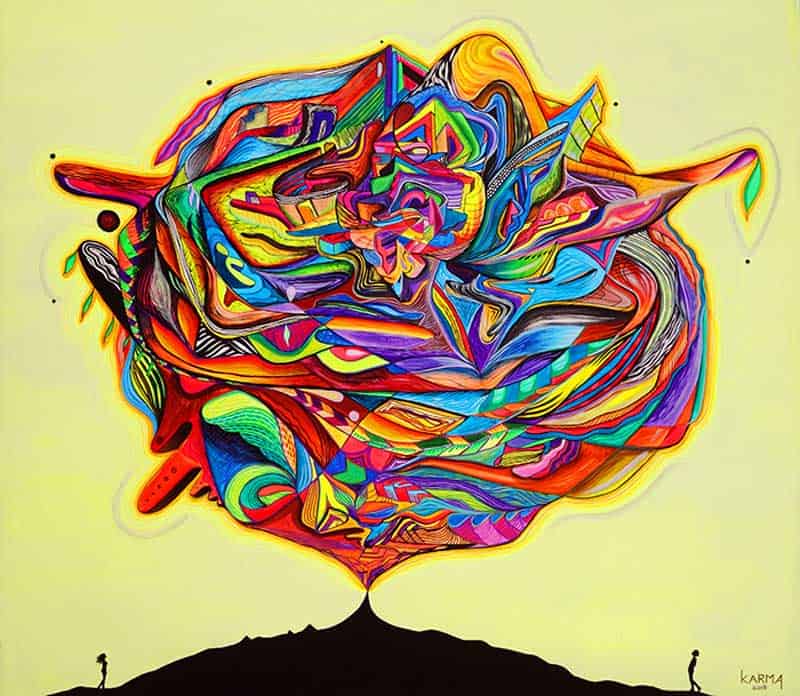 Firmly committed to her art-practice, Karma has experimented, nurtured and expanded her artistic development through personal projects, commissions, design projects, murals, book covers, gallery exhibitions, and international workshops.
Origins
As a third culture kid, Karma has spent a significant part of her years growing up in countries outside of her parent's culture.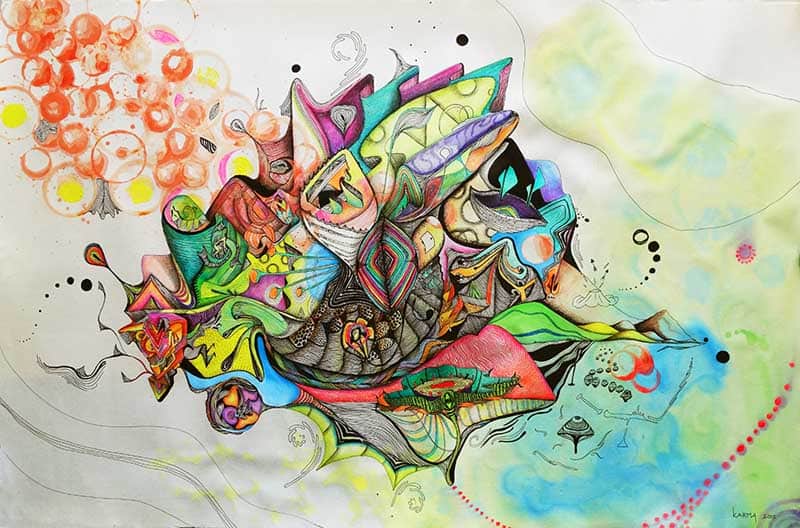 She was born in Singapore but is a citizen of Thailand and also an Indian diasporic artist. Her great grandparents immigrated to Thailand during the turbulent India-Pakistan separation.
Interview:
Name: Karma Sirikogar
Date of Birth: 1987
City/Neighborhood: Bangkok, Ratchada
Medium: Acrylic/Spray paint/Ink on Canvas/Paper/Wall, Etching & Wood Block Printing
Education: Art Direction – Royal Melbourne Institute of Technology & Printmaking – Kala Bhavan Institute of Fine Arts, India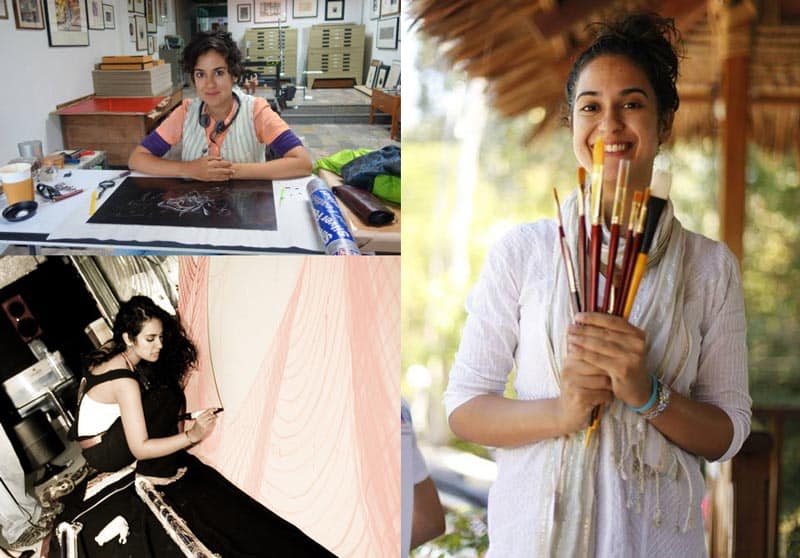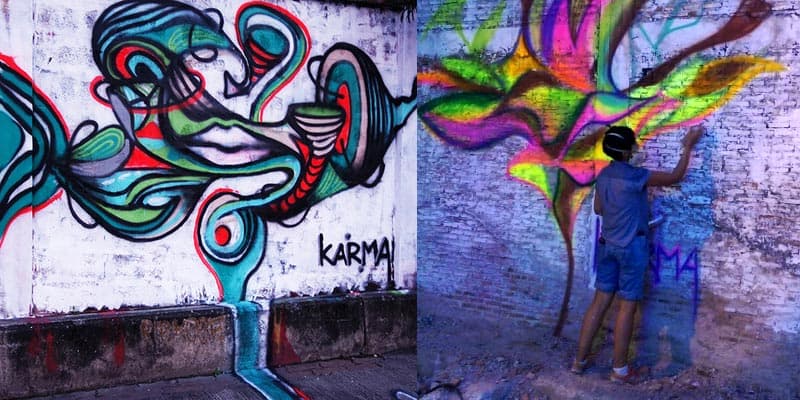 1. How would you describe your subject matter?
I'm an abstract-surrealist. I rearrange organic and geometric forms in new combinations, and I experiment with doing this in various mediums. I think there is a sense of rhythm and music to my work as well… I feel like i'm dancing through line, shape and colour. Some say it's trippy!
2. What techniques or materials do you primarily use? Why?
I switch between acrylic painting, ink drawing and spray painting/street art to keep feeling fresh in approach. This year I'm starting to experiment with sculpture too, I'd like to make elements in my paintings 3d. I get bored easily like any other 'millennial' I guess. Street art is contrasting change from my studio, it's also quick to do in comparison to my drawings and paintings… I feel it's a nice balance.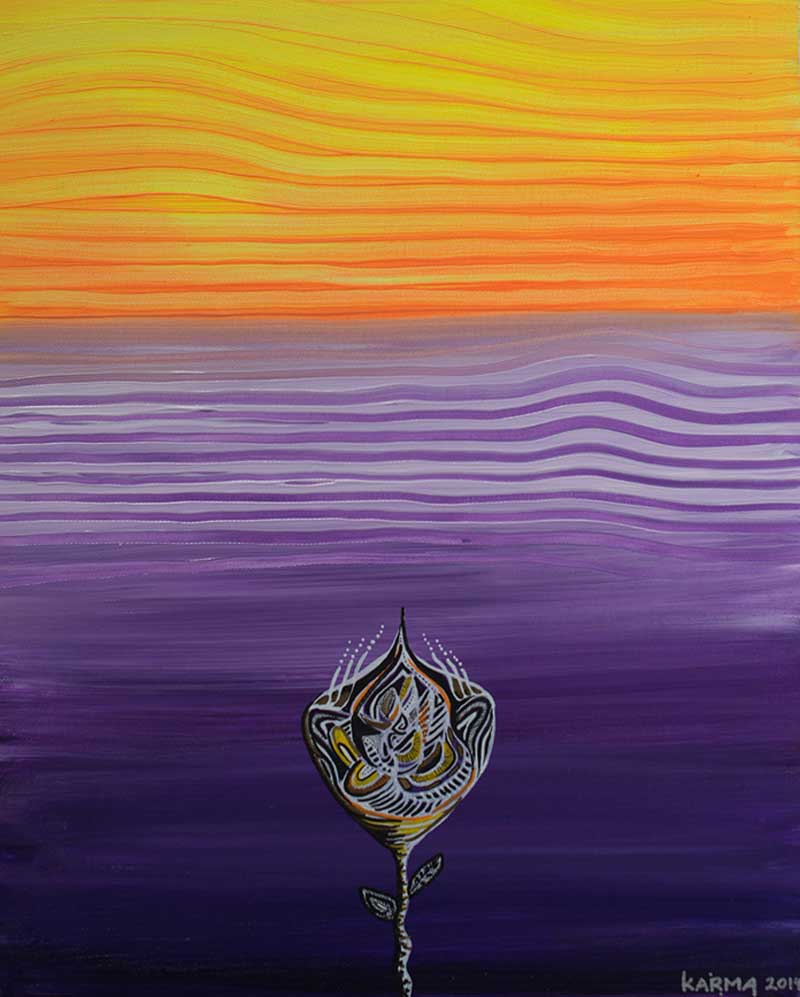 3. Has there been a defining moment or change in your life that led you to produce the works you are creating now? Are there any personal narratives related to your work?
I had quit my job in advertising and design some years ago, moved to a small rural town in India for and began creating freely. I enrolled in a course at an art college in santiniketan, west bengal which was founded by Rabrindranath Tagore, one of India's most respected visionary thinkers. That experience shaped me a lot, I traveled the country and met wonderfully supportive people through winning competitions and art residencies. Being of the Indian diaspora but having never lived there, it was fascinating to delve into this ancient country on the cusp of modernity. I lived very simply and felt extremely liberated.
I think that sense of freedom and spirituality still shows in my work through its meandering forms. I was questioning what is reality, whether there are realms beyond what our 5 senses can experience, especially as perception happens solely within the mind. It was a deeply reflective and challenging time.
When I had left Thailand, the art scene was very small, India's was much more developed and it showed me a career doing this was possible. Post-India, I've come back down to earth now haha, and channel my energy into work, living well and my family.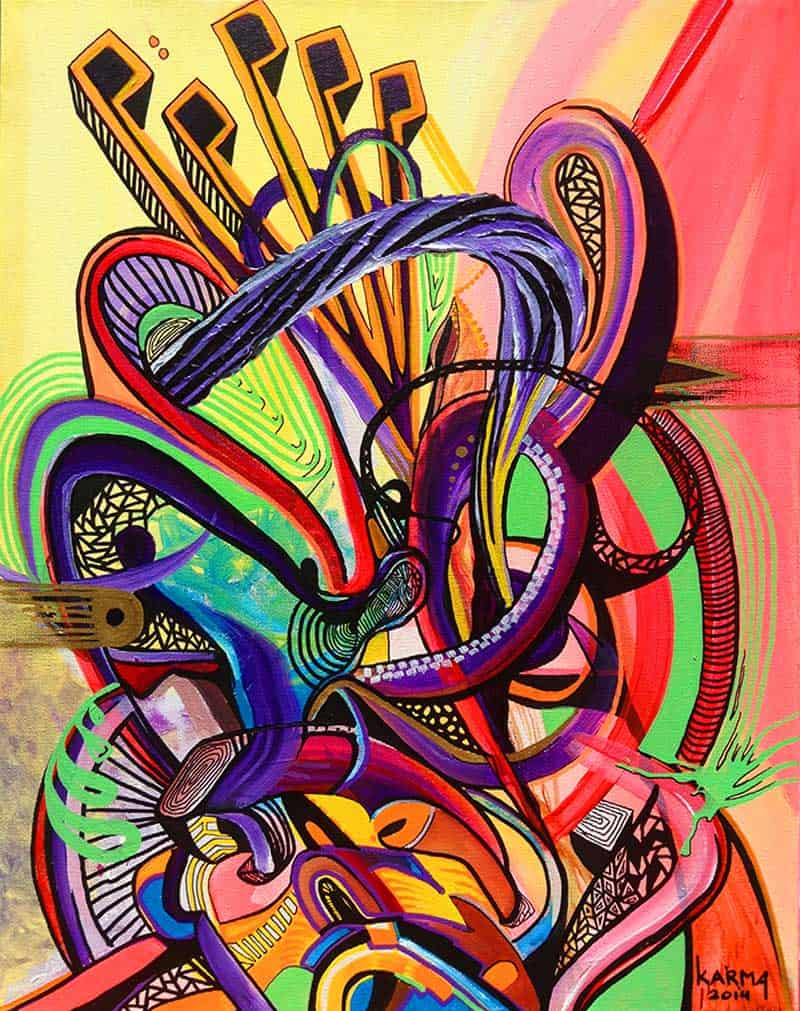 4. What are your biggest challenges to creating art? How do you deal with them?
Maintaining the discipline to keep working no matter what. Over coming self doubt at times. How do I deal with it? Get organised, and just do it!
What's the first piece of artwork you ever sold?
A small ink drawing on paper, somebody bought it through my Facebook page.
5. Do you collect anything? Why?
I collect marbles and other orbs – they are beautiful! I have about five thousand now. I like the complex geometry of glass ribbons found within the simple geometry of an orb. Hmmm…I also seem to collect hobbies, I'm always trying something new in my spare time… boxing, playing instruments, rollerblading, juggling, rock climbing etc. I have a lot of books as well.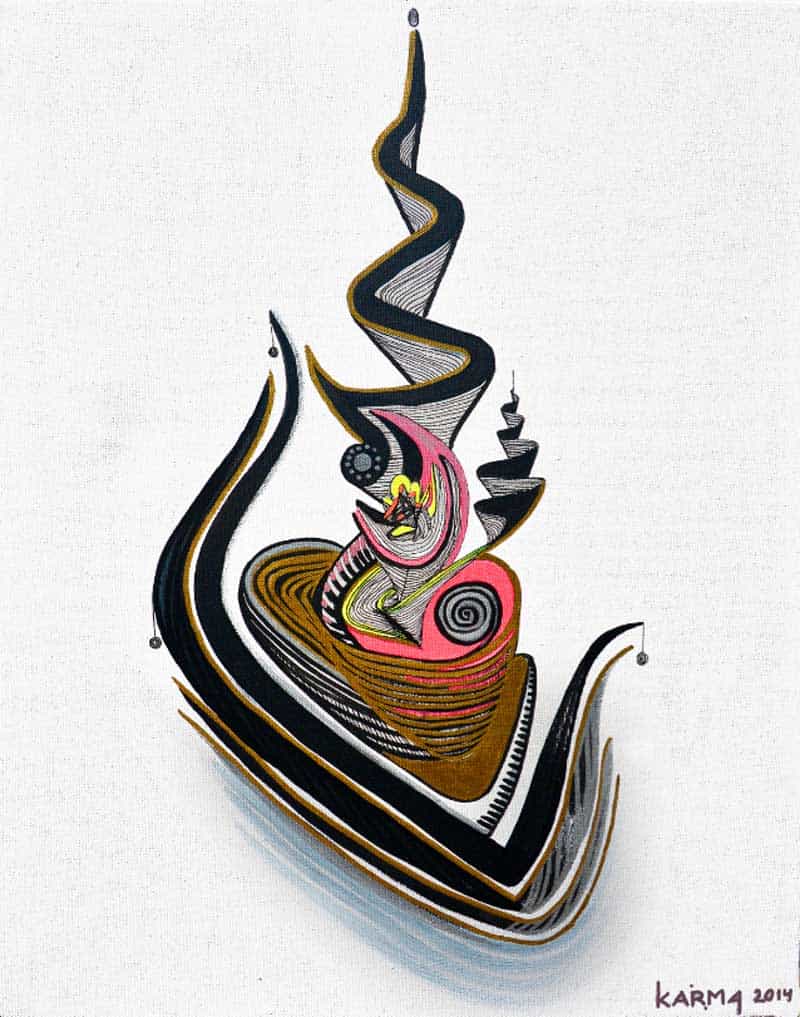 6. What are you currently reading/listening/looking that has been motivating or fueling your work?
Right now I'm reading Wassily Kandinsky's concerning the spiritual in art. He's one of the pioneers of abstract art and writes about how he paints music and that making art from one's inner realm brings a new soulful perspective into the material world. It's kind of like synesthesia… I really relate to it so far. I really believe deeply experiencing something beautiful liberates us.
7. What advice has influenced you?
That you can't follow everyone's advice and it's best to listen to your gut feelings and your own reasoning.
8. Describe a real life situation that inspired you?
It's hard to think of one particular situation. I'm generally inspired by studying shapes and forms that i see everyday, whether in nature or man-made, and how to deconstruct and assemble them rhythmically into something else. My work draws gentle associations between the microcosmic constructions of biology, flora, landscapes, mechanics, circuitry and the anatomy of architecture I think.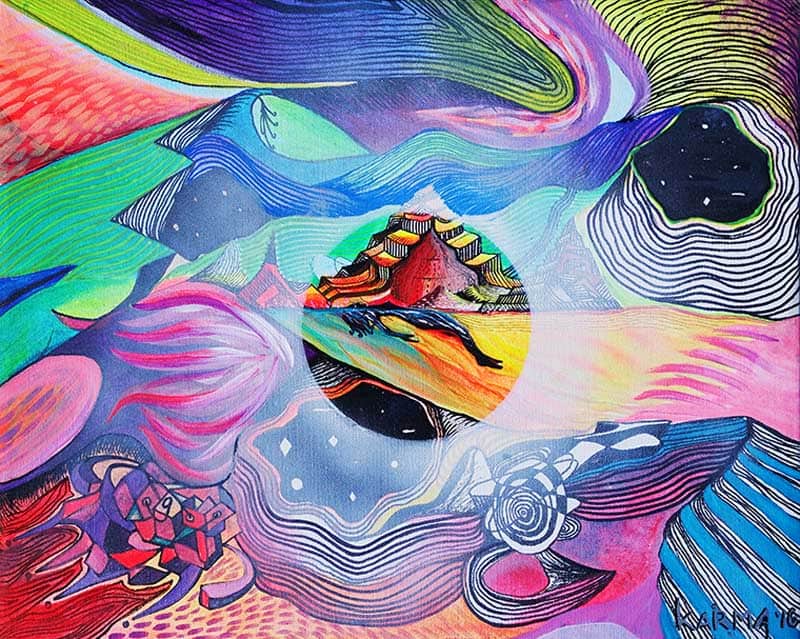 9. What do you like most about your work?
That it's an expression of total freedom, that i can lose myself in the process of it. It's anti-conceptual art in a way. My work isn't about ideas, but about the experience of another language besides verbal thought, which is why I keep my imagery ambiguous to perhaps challenge people's perceptions. I'm not against thinking, the logical mind has it's place, but I'm curious about other forms of the human experience as well. Meditation has been a great tool to experiment with this. I get excited by working without a plan, delving into the unknown and seeing where it goes and what it reveals. I have alot of excess energy and i like that i've found a way to release it through art. Keeps me sane.
10. What are three things you couldn't live/produce your art without?

Space to focus, lots of tea, music
11. Do you have a personal art studio/space? How much does this space mean to you and in what ways does it influence your process?

Yes, I have a lovely airy studio on the rooftop of my house. I can work in any studio, and anywhere really, but having one at home certainly makes it more convenient and cheaper. When I've had enough of the solitude i invite friends over to hang out and play music together in the evenings. I find working alone requires more self-discipline than working in a shared studio collective.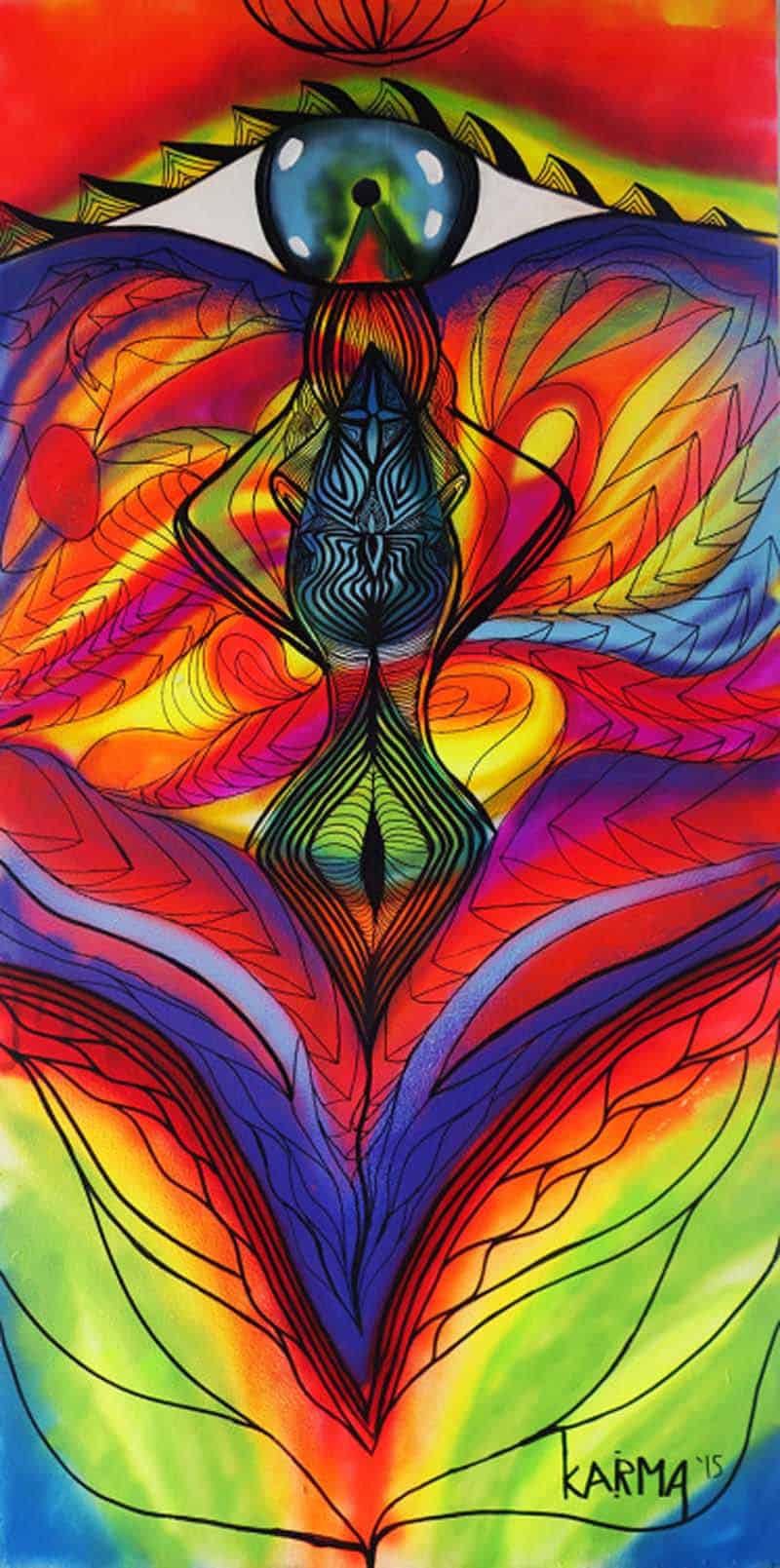 12. Three things that never fail to cheer you up?

Music, my husband, nature
13. Name three artists that inspire you.
Can I give you more than 3? Hilma af Klint, Frank Stella, Kandinsky, S.H. Raza, Dali, M.C. Escher, Mario Martinez, Ernst Haeckle, Julie Mehretu, Dale Chihuly, Anish Kapoor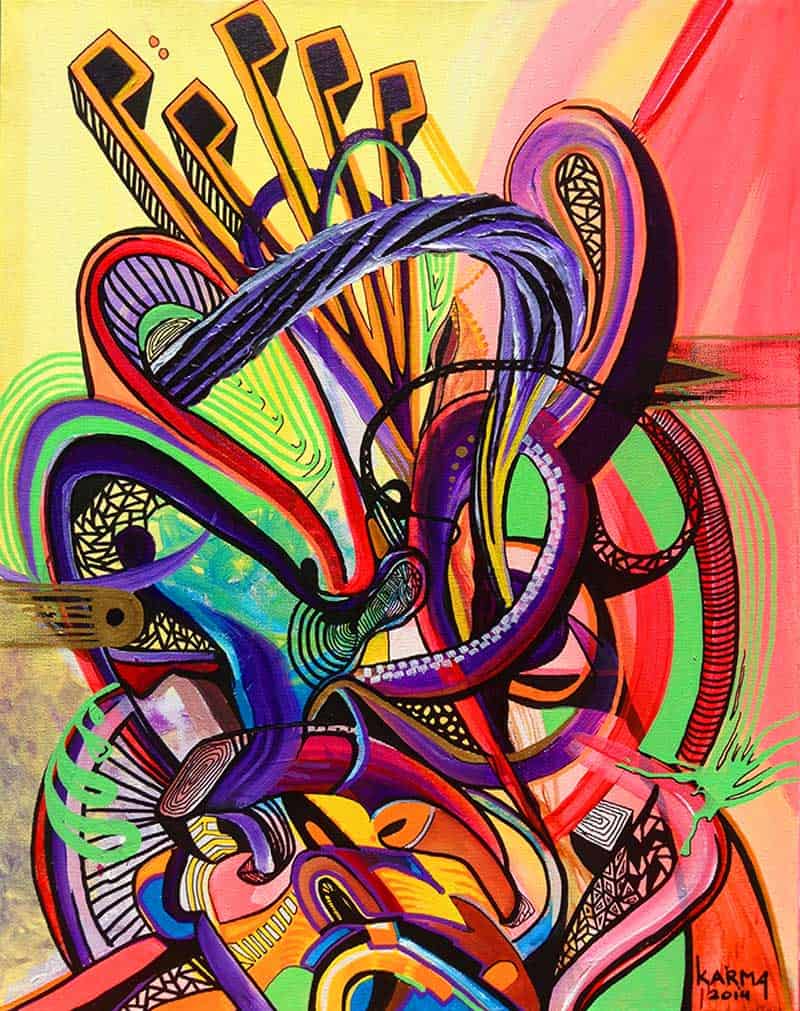 14. Can you tell us a bit about something you are currently working on, or are excited to start? Any upcoming events or exhibits – when/where?
I've just gotten back from Chiang Mai, where I had a group exhibition at Matoom Art Space and a printmaking artist residency at C.A.P Studio. Currently, my work is in an all-women's group exhibition in Kuala Lumpur titled "Equilibrio" organised by Artemis Art. I'm working on a large scale mural for a hotel in Sukhumvit soi 2, and I'm preparing a new series of works for my solo exhibition at Koi Art Gallery later this year. I have some interesting collaborative projects right now as well, one is with a landscape architect to create living sculptures and the other is with a Vj. We are making experiments with intersecting digital projection mapping with traditional art forms… It's gonna be a busy year!
For more info about Karma and her artwork, check out:
KARMA SIRIKOGAR ART
Email: [email protected]
Skype: karma.6
U love Art. U can share it.
onarto.com is the leader and first art store dedicated to Thailand contemporary art, promoting more than 200 thai artists around the world. Answering to art collectors and artists, onarto now expand his activiy to promote Asian art and open its boundaries to creative designer, become a tool to connect creatives mind and art doers with art collectors and unique beauty lovers.