What to Look at in Bangkok – September 14
Hey Art Lovers! Do you want to fill your life with art and creativity? Then take a look at this summary of ongoing art events in Bangkok.
Last modification :
September 28, 2017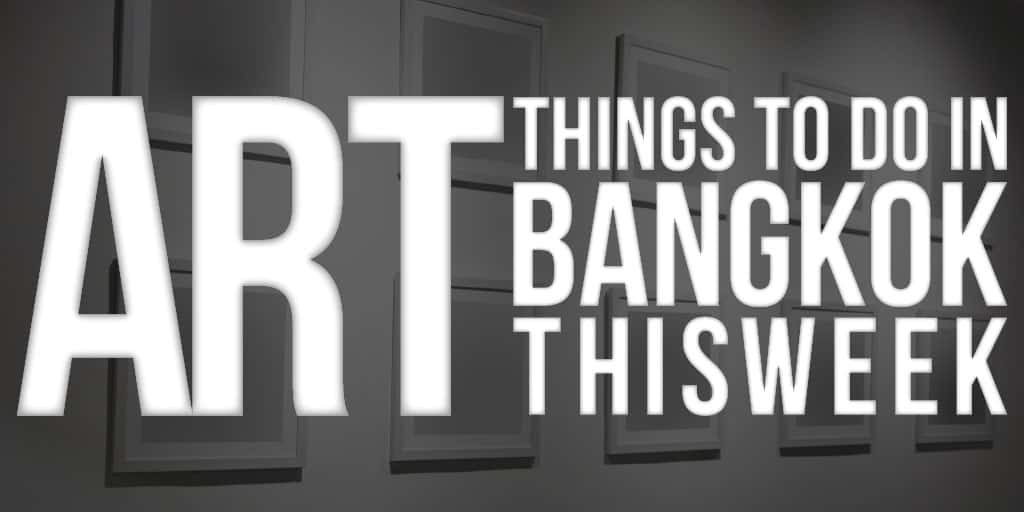 Art Things to do in Bangkok from September 14 to September 20
These art ehibitions are waiting for you. Do not miss the round up of the best art activities in Bangkok from 14 of September to 20 of September.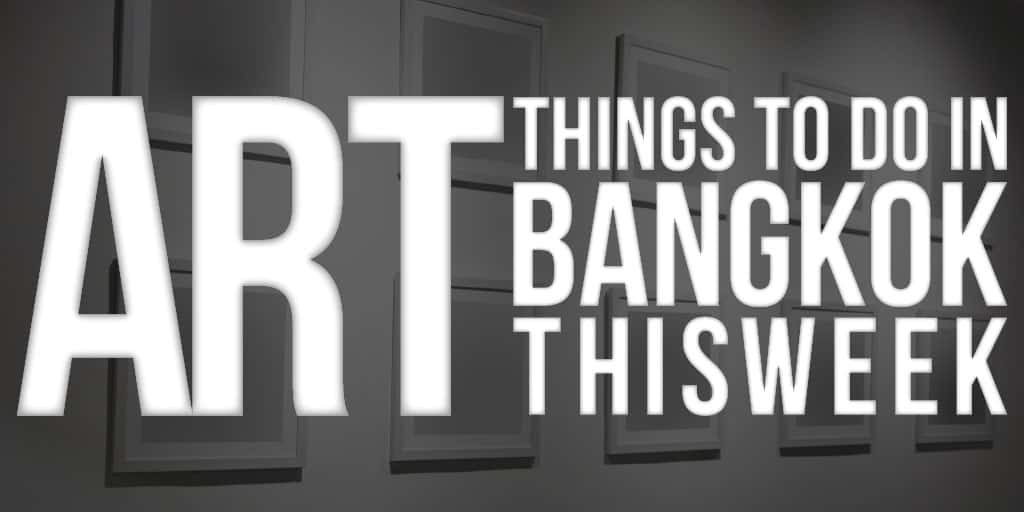 What's new?
Number 1 Gallery – Truth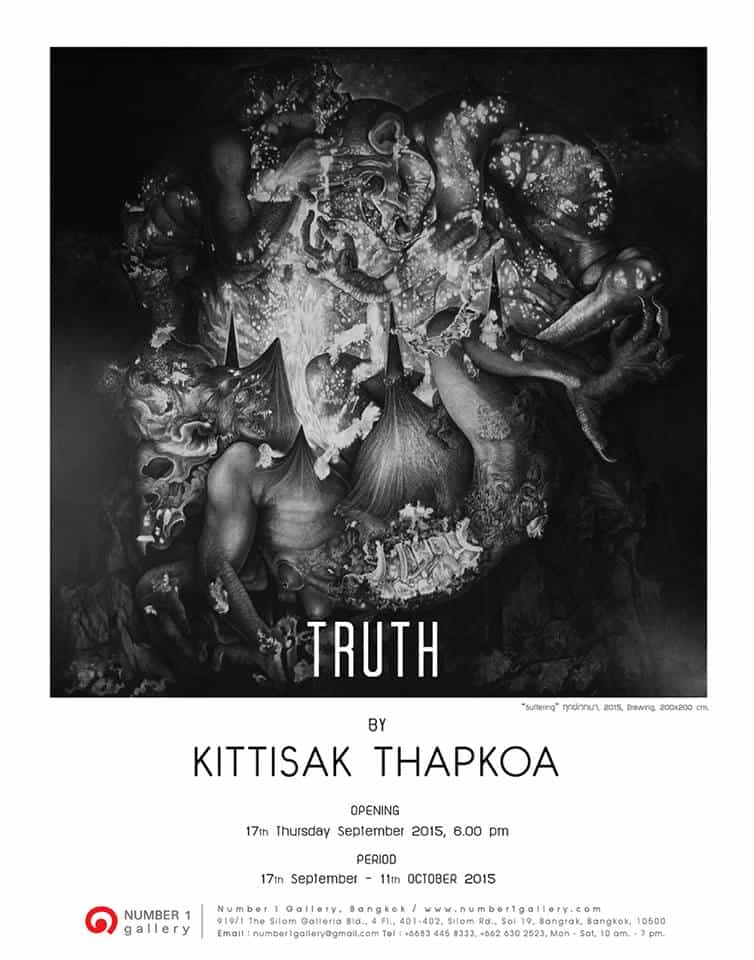 Opening: Thursday September 17 at 6pm
Where: 919/1 The Silom Galleraia Bld., 4 Fl., 401-402, Silom Rd., Soi 19, Bangrak, Bangkok
For his solo exhibition, the emerging artist Kittisak Thapkoa presents a series of graphic drawings on canvas around the subject of sin and populated with evils.
Bridge – Cartoons #1

Opening: Thursday September 17 at 8pm
Where: Charoen Krung, Yan Nawa, Sathorn, Bangkok
The Bridge invites cartoon lovers to come and watch a selection of kids cartoons for adults and adult anime feature film.
The Jam Factory – Hope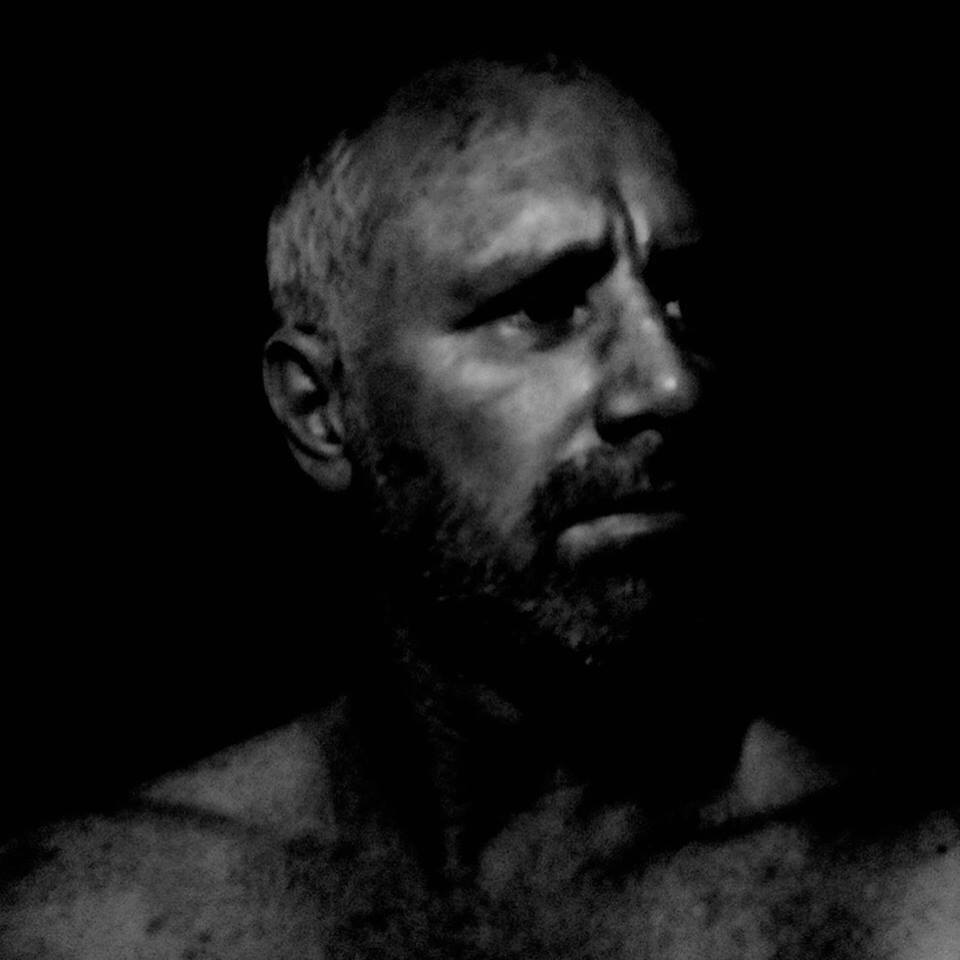 Opening: Thursday September 17 at 8pm
Where: 41/1-5 The Jam Factory, Charoennakorn Rd., Bangkok
Hope features pictures by the photographer Patrick Brown.
Ink & Lion Café –

 

'Tsu-na-ga-ri' – 'link/bond/connection'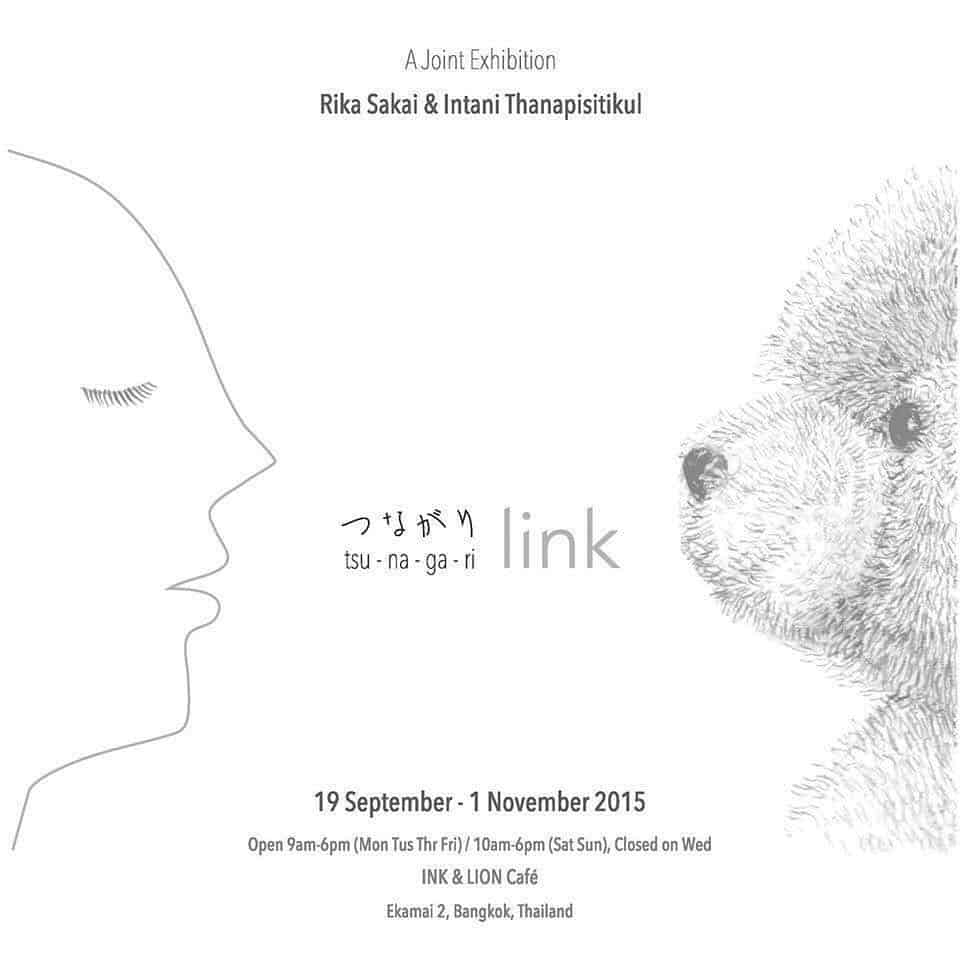 Opening: Saturday September 19
Where: Ekamai 2, Bangkok
The artists Rika Sakai & Intani Thanapisitikul are two friends coming from different countries and offering their distinctive visions on the notion of link.
Bangkok University Gallery – Rediscovering Forgotten Thai Masters of Photography
Opening: Saturday September 19 at 6pm
Where: Rama 4 Rd. Klong-Toei, Bangkok
Curated by Manit Sriwanichpoom and part of Photo Bangkok Festival, this exhibition brings together 7 Thai photography masters, including Buddhadasa Bhikku (1906 – 1993), Mom Luang Toy Xoomsai (1906 –1961), Liang Ewe (1911 – 1992), Saengjun Limlohakul (1924 –1997), S.H. Lim (born in 1930), Rong Wong-savun (1932 – 2009), Pornsak Sakdaenprai (born in 1938).
Ongoing
BACC – Kanghan Group's Art Exhibition 2015
Opening: Until September 27
Where: BACC, People's Gallery P1-P3, 2nd floor
The group exhibition by Prasit Chanitrapirax, Sayan Sanitrat, Somboon Pouangdogmai, and Paisal Theerapongvisanuporn deals with individuals' stories around critical political views.
H Project Space – Tropical Malice
Until September 27
Where: 201 Sathorn Soi 12, Bangkok[/vc_column_text][vc_empty_space height="18px"][vc_column_text]
The Bangkok-based artist Giles Ryder presents a multi media installation, playing with aesthetic cultural meanings and creating a real experience in the exhibition place.
HOF Art Space – MYA

Until September 30
Where: W District between Sukhumvit 69 – 71
Curated by the artist Sakwut Wisesmanee willing to bring together a group of renowned fashion photographers producing 'spicy' works, "MYA" features photographs by 'Paktai Latin' (including Chamni Thipmanee, Nopadon Chotasiri, Amarit Chusuwan, Chira 'Neng' Wichaisuthikul, Surat 'Jo' Jariyawattanawijit, Surasak 'Rang' Ittirit) that reflect about women.
Chomp – THE GENESIS

Until September 30
Where: 63-65 Samsen road, Phra nakon, Bangkok
Amonwan Dolly Mirpuri presents cross-cultural symbolism artworks inviting to a philosophical journey towards self-realization.
Kalwit studio & gallery – EQUABLE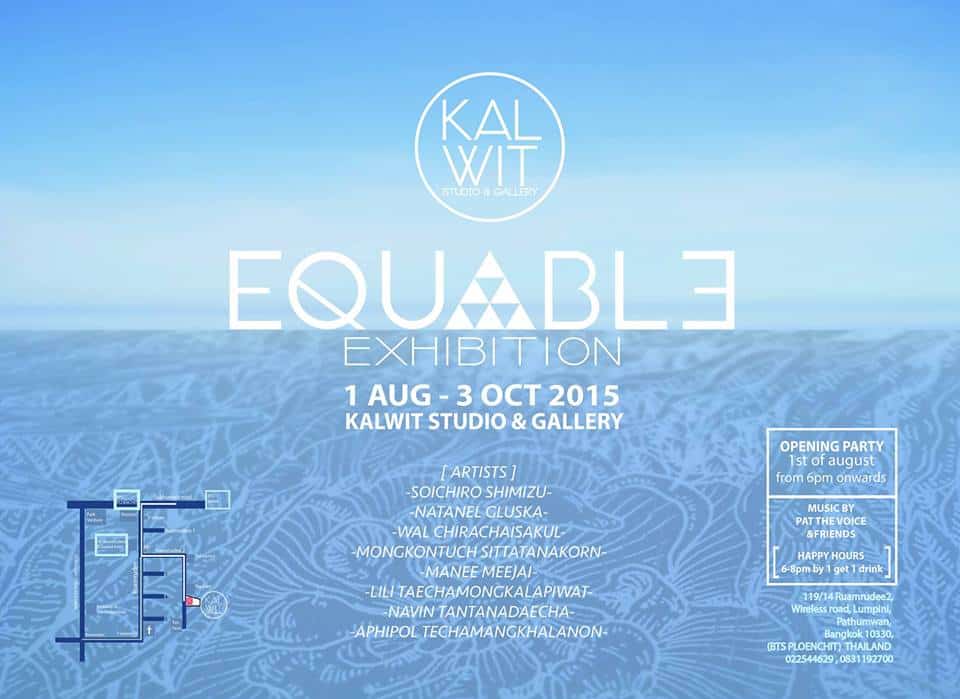 Until October 3
Where: 119/14 Ruamrudee soi2, Wireless rd., Bangkok
This exhibition displays works by Soichiro Shimizu, Natanel Gluska, Wal Chirachaisakul, Mongkontuch Sittatanakorn, Manee Meejai, Lili Taechamongkalapiwat, Navin Tantanadaacha and Aphipol Techamangkhalanon.
Art Centre – Behind the painting
Until October 10
Where: Silpakorn University, Bangkok
Co-organized by the Bangkok's Japan Foundation and the Silapakorn University's Art Centre and curated by Hiroyuki Hattori, "Behind the Painting" is Chulayarnnon Siriphol's solo exhibition. Following his participation in the Artist Residence Program at the Aomori Contemporary Art Centre (ACAC) in Japan, the exhibited artworks have been inspired by Sri Burapha's 1937 novel.
BACC – P ROX IMITY – Part II
Until October 25
Where: Main Gallery, 7th floor
This collaboration between the BACC and inSPIRACJE International Visual Art Festival '13 muz' creates a dialogue between Thai and Polish artists' contemporary works. Previously presented in Poland, these works deal with country specificities as much as proximity and universality.
G1 Contemporary – Nelum
Until October 31
Where: Gaysorn Shopping Center, 999 Ploenchit Rd, Bangkok
Nelum features 12 recent acrylic and mixed media abstract paintings by the Thai artist Somneuk Huangtanapan.
Kathmandu Photo Gallery – Game: Part I
Until October 31
Where: 87 Thanon Pan, Silom, Bang Rak, Bangkok
The Canadian artist Liam Morgan exhibits photographs of buffaloes taken during a rural trip around Thailand.
BACC – Abstract: The Truth of Art
Until November 22
Where: Multi-Function Room, 1st floor
100 pieces have been selected amongst Ithipol Thangchalok's 50 years of creation. The Thai contemporary artist brings shapes of seeds, trees, walls, and human figures towards a geometric abstraction meant to lead to the truth of art.
Last Chance to See:
Whitespace Gallery – Cherry Blossom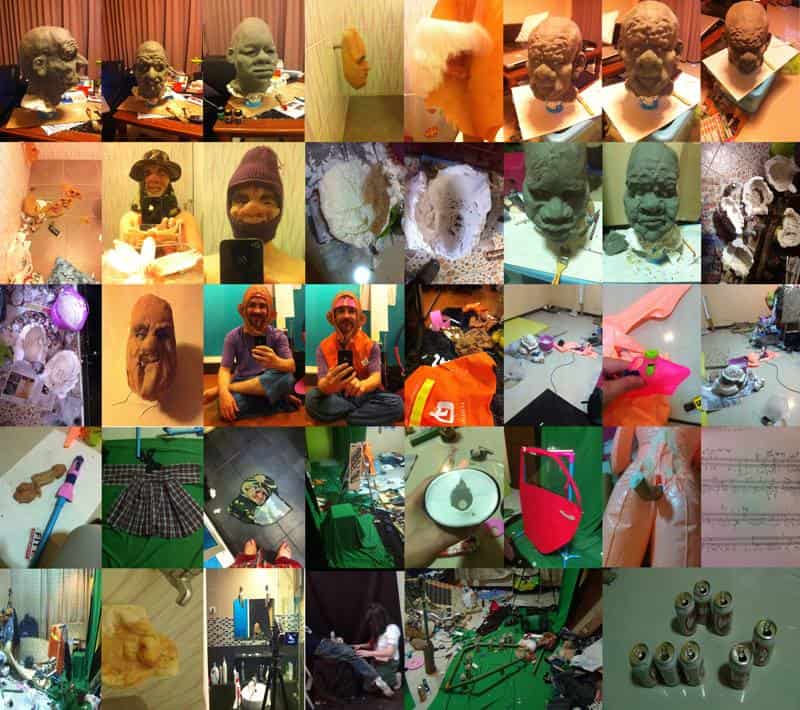 Until September 19
Where: one Sala Daeng 1, Rama 4 Road, Bangkok
The 5 hours opera video 'Cherry Blossom' tells the migration of a girl through three different parts of Bangkok.
Golden Tortoise – "AAA" Asian Auspicious Animals
Until September 20
Where: 100 Sukhumvit soi 49, Bangkok, 10110
"AAA" for Asian Auspicious Animals displays furniture, fabrics, wood carvings, bronze and stone objects.
The Space – Iwan
Until September 20
Where: Gaysorn Shopping Centre
For his solo exhibition, the American-based photographer Iwan Bagus explores the self, the nude male body and outdoor landscapes in his black and white series entitled Oblivion & Interior Landscape.
Submit your Art Event – Exhibition – Festival etc.
Want to promote your event on Onarto? Then submit you request at [email protected].
U love Art. U can share it.
onarto.com is the leader and first art store dedicated to Thailand contemporary art, promoting more than 200 thai artists around the world. Answering to art collectors and artists, onarto now expand his activiy to promote Asian art and open its boundaries to creative designer, become a tool to connect creatives mind and art doers with art collectors and unique beauty lovers.