What to Do in Bangkok – from August 31 to September 6
Hi Art lovers, find out more about the amazing and ending soon art exhibitions in Bangkok to keep your life busy and creative.
Last modification :
September 28, 2017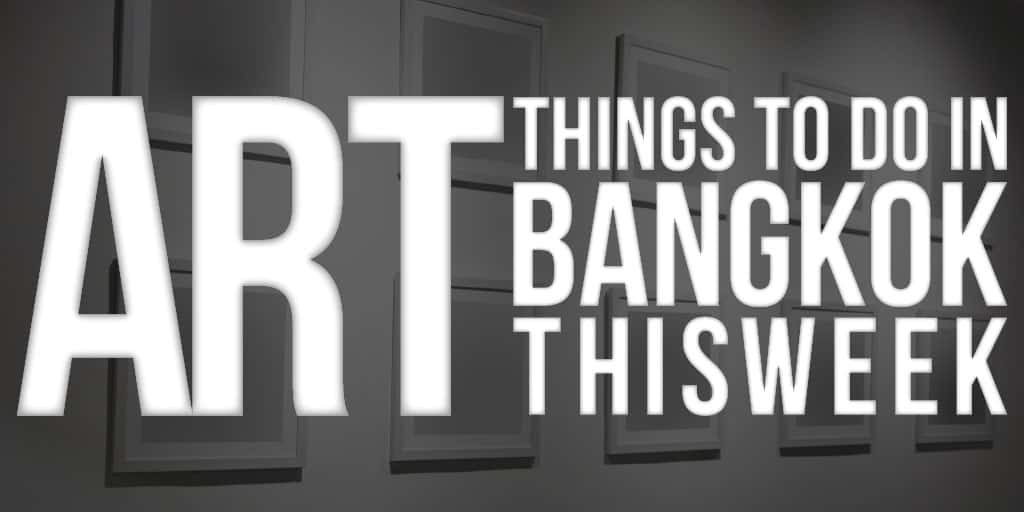 Art Stuff to Poke Your Head into from August 31 to September 06
Stay creative by attending all these astonishing art events ongoing in Bangkok at the moment!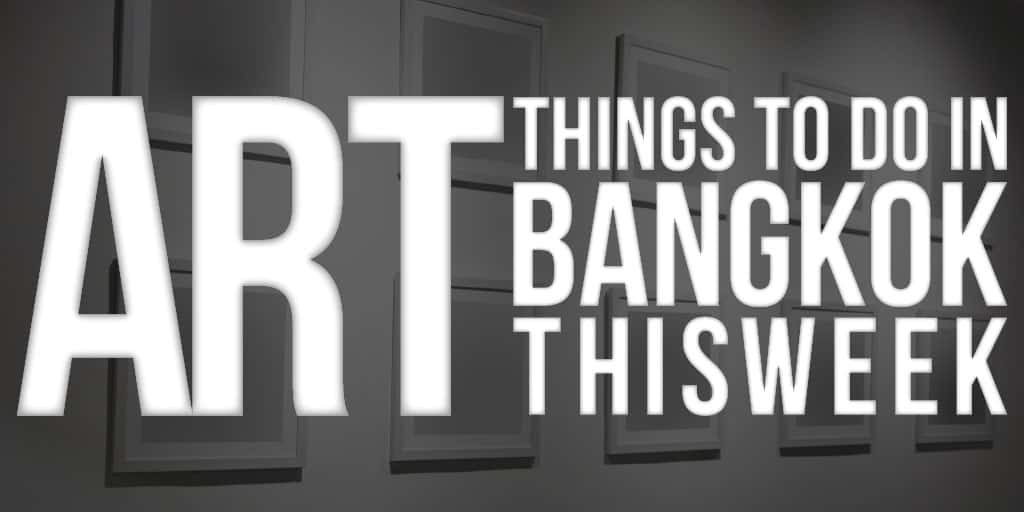 What's new?
Indo/Thailand – Rebel Art Space
Opening: Tuesday, September 1 at 6pm
Where: Sukhumvit 67, BTS: Prakanong, Wattana, Bangkok
The exhibition brings together works by the Indian artists Palash Paul & Avijit Mukherjee and the Thai artists Madee Pattanasri, Pipat Saksirikasemkul & Suriya Chayacharoen.
Kanghan Group's Art Exhibition 2015 – BACC
Opening: Wednesday, September 2 at 6pm
Where: BACC, People's Gallery P1-P3, 2nd floor
The group exhibition by Prasit Chanitrapirax, Sayan Sanitrat, Somboon Pouangdogmai, and Paisal Theerapongvisanuporn deals with individuals' stories around critical political views.
MYA – HOF Art Space

Opening: Friday, September 4 at 4.30 pm
Where: W District between Sukhumvit 69 – 71
Curated by the artist Sakwut Wisesmanee willing to bring together a group of renowned fashion photographers producing 'spicy' works, "MYA" features photographs by 'Paktai Latin' (including Chamni Thipmanee, Nopadon Chotasiri, Amarit Chusuwan, Chira 'Neng' Wichaisuthikul, Surat 'Jo' Jariyawattanawijit, Surasak 'Rang' Ittirit) that reflect about women.
Aeon Profit – Piano Forte – ATTA Gallery
Opening: Friday, September 4 at 6.30pm
Where: OP Garden, Unit 1109, Charoenkrung 36, Bangrak, Bangkok
THE GENESIS  – Chomp

Opening + Live Performance: Friday, September 4 at 7pm
Where: 63-65 Samsen road, Phra nakon, Bangkok
Amonwan Dolly Mirpuri presents cross-cultural symbolism artworks inviting to a philosophical journey towards self-realization.
Freak Show – Goja

Opening: Friday, September 4 at 7pm
Where: Sukhhumvit 71, Soi 3 Pridi Banomyong 5/2 Bangkok
The group exhibition FREAK SHOW features Ong, Kowuts, Warhead & Mama blues.
Weatherproof – WTF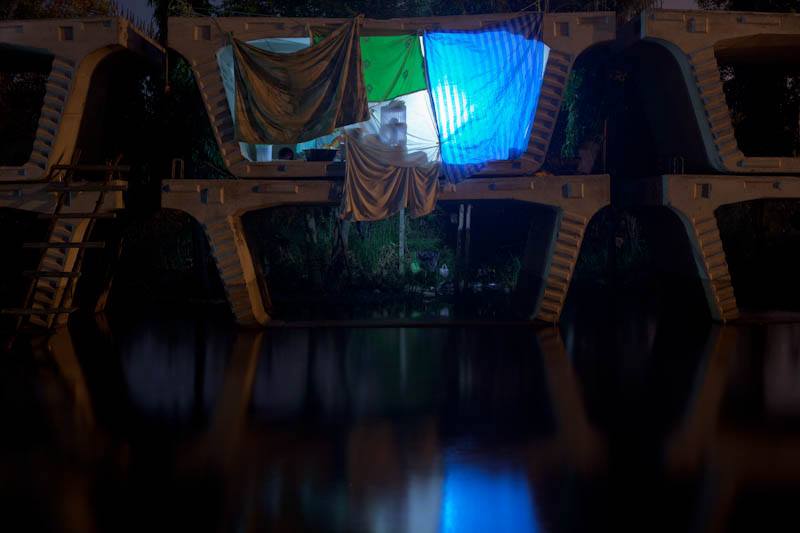 Opening: September 4 at 7 pm
Where: 7 Sukhumvit Soi 51 Wattana Klongton-Nua, Bangkok
Curated by Ark Fongsmut, 'Weatherproof' highlights the beauty behind the damages from the last Tsunami (2004), Severe Flooding (2011) and Earthquake (2014), through photographs by the Thai artists Angkrit Ajchariyasophon, Dansoung Sungvornveshapan, Miti Ruangkritya, Rasiguet Sookkarn, Soopakorn Srisakul and Withit Chanthamarit.
Game: Part I – Kathmandu Photo Gallery
From Saturday, September 5
Where: 87 Thanon Pan, Silom, Bang Rak, Bangkok
Ongoing
Cherry Blossom – Whitespace Gallery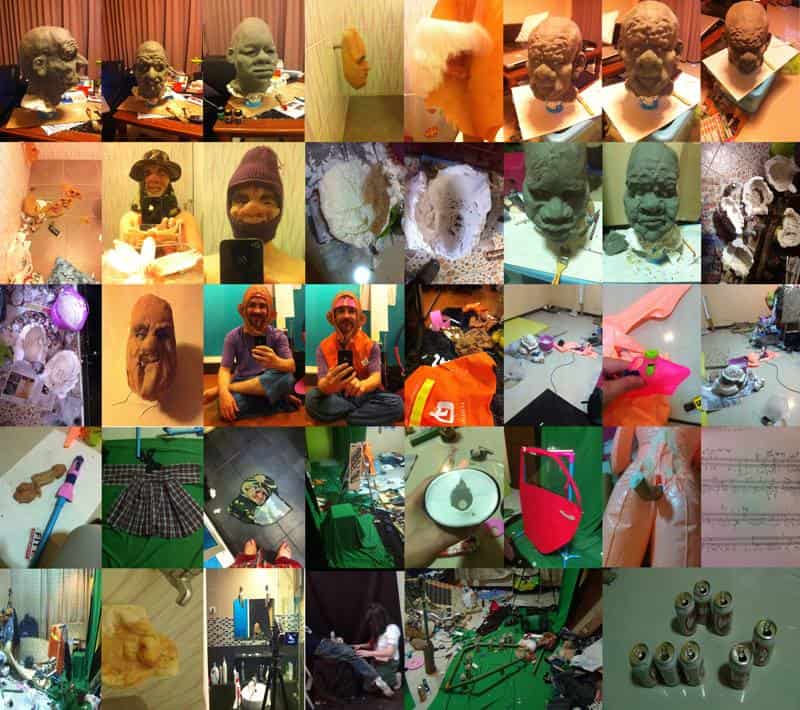 Until September 19
Where: one Sala Daeng 1, Rama 4 Road, Bangkok
'Cherry Blossom' is an opera showing how a girl moves from one part of Bangkok to another.
"AAA" Asian Auspicious Animals – Golden Tortoise
Until September 20
Where: 100 Sukhumvit soi 49, Bangkok, 10110
"AAA" for Asian Auspicious Animals displays furniture, fabrics, wood carvings, bronze and stone objects.
Iwan – The Space
Until September 20
Where: Gaysorn Shopping Centre
In The Blink Of An Eye – Neilson Hays Library
Until September 30
Where: 195 Surawong Road, Bangkok
26 photographers from the Bangkok Photographers Group present 70 pictures representing the opening and closing processes of the camera shutter.
Missing Links (Part Two) – Jim Thompson Art Center
Until October 31
Where: 6 Soi Kasemsan 2, Rama 1 Rd., Bangkok
"Diaspora and Identity" is the second part of the exhibition dealing with the issues of Southeast Asian urbanization and migration and displays time-based artworks.
Last Chance to See:
The Mind Sees What It Chooses To See – Chomp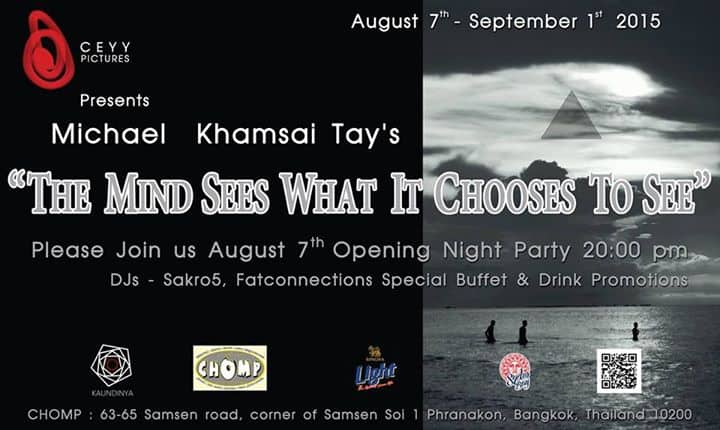 Until September 1
Where: 63-65 Samsen road, Bangkok
The exhibitions run by Michael Khamsai Tay presents an artist's quest where he tried to express himself through visual art.
Done – Jam
Until September 2
Where: 41 Soi Rong Nam Kang (Charoen Rat Soi 1), Sathorn – Surasak
KOMKID (Ratchaburi), DARKONE (Ratchaburi), OHAE (Ratchaburi), ZIONBURI (Ratchaburi), ASIN (Bangkok), AB! (Bangkok), ROBIN (USA) – all are Thai street artists gathered together under the same roof to show you the best of their works.
Submit your Art Event – Exhibition – Festival etc.
Want us to post your art event in our blog? Feel free to contact us at [email protected].
U love Art. U can share it.
onarto.com is the leader and first art store dedicated to Thailand contemporary art, promoting more than 200 thai artists around the world. Answering to art collectors and artists, onarto now expand his activiy to promote Asian art and open its boundaries to creative designer, become a tool to connect creatives mind and art doers with art collectors and unique beauty lovers.