Art Events in Bangkok: Chow Why, Jam, BAAC
Hi Art lovers! Here's a round up of the best art exhibitions and events in Thailand to ring in the new year.
Last modification :
September 28, 2017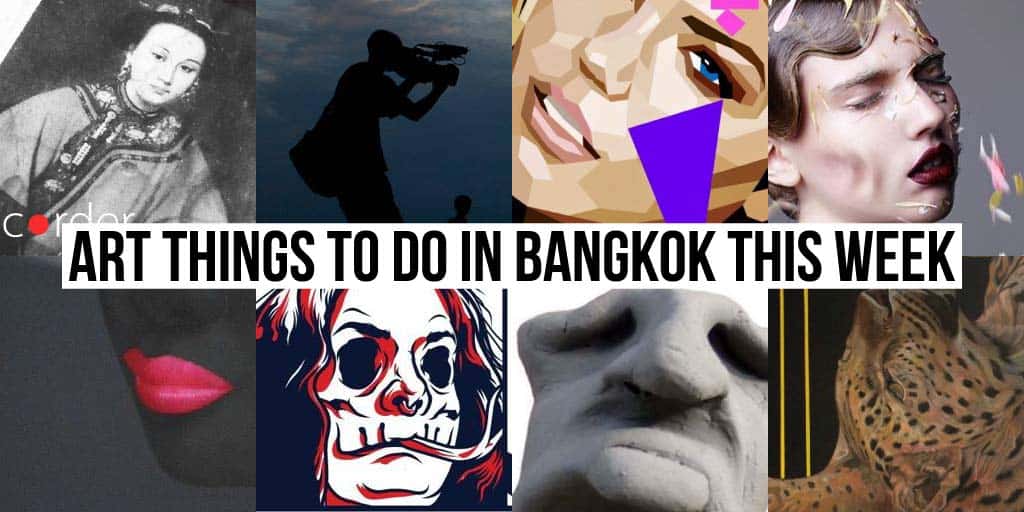 Art Things to do in Bangkok from January 10 to January 17
Hi Art Lovers, check out the latest art previews and exhibitions going on this week plus a whole bunch of ongoing events.
What's New
Cho Why – Bangkok Video Journalism & Filmmaking Workshop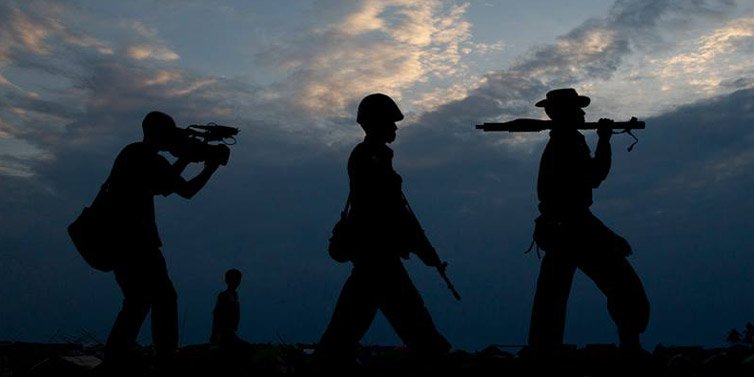 Opening: January 11 at 10:00 until 17 January at 20:00
Where: Cho Why, Soi Nana 17, Pom Phrap Sattru Phai, Chinatown, Bangkok, MRT Hua Lamphong
An intensive 7-day workshop in filmmaking and video journalism will be held at Chinatown's Soi Nana from 11 through 17 January for 1,500 USD (approx 54,000 THB). The workshop will be hosted by multiple award winning video journalists/tutors, Raul Gallego Abellan and Alfonso Moral.
Zen World Tower – Street Photography Workshop by Jess Marlow & Matt Stuart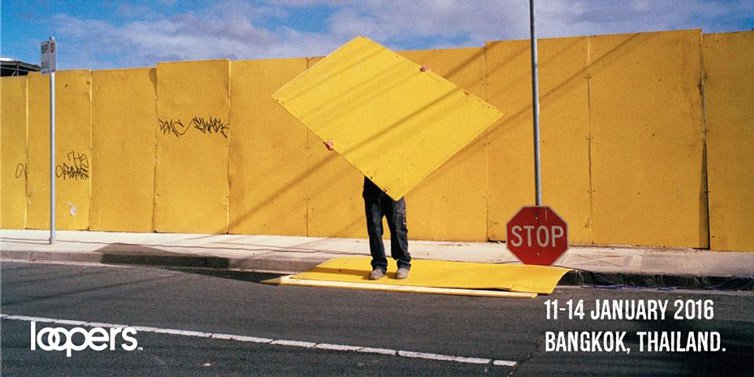 Opening: 11 – 14 January
Where: Regus – 12th Floor ZEN World Tower, Central World Plaza
Thailand-based Photographer group, Loopers Collective is set to host a 4-day Leica Street Photography Workshop with Matt Stuart and Jesse Marlow from 11-14 January. The workshop offers the chance for photographers to receive insightful critique from mentors, learn about special techniques and go on a group street photography shoot.
JAM Cine Club – Lolita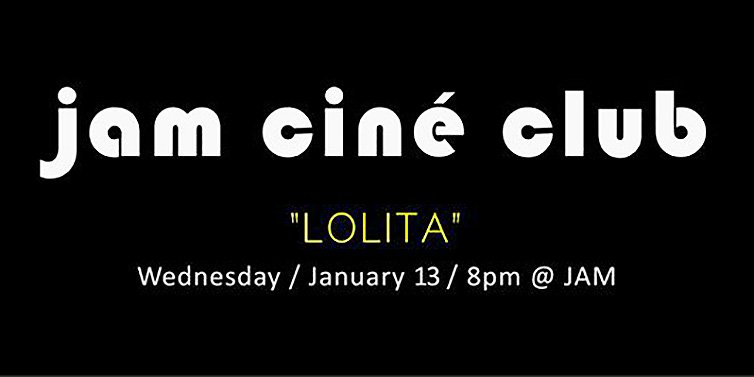 Opening: January 13 at 20.00
Where: Jam, Sathorn, Charoen Rat 1, Yannawa , Bangkok, BTS Surasak
JAM Cine Club's theme for January is "Seduction." A re-screening of Lolita (1962) by Stanley Kubrick will be held on January 13 at 20:00, following technical difficulties during its screening last week.
The black comedy-drama film is based on the novel of the same title by Vladimir Nabokov, about a middle-aged man who becomes obsessed with a teenage girl.
BACC – Another Story by Company Derashinera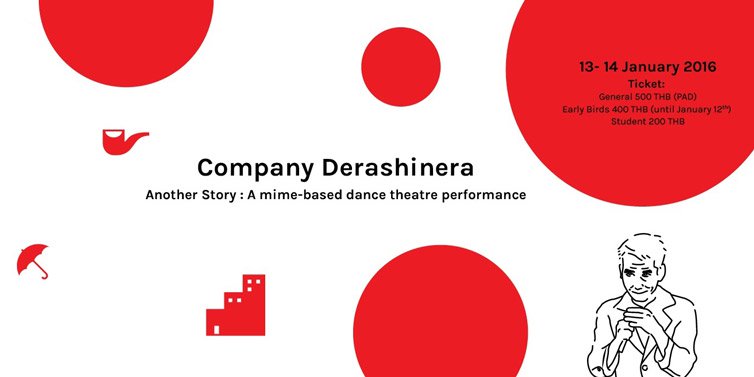 Opening: January 13 – 14, from 19:00
Where: BACC Bangkok Art and Culture Center, Studio 4th Floor, 939 Rama 1 Rd, Pathum Wan, Bangkok 10330
Ahead of Shuji Onodera's free, two-day mime and physical movement workshop at Thong Lor Art Space between 16 -17 January – Company Derashinera is set to perform a piece directed by Shuji Onodera at Bangkok's BACC from 13-14 January. Tickets are 500 Baht for general entrance and 200 Baht for students. Held in partnership with The Japan Foundation and the Bangkok Art and Culture Center, the piece will be a unique physical theater-like performance, combining mime, contemporary dance, ballet, butoh, acting and more.
RMA Institute – Recorder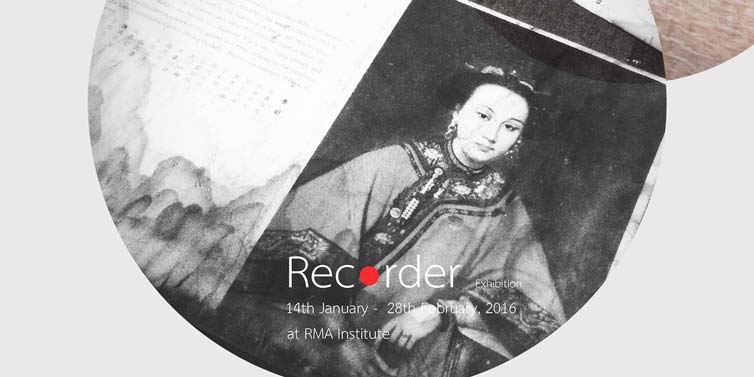 Opening: January 14, 18:00 – 21:00 through February 28
Where: RMA Institute, 238, Sukhumvit Soi 22, Sainamthip 2, Bangkok, 10110
RMA hosts a group photography exhibit, "Recorder" featuring young Thai photographers Chalaruk Rueanchomchoei, Peera Vorapreechapanich and Soopakorn Srisakul. Curated by Anothai Oupkum, the exhibition examines the use of photography as a tool for capturing time and examining memories. The opening reception will be held on January 14. 
Pandora Gallery – Souvenirs d'Afrique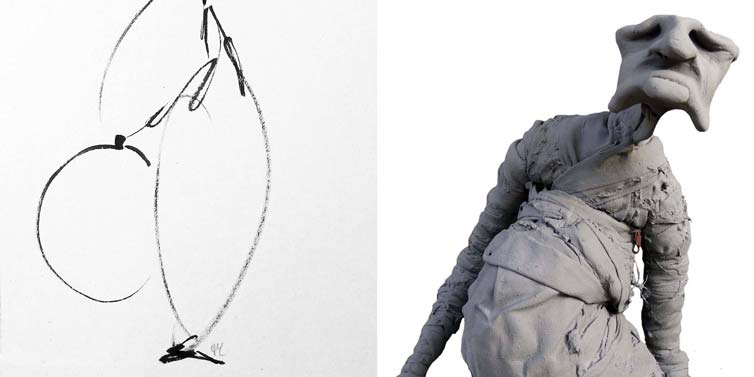 Opening: January 14, 18:30 – 21:00
Where: Pandora Gallery, 10/4 Soi Convent, Silom, Bangkrak, Bangkok, 10500
Pandora Gallery hosts the solo exhibition "Souvenirs d'Afrique" by contemporary artist Jean-Marc Louis (born 1959) on January 14. Inspired by his travels to Africa and experience in Thai culture, Louis converts recycled materials and other mixed media into timeless, abstract creations.
Chamchuri Gallery – Roboticlism from Unconscious Mind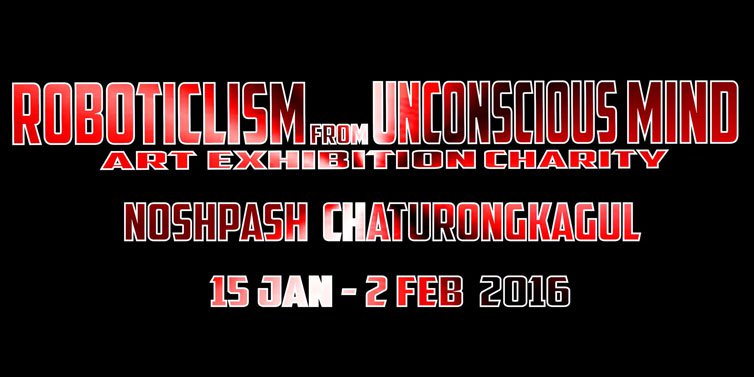 Opening: January 15 at 18:00
Where: Chamchuri Art Gallery, Chulalongkorn University, Jamjuree 8, Phayathai Road, Phatumwan
Nospash Chaturongkagul displays his exhibit titled, 'Roboticlism from Unconscious Mind' at Chulalongkorn's Chamchuri Gallery from 19:00 onwards on January 15th. The show is part of an art exhibition and charity project held simultaneously at the university. The title of the exhibition is said to express robotic mechanisms and metal armor through the language of visual writing.
Jam – Another Devil On the Wall (ADOTW)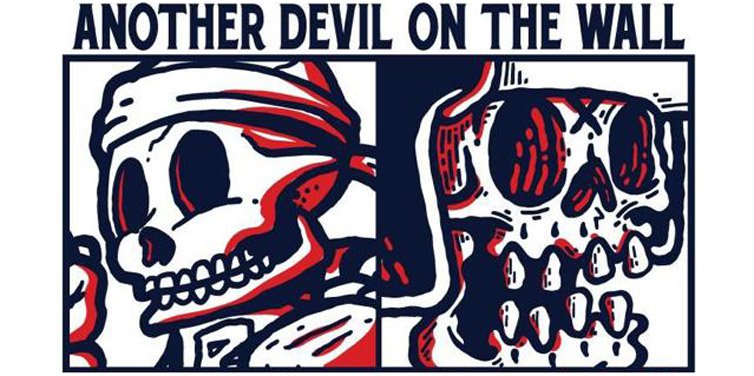 Opening: January 15 at 18:00
Where: Jam, Sathorn, Charoen Rat Soi 1, BTS Surasak, Bangkok
On January 15 from 18:00 onward, Jam will be hosting "Another Devil On The Wall" an exhibition of artworks produced by 4 graffiti artists: TRK, CHZ, AMP and WARHEAD.
Adler Subhashok – Beyond A Shadow by Attasit Pokpong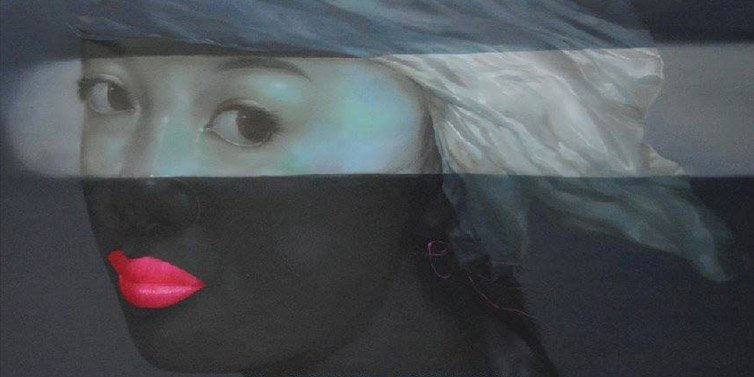 Opening: January 16 at 18:00 until February 21st
Where: Adler Subhashok Gallery, 1603 Sukhumvit Soi 33, Sukhumvit Road, Klongtan Nuea
Attasit Pokpong, one of Thailand's top contemporary artist, known for his use of watercolor and oil, will be showcasing a solo exhibition at the lovely Adler art space. Beyond A Shadow explores the artist's fascination with the Sino-Asian female face and techniques of contrasting textures. This collection was created during the artist's 3 month residency in Paris.
Thong Lor Art Space – Mime/Physical Movement Workshop by Shuji Onodera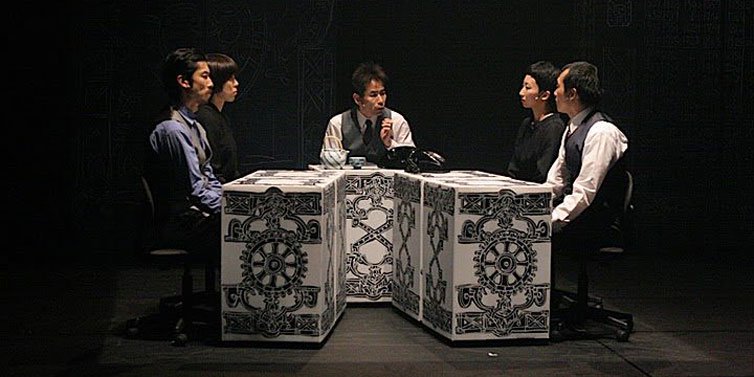 Opening: 16 January until 17 January, from 13:00 to 15:00
Where: Thong Lor Art Space, 33/2 Soi Sukhumvit 57, Khlong Tan Nuea
Shuji Onodera will hold a free, two-day mime and physical movement workshop at Thong Lor Art Space between 16 -17 January. Held in collaboration with The Japan Foundation, the workshop offers two sessions, with a beginners class on the Saturday 16th from 13:00 – 15:00 and an artist class the following day from 13:00 – 15:00.
TCDC Chiang Mai – A Random Movie Night #3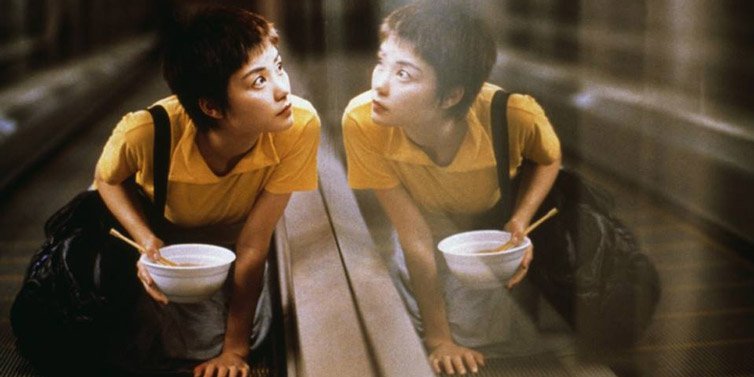 Opening: January 17, 13:00 until 23:00
Where: TCDC Chiang Mai, Thapae East, Venue for the Creative Arts, 88 Thapae Road, Chiang Mai, 50300
TCDC Chiang Mai will be screening a movie alongside talks and exhibitions by special guests on January 17, from 13:00 onwards. Entry is free of charge, with snacks and drinks also on offer.
Check Inn 99 – Mindfulness & Murder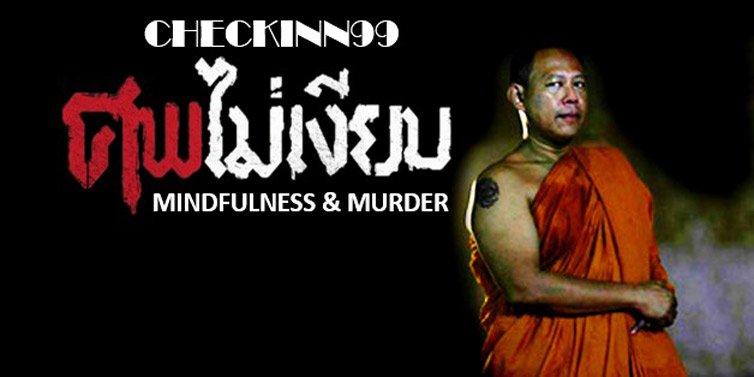 Opening: 17 January, at 19:00
Where: Check Inn 99, 97 Sukhumvit Road (between Sois 5 and 6), opposite the Landmark Hotel, BTS Nana
Live music bar and restaurant, Check Inn 99 will screen the award winning Thai Indie film, Mindfulness & Murder directed by Tom Waller on 17 January, from 19:00 – 20:30. The film is about an ex-cop Buddhist monk who investigates a murder in his monastery in Bangkok. Tickets cost 250 Baht and include a welcome drink and popcorn.
Ongoing
Speedy Grandma – How many female artists do you know?
December 19 at 7.30pm until January 15
Where: 672/50-52 Soi Charoenkrung 28 Bangrak, Bangkok
Numthong Gallery at Aree – Absurd Aesthetic
Until January 15
Where: 72/3 Soi Ari 5 nua Phahonyothin 7, Phahonyothin Road, Bangkok
Absurd Aesthetic is a solo exhibition by Anon Pairot.
Bangkok University Gallery – Let's have a TEA PARTY… Forever
Until January 16
Where: Bangkok University Gallery, CITY CAMPUS, 4th Floor, Bangkok
Following on D' UNBREAKABLE TEAPOTS, the exhibition 'Let's have a TEA PARTY… Forever' will feature works by Surojana Sethabutra.
BACC – The Magic World of Czech Illustrators
15 December until January 17
Where: Curved Wall (4th & 5th Floor) Bangkok Art and Culture Center, 939 Rama 1 Rd, Pathum Wan, Bangkok 10330
BACC Arts Network Department in cooperation with the Embassy of the Czech Republic introduces Jiří Slíva, a Czech cartoonist with an expressive style who mainly illustrates cartoons and books. Children and families can also attend a coloring station at the nearby Magic World Kid's Corner by Staedtler and watch some popular Czech animated films.
Goja – Art = Buddy
Until January 17
Where: Sukhhumvit 71, Soi 3 Pridi Banomyong 5/2, Bangkok
The project LOVOL started in 2015 and is organised by Hiroya Asari.
YenakArt Villa – Super Nature
December 17 until January 24
Where: 69 Soi Prasat Suk, Bangkok
SUPER NATURE presents 5 artists and designers from Thailand, Korea and France who thought about flowers and femininity through their multi medium works.
Featured artists: Kawita Vatanjyankur, Ek Thongprasert, Sun Young Min, Catherine Wilkenning, Artpilo
Pullman G Gallery – Popkapi
Until January 28
Where: Pullman Bangkok Hotel G, Floor 36, 188 Silom Road, Bangkok
"Popkapi" is the solo exhibition by the artist Jakkrit Chewapanya.
Ardel Gallery of Modern Art : Matters Printed – Macau Printmakers
December 22 through January 31
Where: 99/45 Belle Ville, Boromratchonnanee Road (km 10.5), Bangkok
From December 22 until January 31, Ardel Gallery of Modern Art will be hosting an exhibition of various print techniques from 25 Macau-based artists.
ATTA Gallery – Stratera
Until January 31
Where: 4,6 Chaorenkrung Soi 36, Bangrak, Bangkok
Stratera is the first Off the Wall exhibition displaying Michael Shaowanasai's work.
G 1 Contemporary & The Space – The Madness of Crowds
Ongoing through January 31
Where: FG, Gaysorn Plaza, 999 Ploenchit Road, BTS Chidlom
The mall-located art space, G 1 Contemporary & The Space, is curated by H Gallery. Its current exhibit titled, 'The Madness of Crowds' ongoing until January 31.
Mangkud Café & Art Gallery – H.M. Blues The hungry men's blues
Ongoing Tuesdays-Sundays from 11am-10pm until January 31
Where: 94/87 Ratchapruek Road
This art gallery and gathering place holds daily sets of live blues in celebration of HM The King's 88th Birthday.
December 17 until February 5
Where: Sofitel Sukhumvit 189 Sukhumvit Road, Bangkok
In this solo show, the Thai artist Rush Pleansuk tells a story of spiritual growth : "I tend to live in the past because my life is there".
The Art Center Chula – Michael Shaowanasai's Revisits
December 22 until February 6
Where: 7th Floor, Office of Academic Resources, Chulalongkorn University, Phayathai Road, Bangkok
Multi-disciplinary artist and social activist, Michael Shaowanasai presents his latest collection of objets d'art from December 22 onwards at Chulalongkorn University – the place where he made his first debut. The upcoming exhibition is said to be "site-specific" and likely references the growth and evolution in his artistic journey.
Bangkok Citycity Gallery – Beejoir's #NRCSSM
From December 16 until February 7
Where: 13/3 Sathorn 1, South Sathorn Road, Bangkok
This multimedia art show deals with the notion of narcissism in the social media age. It is the first asian solo show by the Bangkok-based artist & curator Chris Bowden AKA Beejoir.
Sathorn 11 Art Space – Thai by Ong-arj Loeamornpagsin
From January 9 through February 9
Where: Sathorn Soi 11, South Sathorn Road, Bangkok, Thailand 10120
Sathorn 11 Art Space will be hosting the opening night for Ong-arj Loeamornpagsin's solo exhibit titled 'Art that Reflects Thai Society' on January 9, from 19:00 onwards. Featuring 14 paintings and sculptures by the "Thai-hardcore" artist, the exhibit is dedicated to the expression and understanding of Thai cultural beliefs, politics and society. An internationally and locally well-known artist, Ong-arj is known for his expressionistic and sometimes cryptic artwork, which is often full of social satire and symbolism.
Lyla Gallery – Silent No More by Paphonsak La-or
December 23 until February 14
Where: 2nd Floor, Tapae Road, Muang, Chaing Mai
Chiang Mai based artist, Paphonsak La-or debuts his solo exhibition from December 23 at cultural landmark and fan-favorite art space, Lyla Gallery. Paphonsak's paintings feature distinct landscapes from the towns and districts affected by the 2011 tsunami and resulting radioactive leakage in Japan's Fukushima Prefecture.
Bangkok Art & Culture Centre: Abstract – The Truth of Art
Ongoing until February 21
Where: 939 Rama 1 Rd, Pathum Wan, Bangkok 10330
A retrospective of some 100 mixed media works by National artist Ithipol Thangchalok, ongoing through February 21 next year.
The Jim Thompson Art Center – The Making of Golden Teardrop
Until March 22
Where: 6 soi Kasemsan 2, Rama 1 rd., BTS National Stadium Station Ex.1, Bangkok
The Making of Golden Teardrop brings together more than 5,000 small brass sculptures shaping the Thong Yod dessert by the Thai artist Arin Rungjangas. The exhibition also displays a documentary and photographs from the artist's research. This installation was previously shown at the 2013's Venice Biennale.
100 Tonson Gallery – Chatchai Puipia: Sites of Solitude
Until April 3, 2016
Where: 100 Soi Tonson, Ploenchit Rd., Bangkok
Lowly or never previously presented self-portrait paintings, sculptures, drawings and guest-documentary materials are brought together in 'Chatchai Puipia: Sites of Solitude/Still-Life, Self-Portraiture and the Living Archive, Part 1'. Puipia holds a significant role in the Thai contemporary art scene with works reflecting as much on the self as on the country social context.
Submit your Art Event – Exhibition – Festival etc.
You can send us information about your upcoming art events and benefit from free coverage by contacting us at [email protected].
U love Art. U can share it.
onarto.com is the leader and first art store dedicated to Thailand contemporary art, promoting more than 200 thai artists around the world. Answering to art collectors and artists, onarto now expand his activiy to promote Asian art and open its boundaries to creative designer, become a tool to connect creatives mind and art doers with art collectors and unique beauty lovers.