Soy Sauce Factory Bangkok
It's a converted three stories 'warehouse' next to the 'Khlong' or canal and near two famous Chao Phraya river landmarks: iconic River City.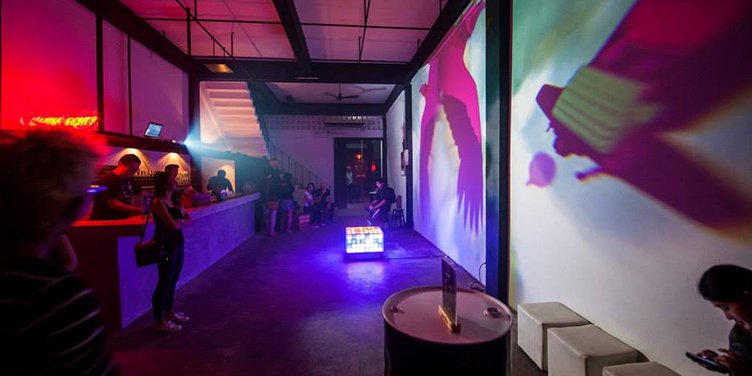 This gallery has been permanently closed.
About Soy Sauce Factory Bangkok
Address
Soy sauce factory bangkok
Charoenkrung soi 24 Bangkok,
Thailand 10500
Opening Hours
tuesday to saturday, 12pm – 11pm
Website www.soysaucefactory.com
Facebook www.facebook.com/soysaucefactory
Telephone (+66) 092 115 8696
Mail [email protected]
One Stop Gallery
Soy Sauce Factory is a converted three stories 'warehouse' next to the 'Khlong' or canal and near two famous Chao Phraya river landmarks: iconic River city and Royal Orchid Sheraton hotel. The multiple purposes two floor spaces are suitable for creative and artistic events operating as a 'blank canvas' for seminars, workshops, pop-up stores/showrooms, product launch, fashion events, product showcases and video/multi-media projections.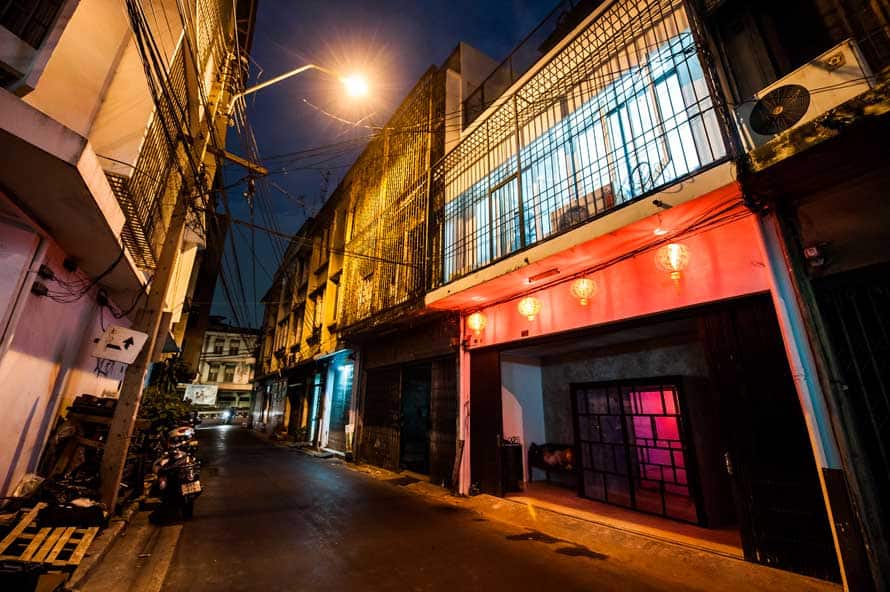 The First floor with its feel of a New York industrial warehouse is equipped with video projectors, light installations, one of the longest bar in Bangkok, DJ booth.
In the back, innovative food offers: Pop-up kitchen and a deck overlooking the canal with a huge baobab trees (and monitor lizards too) The Second Floor offers a more posh and glam look with a full cyclorama and a photo studio set-up with polished wood-floor. A stylish bar is ready to serve wine, champagne or cocktails. On the Third floor, the stylish private loft-residence offer spacious and stylish urban loft, full access to the terrace overlooking the canal.
Vision
The two partner visions, one hailing from France and the other partly Belgian/Korean, are both wishing to open new channels for experimental artists, innovative events with creative twists, by providing a raw space which will grow organically within the Bangkok art scene.
Photo and Video Studio
Full professional photo studio and production service with white cyclorama (infinite).
Fully equipped Fashion and Portrait Photography Studio with or without lighting equipment (raw space or with lighting sets).
The shooting area is around 80 square meters (one section made of wood parquet, another with cyclorama), high ceilings and a separate area for make-up and changing / styling, toilet & shower room.
We offer tethered shooting, into one of our large screened Mac Book Pro 17″.
Plus a professional lighting assistant to assist in your shoot. Our lighting equipment is also available to rent for off-site shoots. Including studio strobes and a more portable set used for street photography. Again this comes with an assistant, to manage the technical stuff for you allowing you complete creative freedom.
Our studio and off-site equipment list includes:
 Mono Strobe Heads – Studio (2x 600 Watts and 3x 200 Watts) & Portable Set (1x 400 Watts) Portable Strobes heads for street photography
Multiple Coloured Backdrops
Various square soft boxes and grids
 Radio transmitters and 2 receivers
Flash Meter Sekonic
Grids, snoots, Beauty Dishes, Reflectors
Super easy to find
We are super easy to find, being next to River City and Royal Orchid Sheraton close to BTS Saphan Taksin or Hua Lampong Railway MRT station.
Video & Photo services
White Cyclorama (infinity) Studio
Corporate Videos
Post Production
Photographers for Hire
Production Crews
TVC Production
Documentaries
Details about Soy Sauce Factory Bangkok

Soy Sauce Factory Bangkok



Contact
Social
U love Art. U can share it.
onarto.com is the leader and first art store dedicated to Thailand contemporary art, promoting more than 200 thai artists around the world. Answering to art collectors and artists, onarto now expand his activiy to promote Asian art and open its boundaries to creative designer, become a tool to connect creatives mind and art doers with art collectors and unique beauty lovers.