Art Events in Thailand : Mar 14 – Mar 20
Hi Art lovers! Here's a brief summary of the best ongoing art exhibitions and events in Bangkok to check out in March. Be ready to have fun!
Last modification :
September 28, 2017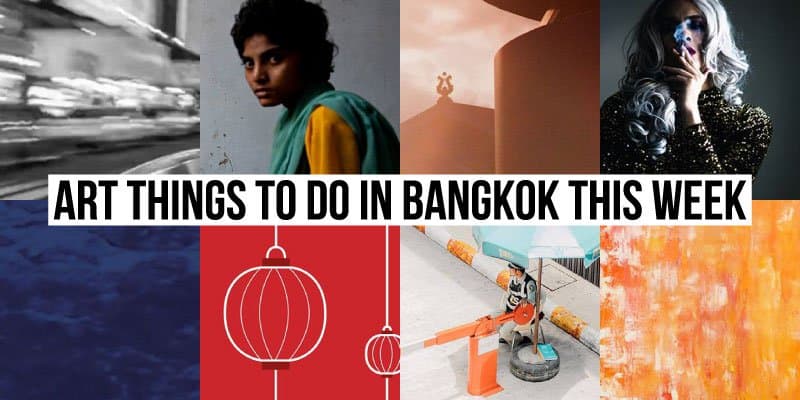 Art Events – March 14 – March 20
Hi Art Lovers! Take a look at the best art previews and exhibitions to check out in March.
What's New
Cho Why – Workshop by Walter Astrada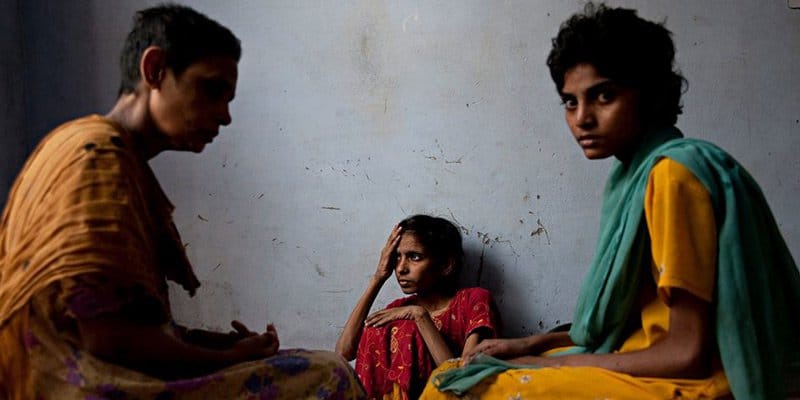 When: Monday, 14th through Friday, 18th March, at 9:00 & 20:00
Where: Cho Why, Soi Nana 17, Pom Prap Sattru Phai, Chinatown, Bangkok
Cho Why hosts a workshop conducted by Barcelona-based, Buenos Aires-born freelance photographer Walter Astrada (https://walterastrada.com/). Aimed at photographers and photojournalists wanting develop and/or improve their storytelling tools for photographic stories. The 5-day workshop features research, shooting, editing and more.
Chulalongkorn University – Chromazone Color Forecasting Workshop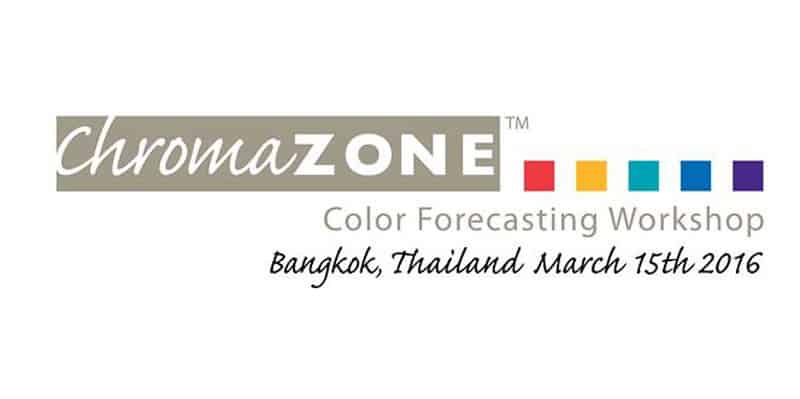 When: Tuesday, 15 March, from 9:00 through 17:00
Where: Chulalongkorn University, Room 802, 254 Phayathai Road, Pathumwan, Bangkok 10330
Color Marketing Group, the premier international association for color design professionals, is set to host its 2016 ChromaZone Color Forecasting Workshop this March 15, giving attendees the unique opportunity to interact, share, and learn more about color trends and influences.
SoA+D – A
lumni talks: No. 4 | Fashion & Photography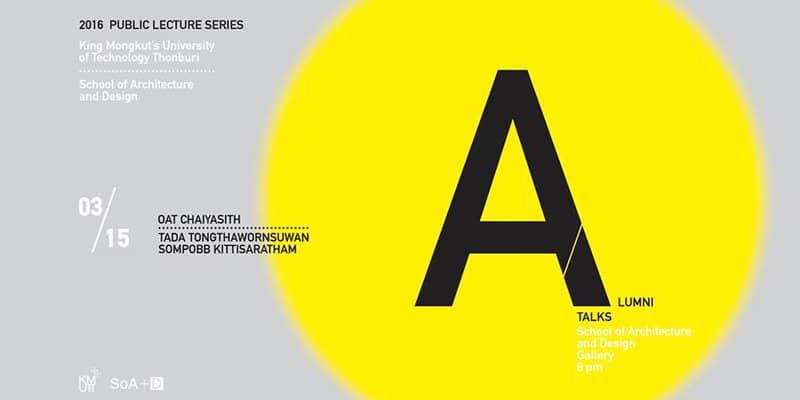 When: Tuesday, March 15, from 18:00-20:00
Where: School of Architecture and Design (SoA+D), King Mongkut's University of Technology Thonburi (KMUTT), 49 Soi Thiantalae 25 | Bangkhunthian-Chaitalae Road
SoA+D alumni return to KMUTT Bang Khun Thian campus to inspire, share their success stories, and be a source of wisdom for our current students, professors, and visitors. The 4th scheduled talk of the series focuses on "Fash'n Flash" and features stylist/graphic designer/visual merchandiser Mr. Tada Tongthawornsuwan (Tao) and fashion stylist, Mr. Sompobb Kittisaratham (Hippo).
JAM – Cine Club ("Psych-Out", 60s Psychedelic & Pulp Month)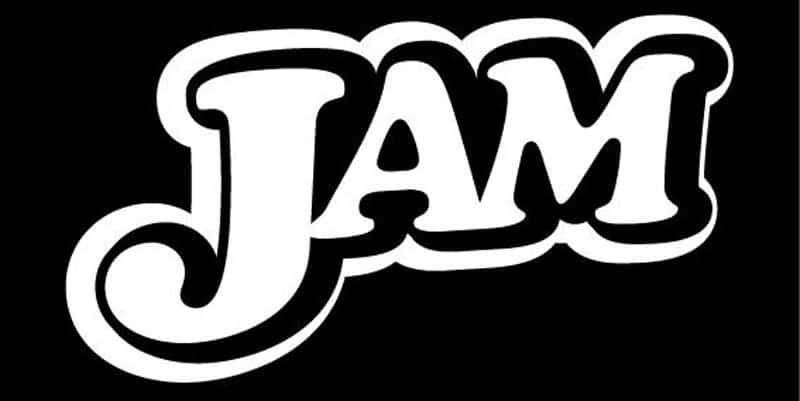 When: Wednesday, March 16, from 20:00
Where: Jam, 41 Soi Rong Nam Kang (Charoen Rat Soi 1), Sathorn – Surasak BTS Exit 2
Jam's cinema club theme for March is 60's psychedelic and pulp films, hosted by Ben Edwards. This week's movie will be Psych-Out, directed byRichard Rush and released in 1968. Next weeks movie is set to be Point Blank (John Boorman, 1967). Screening starts at 20:00. 
Tars Gallery – Robotic Process of Amnesia Symptoms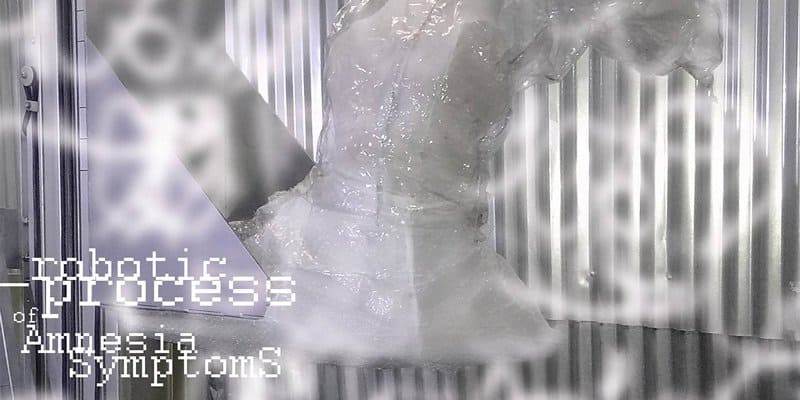 When: Wednesday, 16 March from 19:00 – 22:00
Where: Tars, 3 Soi Srijun, Sukhumvit Soi 67, Bangkok
Tars presents a solo show by New-Territories, a video/computer exhibition by Francois Roche, Camille Lacadee, Vongsawat Wongkijjalerd and Than Rittiphan that contorts into undecipherable hermeneutics, made of scribbles, of cross-outs engaging codes and mathematical scripts from which they paradoxically emerge.
Crescent Moon Space – 
ปลาสีรุ้ง : My Mermaid Dream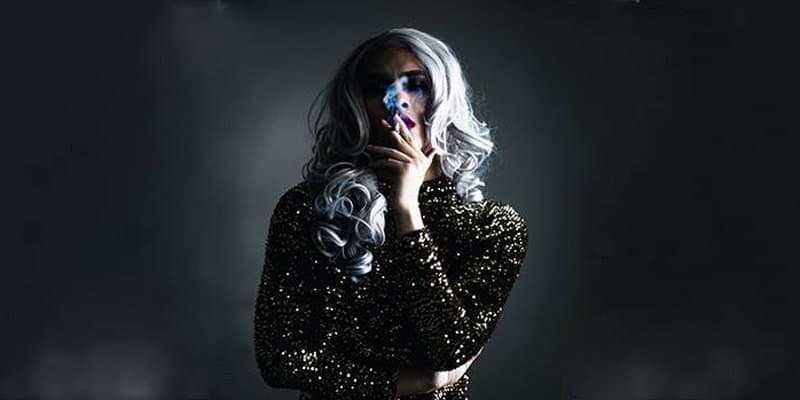 When: Thursday, March 17 – 20 and Thursday, March 24 – 27 from 19:30
Where: Crescent Moon Space, 65/1 Pridi Banomyong Institute, Soi Thonglor, Sukhumvit 55
Crescent Moon Space presents "Rainbow Fish : My Mermaid Dream",  a music recital by local troupe & Miss Ariel. Tickets available for 360/400/450 THB.
Goja – Light Within Group Exhibition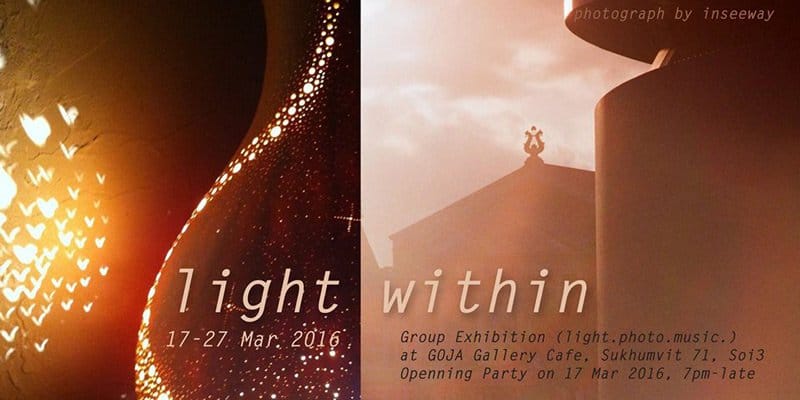 When: Thursday, 17 March, from 19:00 til late
Where: Goja, Suhkhumvit Soi 71, Soi 3 Pridi Banomyong, Bangkok
Goja presents the opening party of its "Light Within" group exhibition, featuring photography by inseeway and lights by Kalavinka Tatsuishi. There'll also be live music by several DJs.
Schemata Gallery – Unnoticed Light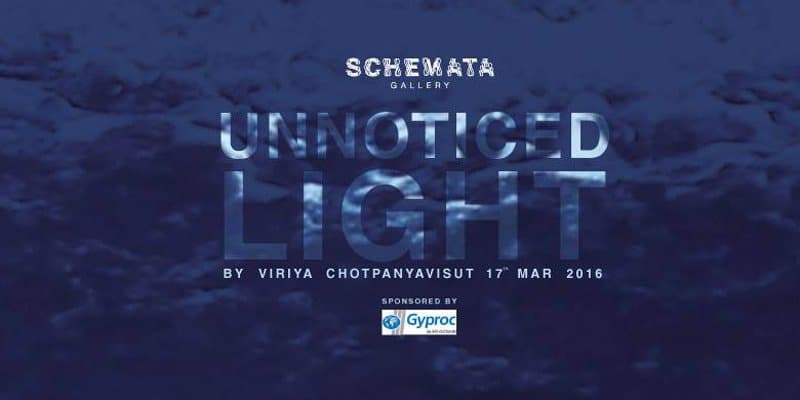 When: Thursday, 17 March from 19:00
Where: Schemata Gallery, 1 Liberty Plaza, Soi Thonglor, Sukhumvit 55, Klongton Nua, Wattana
Schemata Gallery presents "Unnoticed Light" the first solo exhibition of Wiriyachote lyrics. The record was made in relation to the intensity of the ultra violet in sunlight straightforward "Unnoticed Light" is an exhibition that presents art complex and simple techniques of old. science Pictures of cyanobacteria daguerreotype process should be defined as. "To make the light" literally. Admission is free.
Serindia Gallery – Purify by Sudaporn Teja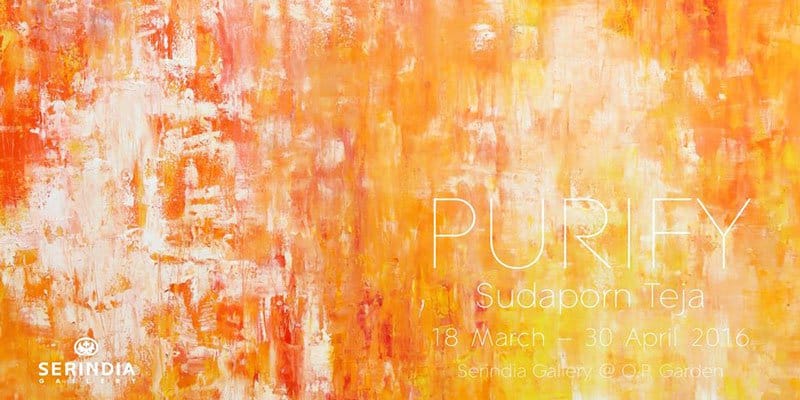 When: Friday, 18 March from 18:00 – 23:00
Where: Serindia Gallery, O.P. Garden, Charoenkrung Soi 36, Bangkok
Serindia presents an exhibition of new abstract paintings by local abstract artist Sudaporn Teja (Som). The artist has displayed her works in the Esprit d'Asie show in Paris (2015) and most recently, at Art Stage Singapore (2016).
MoST – The Lantern Show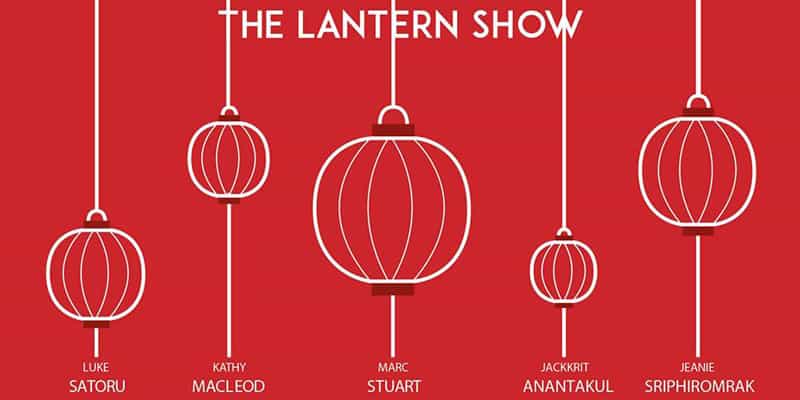 When: Friday, 18 March from 18:30 onwards
Where: MoST, 672/36 Charoen Krung Soi 26, Bangkok
New art space, MoSt presents its first inaugural exhibition, "The Lantern Show" for Gallery Hopping Night. The exhibit features five illustrators, designers and artists that created patterns for beautiful Chinese lanterns hand-crafted by a veteran artisan in Charoen Krung Soi 26. Featured artists include Jakkrit Anantakul, Kathy Macleod, Luke Satoru, Jeanie Sriphiromrak and Marc Stuart.
The Jam Factory – Bridging Here and There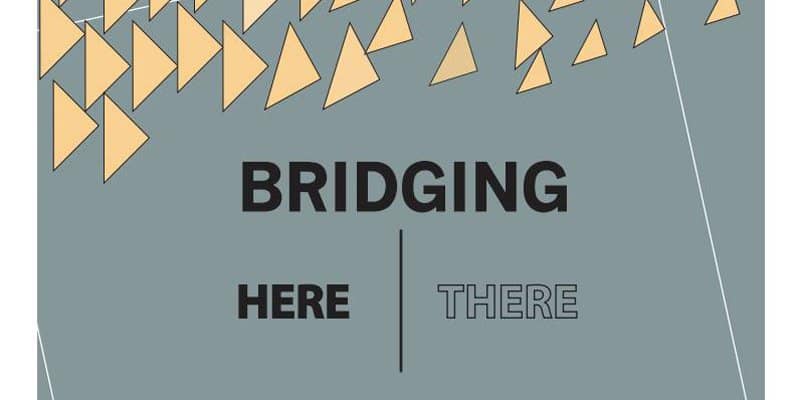 When: Saturday, 19 March from 18:00
Where: Never Ending Summer, Jam Factory, 41/5 Charoen Nakhon Road, Bangkok
A collaboration between The Jam Factory, The Never Ending Summer and HER LONDON, the hipster enclave hosts a progressive dinner talk evening to connect guests from two capitals, LONDON-BANGKOK.
Bangkok Bar Infinity – Signal Flair/Bangkok Lyrical Lunacy : Poetry in Motion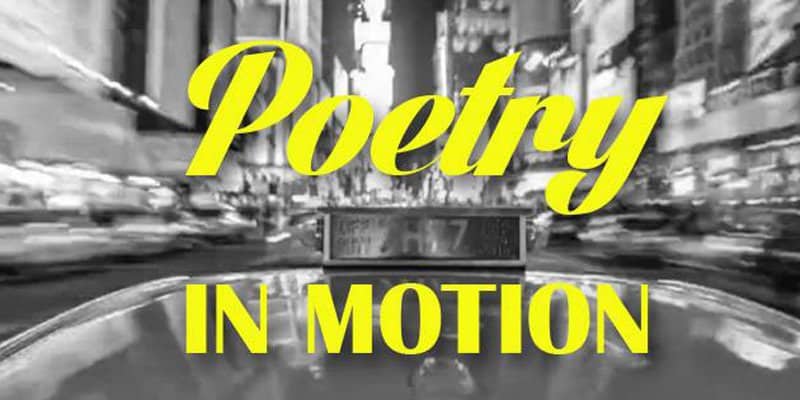 When: Saturday, 19 March from 19:00 through 20:00
Where: Bangkok Bar Infinity, 8th Floor Opus Building Thonglor Soi 10, Sukhumvit 55
Signal Flair and Bangkok Lyrical Lunacy presents "Poetry In Motion", a night of talented poets and filmmakers with engaging words/visions in Bangkok. The event features a screening of 10 short poetry films, with prices for 1st, 2nd and 3rd Place. There will also be special live music and DJs.
Missed Something?
Check out the events from last week.
Submit your Art Event – Exhibition – Festival etc.
You can send us information about your upcoming art events and benefit from free coverage, contact us at [email protected].
U love Art. U can share it.
onarto.com is the leader and first art store dedicated to Thailand contemporary art, promoting more than 200 thai artists around the world. Answering to art collectors and artists, onarto now expand his activiy to promote Asian art and open its boundaries to creative designer, become a tool to connect creatives mind and art doers with art collectors and unique beauty lovers.