10 Best Kisses in Famous Artworks
Happy Valentine's Day, Art Lovers! Check out this list of the top 10 kisses in famous artworks.
Last modification :
September 9, 2016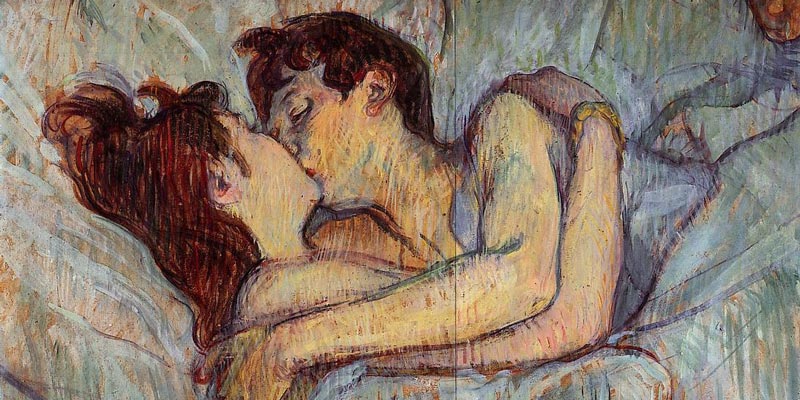 Valentine's Day is here again, and what better way to celebrate than taking a look at some famous kisses and embraces in the world's most beautiful and influential art.
Check out our list of the Top 10 Art Kisses of All Time :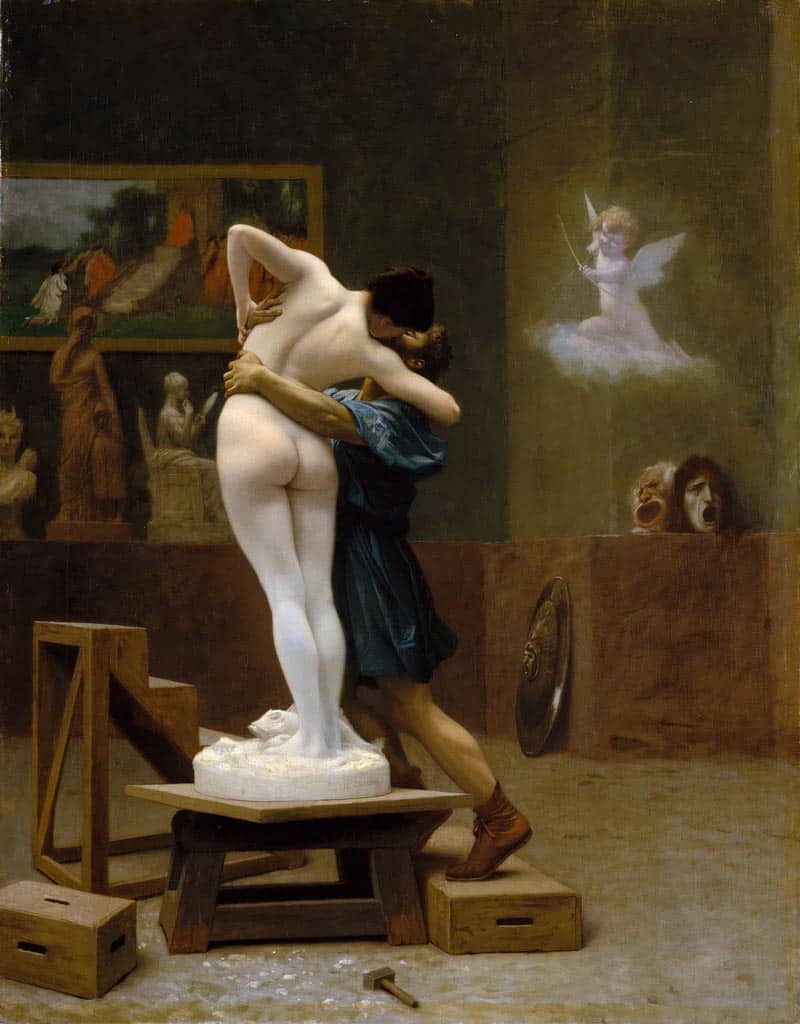 Jean-Léon Gérôme, 1890, Pygmalion and Galatea, oil on canvas, 
Metropolitan Museum of Art, New York City
On display at New York's Metropolitan Museum, this beautiful academicism-style painting depicts a scene from Ovid's Metamorphoses, in which Galatea, the ideal woman, comes to life and is embraced by the artist. The pictured painting is one of three versions in oil.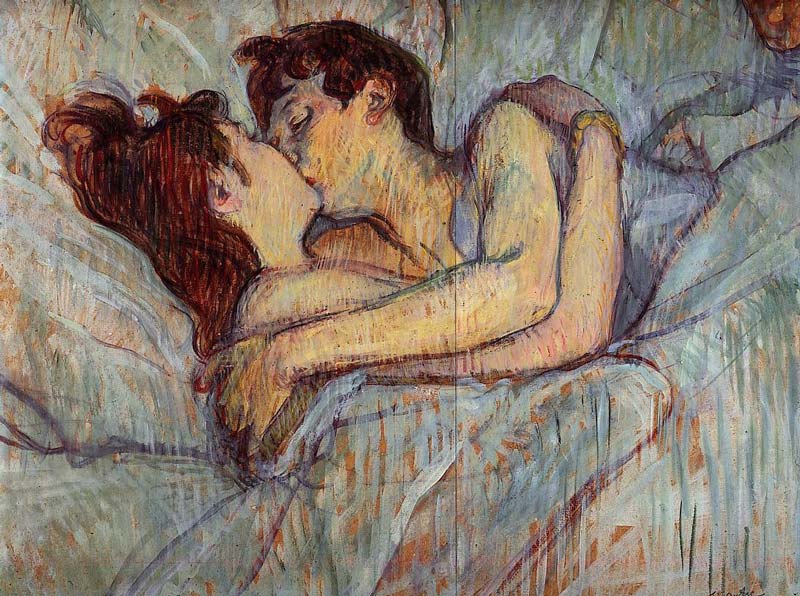 Henri de Toulouse-Lautrec, 1892, In Bed: The Kiss, Thinned Oil on Cardboard, Private Collection
This masterpiece by post-impressionistic painter Henri de Toulouse-Lautrec features two women sharing a passionate kiss. The sensual painting features brilliant shades of red and yellow contrasted against subtle greys, greens and blues.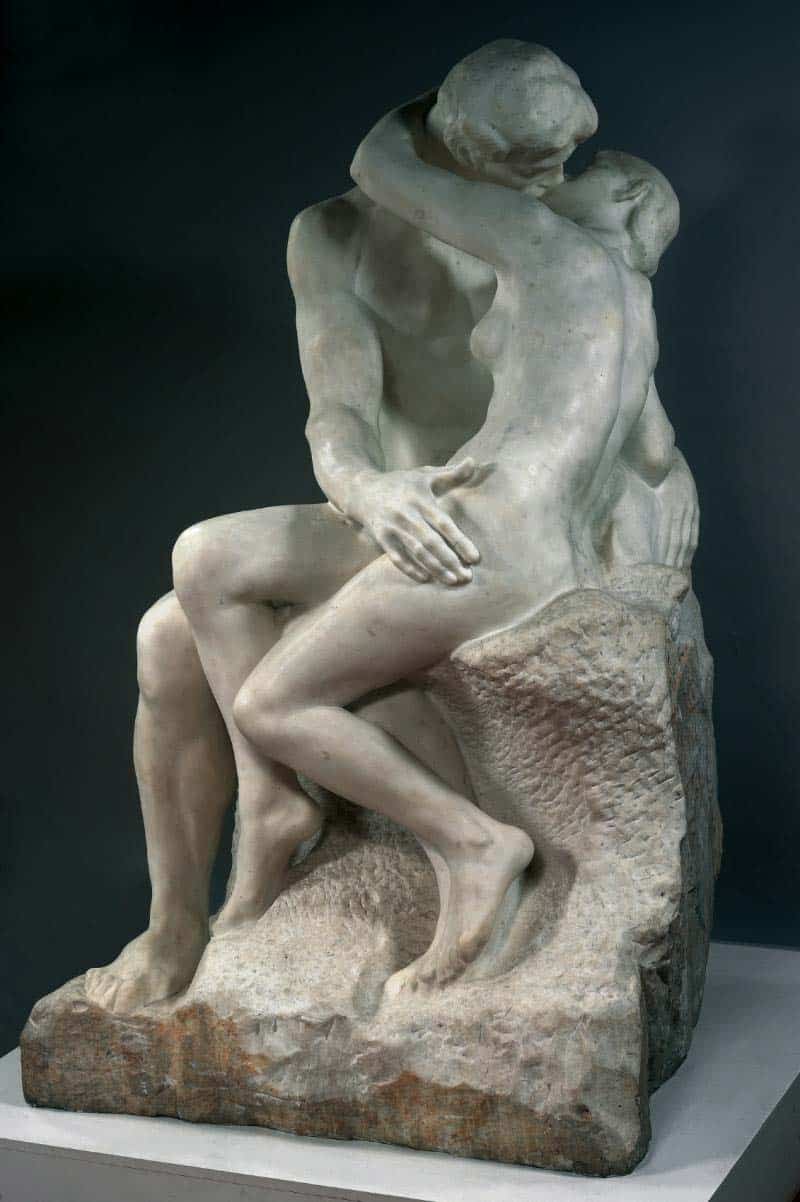 Auguste Rodin, 1889, The Kiss, Marble, Private Collection
Undoubtedly one of Rodin's most well known works, The Kiss depicts a tender moment between Paolo and Francesca, two characters taken from Dante's Divine Comedy. In fact, the slain lovers were never able to fully embrace as they were killed by Francesca's husbands upon finding them embracing.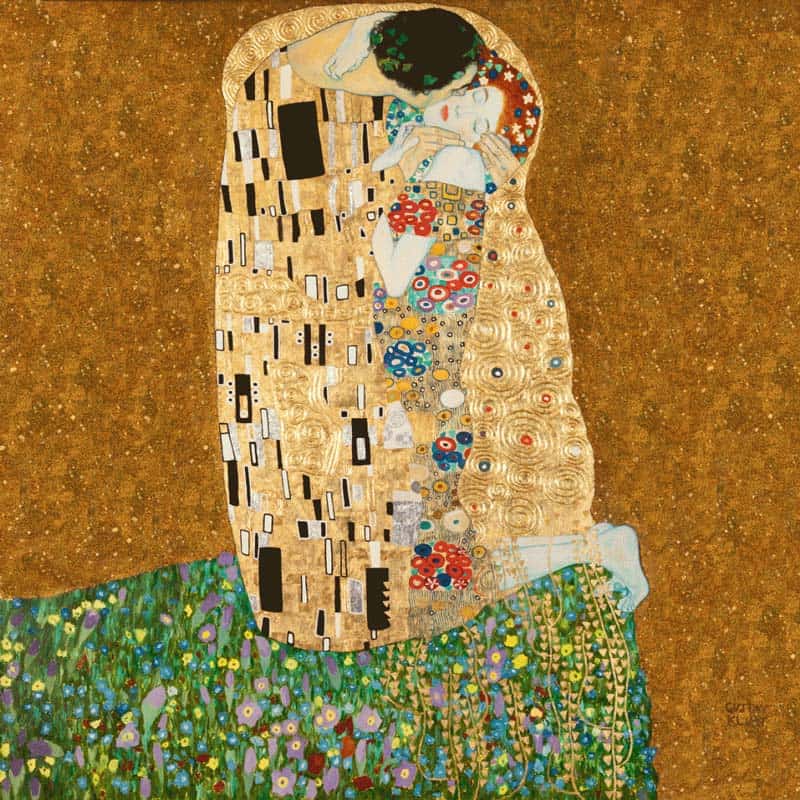 Gustav Klimt, The Kiss, 1907-1908, Gold-leaf and Oil Paint, 
Österreichische Galerie Belvedere, Vienna
The Kiss was one of Klimt's most famous painting produced during his "Golden Period." Some believe the painting was a self-portrait of the artist and his long-time lover, fashion designer Emilie Floge.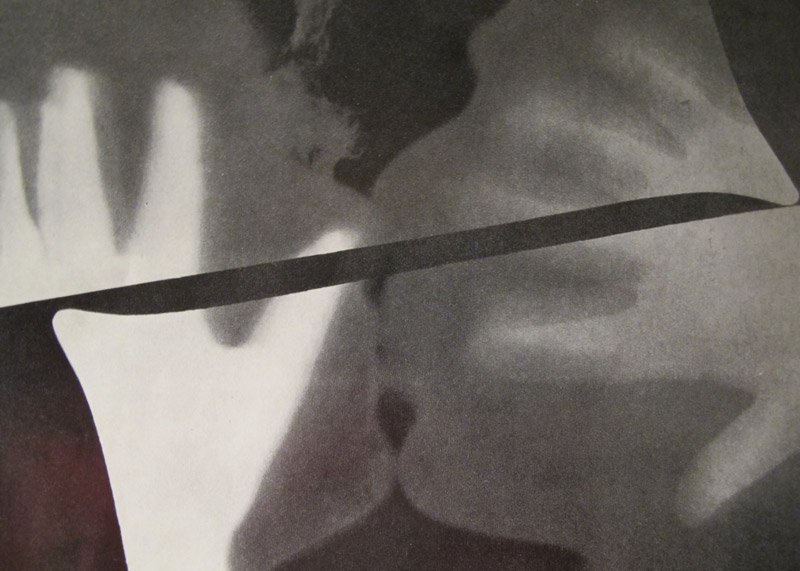 Man Ray, The Kiss, 1922, Gelatin Silver Print, Museum of Modern Art, New York City
One of Man Ray's earliest rayograms, The Kiss portrays two lovers embracing in a fragmented, dream-like quality. His rayograms were created by placing objects on a sheet of photosensitized paper and exposing it to light.
Marc Chagall, Birthday, 1915, Oil on Cardboard, Museum of Modern Art, New York City
In this iconic Chagall painting, we see the artist literally bending over backwards to kiss his wife. The woman in the early-modernist painting is believed to be the Franco-Russian artist's first wife, Bella Rosenfeld.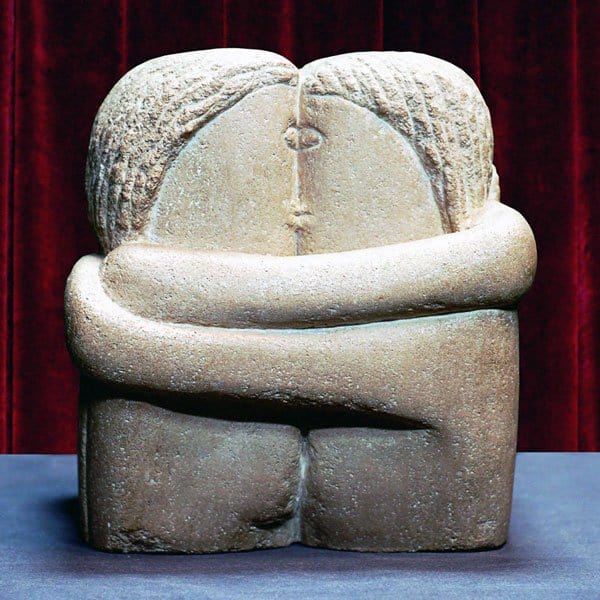 Constantin
Brâncuși

, The Kiss, 1907-08, (original) Stone, Muzeul de Art at Craiova, Bucharest

The kiss is one of several plaster casts that Romanian sculptor Brancusi created of the 1907-08 original stone piece. Brancusi is known for his abstract style which emphasizes geometrical art and balance.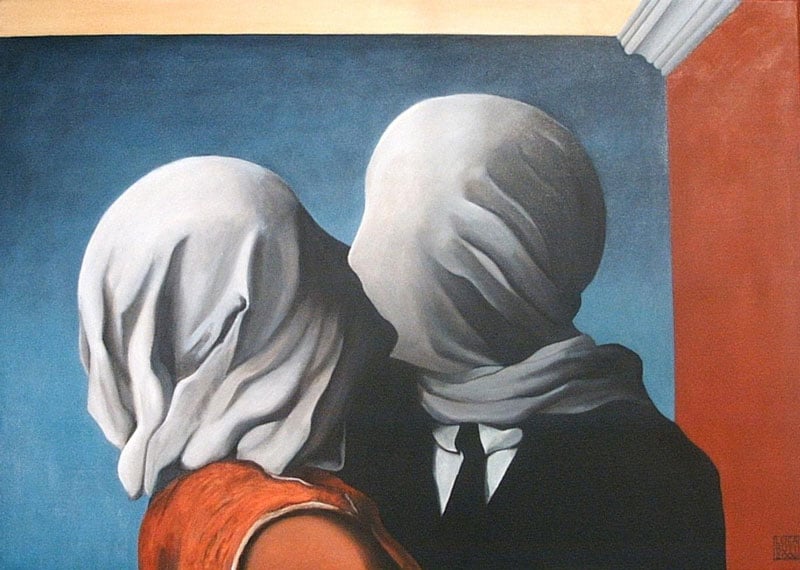 René Magritte, The Lovers, 1928, Oil Paint
This Surrealist masterpiece displays a modern take on the cliched close-up of a kiss. By shrouding the lovers heads in cloth the viewer is invited to explore the hidden meaning and disguise behind the mask – a common feature in Surrealist interests.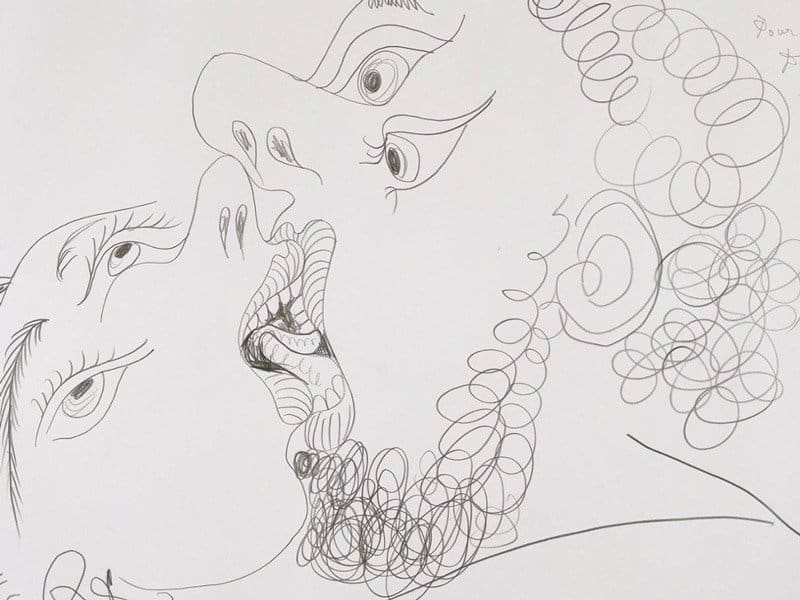 Pablo Picasso, The Kiss, 1967, Graphite Drawing
This drawing was one of several erotic motifs that Pablo Picasso largely explored during the last years of his life. In this piece we see the man almost devouring the woman, which suggests an intense, dominating sort of passion between the two lovers.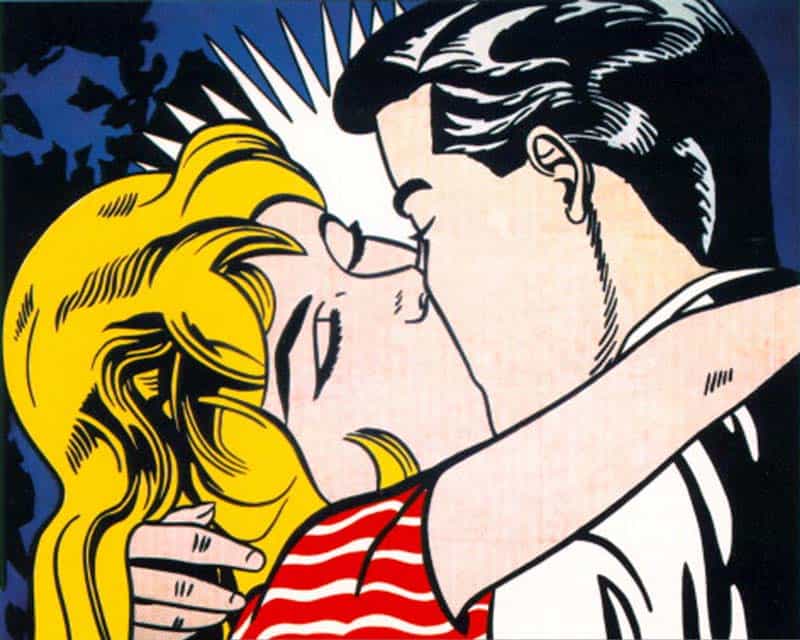 Roy Lichtenstein, Kiss II, 1964
American Pop artist, Roy Lichtenstein is well known for his comic style of Pop-art. In this piece, one of several images of embracing couples, we are left to decipher whether the kiss is due a sad depart or a joyful encounter.
Image Source: Flavorwire.com
U love Art. U can share it.
onarto.com is the leader and first art store dedicated to Thailand contemporary art, promoting more than 200 thai artists around the world. Answering to art collectors and artists, onarto now expand his activiy to promote Asian art and open its boundaries to creative designer, become a tool to connect creatives mind and art doers with art collectors and unique beauty lovers.