A growing number of art enthusiasts from across the globe have been focusing their gaze towards Thailand. This is likely due to two main reasons – a 'first-mover' advantage in Bangkok's burgeoning art scene and the treasure trove of talented local artists.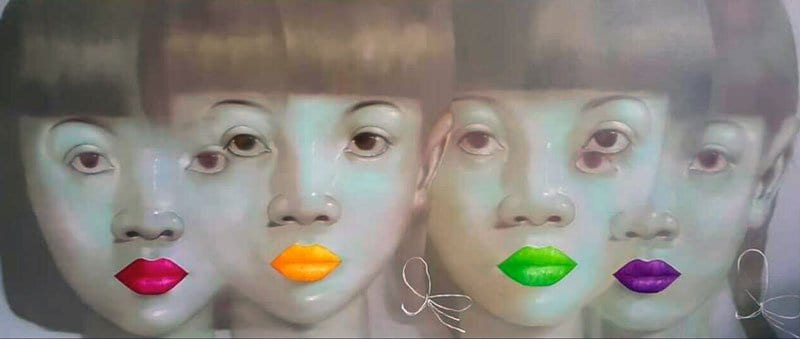 Thailand's budding art atmosphere means that art galleries, museums, and exhibitions are popping up every few months. Meanwhile, established and up-and-coming artsy neighborhoods such as Charoen Krung, Phaya Thai, Phra Athit, Silom, and Sathorn continue to hold unique events aimed at promoting local talent.
The abundance and accessibility of diverse contemporary art in Thailand is a key element for museum curators, art lovers, and collectors alike.
Some Information on Early Art in Thailand
Early art in Thailand was centered on Buddhist art, which combined Chinese, Hindu and Khmer elements and iconography.
Traditional sculpture in Thailand was exclusively centered on images of Buddha, while 13th-16th-century artworks were either book illustrations or painted depictions of palaces, temples and religious themes.
Buddhist principles, Thai folklore, and scenes of daily life in ancient Siam influenced the majority of artwork during this era.
There has been documentation of art in Thailand as early as prehistoric times, however, the three most well-known periods of artistic development in the Kingdom are:
Sukhothai Period
Ayutthaya Period
Bangkok (Rattanakosin) Period
The Influence of Government and Educational Initiatives on Thai Art
Following the introduction of museums and government-led efforts to shape Thai nationalism and culture in the 19th century, Thai art was no longer restricted to Buddhist representations and became defined as a specialist activity.
A major influence in the development of contemporary Thai art was the founding of Silpakorn University in 1942 under the guidance and mentorship of Corrado Ferroci (Professor Silpa Bhirasri).
Bhirasri was an Italian master sculptor who was originally commissioned by King Vajiravudh (Rama VI) to work as an official sculptor to the court. However, in 1943, with the aid of Professor Bhirasri, the full university was completed and debuted.
In 1952, the Ministry of Culture was established under Major Wichitwantahakan to promote Thai literature and theater. It was later dissolved and re-established in 2002 as the Office of Contemporary Art and Culture (OCAC). Today, renowned curator and art writer, Apinan Poshyananda, serves as the Permanent Culture Ministry Secretary of the OCAC.
Poshyananda also established the Art Center of Chulalongkorn University in 1995 and curated the formative exhibition Contemporary Art in Asia: Traditions/Tensions in New York in 1995. In 2003, Apinan curated Thailand's debut in the Venice Biennale.
Meanwhile, Chulalongkorn University, CU or Chula for short, is another prestigious educational establishments that has shaped Thailand's modern university system. Founded in 1902, when King Chulalongkorn (Rama V) formed the Royal Pages School, CU officially became Chulalongkorn University in 1917.
These two universities influenced both the concentration of new artists in Bangkok as well as all tertiary studies in Thailand. They are also hailed for their rich history and excellence in producing top-quality visual artists and architects.
Some notable alumni of these schools include Thawan Duchanee, Chalermchai Kositpipat, Tuna Dunn, Kulapat Yantrasast and Pinyo Suwankiri.
The Recognition of Contemporary Thai Art
The mid-1990s to the early 2000s saw the explosion of the commercial gallery scene, as well as the arrival of exhibitions focused on promoting the region's new era of contemporary visual and experimental Thai artists.
Major events in this period included New Art from Southeast Asia at the Fukuoka Art Museum in Japan in 1992 and the Asian Modernism: Diverse Development in Indonesia, Philippines, and Thailand in 1995.
A groundbreaking collection during this time was Cities on the Move, which was curated by Hans Ulrich Obrist and Hou Hanru. This exhibit included Thai artists Chitti Kasemkitvatana, Surasi Kusolwong, Navin Rawanchaiku, and Rikrit Tiravanija.
There was also a rise in experimental projects and spaces in Bangkok during this time. One of these was the non-profit art collective Project 304. This group was founded in 1996 and backed a number of artistic events, including the Bangkok Experimental Film Festival.
Project 304 continues to serve as an open platform for artists to showcase their works, without selection, offering a 'first come, first serve' basis.
In terms of recognizing local talent within Thailand, the Silpathorn Award was founded in 2004 with the aim at recognizing and promoting the artworks of mid-level artists.
Meanwhile, the Bangkok Art and Culture Center (BACC) was opened in 2008. It now serves as a hub for the contemporary art scene in Thailand. The expansive, modern building houses internationally recognized works and a host of other art and design focused seminars, workshops, and events.
The Art Scene Now: Bangkok & Beyond
Art exhibitions and events have been continuing with growing passion since the end of the political unrest that broke out in 2013-2014.
An important player in the realm of research-driven exhibitions in Thailand is the Jim Thompson Art Center, which holds education programs and more, led by the nation's foremost curator, Gridthiya Gaweewong.
The latest gallery to open in Bangkok, the Museum of Contemporary Art or MOCA opened in 2012 with the intent to showcase contemporary art. It showcases a large collection of Thai art acquired in the span of 30 years by a local communications tycoon.
Meanwhile, the MAIIAM Contemporary Art Museum in northern Thailand's city Chiang Mai is set to open in 2016. With a highly anticipated debut collection, this institution is expected to have a huge impact on the art scene in northern Thailand.
A continuing trend in the flutter of newly opening galleries in Bangkok is the division between non-profit and commercially successful galleries.
The newest breed of galleries in Bangkok appears to be communal, experimental spaces such as Soy Sauce Factory, JAM and Speedy Grandma. The newest of these is TARS Gallery, an expat owned artist-run space opened in 2015 which aims to generate further dialogue between Thai and foreign artists.
Another recent opening, in April 2016, is spaceNova Contemporary gallery. Founded by Sotheby's-educated Thai national, this space was created with the outlook that Bangkok is set to become Asia's next world-class art destination.
In an interview with the gallery owner in the Bangkok Post, one of the main problems with the art scene in Thailand is that the multitude of great artists lack local recognition though they are represented by international galleries.
Moreover, there is no government intuition that collects contemporary Thai artists works – pointing to the National Gallery Singapore as one of the few places where one can see works by modern and contemporary Thai masters.
Thai Art in Luxury Auctions - Christie's
The world's leading art business and luxury auction house, Christie's, recently stated that contemporary Asian art is its third most lucrative category.
Wealthy first-time collectors are believed to be moving away from 19th-century Impressionist works and turning to contemporary pieces, with a particular focus on up-and-coming Asian artists.
Every few months, Christie's holds auctions of Asian and European Art to a sophisticated and powerful buying market in Hong Kong and Shanghai. This type of art market does not yet exist in Thailand.  Despite great resources of talented artists, the number of buyers purchasing Thai Art at a high-end level is well below the international or regional level.
Asia has witnessed a dampening in fine art purchases, reflecting the atmosphere of the current financial market. Nevertheless, collectors in Asia continue to purchase both regionally and internationally.
Award-winning contemporary Thai artist, Maitree Siriboon, recently sold two of his early inkjet prints for a sum ranging between $2,500 to $3,800 USD. These works were part of his exhibition "Isarn Boy Soi 4" that was first exhibited at Bangkok's Whitespace Gallery from December 2009 through January 2010.
Conclusion
Overall, from both information available online and quotes from professionals in the field, the art scene in Bangkok appears fragmented yet is not without great potential.
One of the most pressing issues facing the local art scene seems to be the enduring tradition of Thai art collectors to purchase artworks directly from the artist. This bypassing of independent art collectives impacts the market in several ways.
Moreover, the lack of recognition of Thai talent by Bangkok residents means that there is little government pressure to promote the emerging talent of the nation. However, this factor has been improving as internationally recognized Thai talent brings attention back to the country's growing number of artists.
Nevertheless, the continuation of exhibitions and art events in the midst of military rule in Thailand displays just how much love and support there is for the art sphere in Bangkok.
What do you think of the art scene in Bangkok and beyond? We'd love to hear your questions or comments.
Sources:
Acret, Susan. "It's a Bull Market! Investing in the Future of Contemporary Asian Art." Dialogue - Perspectives. Asia Art Archive, Aug.-Sept. 2007. Web. 30 June 2016. <https://www.aaa.org.hk/Diaaalogue/Details/30>.
"A Tip of the Hat to Thavibu." The Nation - Life. The Nation, 15 Feb. 2016. Web. 30 June 2016. <https://www.nationmultimedia.com/webmobile/life/A-tip-of-the-hat-to-Thavibu-30279206.html>.
Barboza, David, Graham Bowley, and Amanda Cox. "A Culture of Bidding - Forging an Art Market in China." Weblog post. The New York Times - Projects. The New York Times, 28 Oct. 2013. Web. 30 June 2016. <https://www.nytimes.com/projects/2013/china-art-fraud/>.
Brownell, Ginanne. "Contemporary Art Takes Root in Bangkok." NYTimes - Arts. The New York Times, 5 July 2013. Web. 30 June 2016. <https://www.nytimes.com/2013/07/06/arts/06iht-scbangkok06.html?pagewanted=all&_r=1>.
Curtin, Brian. "Contemporary Art Scene in Thailand." Trans. Bernard Yeung. A.m.post (n.d.): pg.11. City Review. Art Map, May 2016. Web. 30 June 2016.
Lefevre, Amy Sawitta. "Amid Repression, Art Scene in Thailand's Capital Blooms." Reuters. Thomson Reuters, 08 Mar. 2016. Web. 30 June 2016. <https://www.reuters.com/article/us-thailand-art-idUSKCN0WA0I7>.
"MAITREE SIRIBOON (THAI, B. 1983)." SALE 12516 — ASIAN CONTEMPORARY ART (DAY SALE). Christie's, 29 May 2016. Web. 30 June 2016. <https://www.christies.com/lotfinder/photographs/maitree-siriboon-isarn-boy-soi-4-6001038-details.aspx?intObjectID=6001038&lid=1>.
Mandrini, Riccarda. "Thai Art. In Conversation: Steven Pettifor."ArtMarketBlogMag. Issue 1 : We Are Asia, 18 Jan. 2016. Web. 29 June 2016. <https://www.artmarket-blogmag.com/thai-art-in-conversation-steven-pettifor/?lang=en>.
Panyalimpanun, Thitipol. "Two New Museums Set to Boost Contemporary Art in Thailand." Asian Correspondent. N.p., 3 June 2015. Web. 30 June 2016. <https://asiancorrespondent.com/2015/06/two-new-museums-set-to-boost-contemporary-art-in-thailand/>.
Phataranawik, Phatarawadee. "Thai Art's Paris Springtime - The Nation." The Nation. The Nation - Home - Life, 24 Apr. 2014. Web. 30 June 2016. <https://www.nationmultimedia.com/life/Thai-arts-Paris-springtime-30232077.html>.
"The Future of the Global Art Market: Emerging Art Scenes of Today and Tomorrow." AMA Reports. Art Media Agency, 30 Apr. 2015. Web. 30 June 2016. <https://en.artmediaagency.com/108413/the-future-of-the-global-art-market-emerging-art-scenes-of-today-and-tomorrow/>.
U love Art. U can share it.
onarto.com is the leader and first art store dedicated to Thailand contemporary art, promoting more than 200 thai artists around the world. Answering to art collectors and artists, onarto now expand his activiy to promote Asian art and open its boundaries to creative designer, become a tool to connect creatives mind and art doers with art collectors and unique beauty lovers.