Illustris: Incredible promenade through the universe
Illustris the one and only walk through the universe on video.
Last modification :
November 18, 2014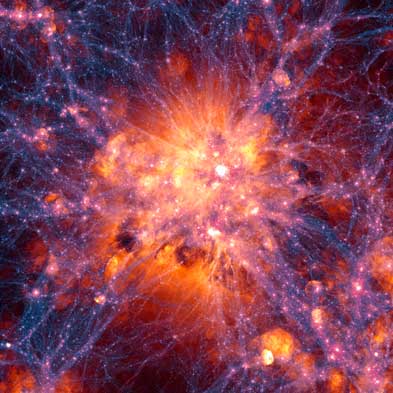 The first realistic virtual world "Illustris"
Bored on a public holiday? To get out of this intellectual slump, we'd like to propose you a little stroll into the virtual universe. Actually, the idea emanate from astronomers of MIT who create the very first realistic representation of the Universe from its very beginning till today. With an unequalled precision. The cinemascope is sent back to the Lumière brothers…
A supercomputer worked for 3 months
The project named Illustris required 5 working years to a team of astronomers and computer scientists helped by a supercomputer who ran for 3 months without taking any breaks. For a personal computer to accomplish the exact same work, it would have been needed to be switched on by Jesus 2000 years ago and still running today !
Back in time machine
The Scientists realised this beauty for their intention, but they did not forget us poor earthlings we are by proposing us a video resuming the existence of the Universe in its debut (12 millions years after the big bang!) till today, 13,7 billions years after. Actually, the video only shows us an extract of the Universe, populated anyway by 41 000 galaxies, each including few billions of stars. "Illustris is like a back in time machine. We can go forward and backward. We can pause it and zoom in a galaxy or a heap of galaxies to observe what is really happening", point out one of the author of this virtual world, Shy Genel (MIT)
Enjoy the 14bn years video now
U love Art. U can share it.
onarto.com is the leader and first art store dedicated to Thailand contemporary art, promoting more than 200 thai artists around the world. Answering to art collectors and artists, onarto now expand his activiy to promote Asian art and open its boundaries to creative designer, become a tool to connect creatives mind and art doers with art collectors and unique beauty lovers.